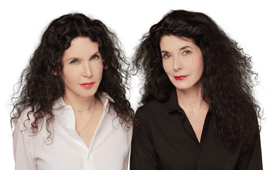 Interview with Pianists Katia and Marielle Labeque
Monday, 19 September 2011 , ora 10.26

What has participating in this festival meant to you?
It has meant a lot because it is a fantastic festival, it has an incredible audience, that responds amazingly and that clearly loves music!!

Were you expecting such a reaction?
It is the third time we have come here and I feel the audience closer and closer to us - we feel better and better in their company. They are concert spectators like those in the old days, who love music and come to listen to it, an audience who really applauds, who show you their enthusiasm - which is very important to us.

How did you collaborate with maestro Mandeal?
We worked in the morning and then even a little while before the concert and it was fantastic. And the orchestra is amazing.

Is it for the first time that you collaborate with this ensemble?
With this Kamerata? Yes, I hope it's not the last. It is incredible how many concerts there are in this festival and all the concert halls are full, it is a special atmosphere, it is wonderful. Bravo! We thank you for such a festival in Bucharest. It was a great pleasure being here.
Interview taken on September 17th 2011, at the end of the concert at the Romanian Athenaeum (10.30 pm) de <b>Ioana Goia</b>

Translated by Alexandra Ilie
MTTLC, Bucharest University