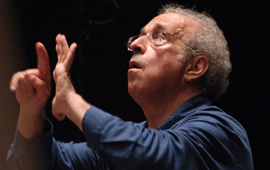 Interview with Conductor Lawrence Foster
Wednesday, 14 September 2011 , ora 12.37

Dear Lawrence Foster, we are impatiently waiting for your appearance in the 20th edition of the George Enescu International Festival. Let's start with some beautiful memories from your previous performances at this festival.
The most memorable are from 1998, back from the period in which I served as Artistic Director of the festival, and managed to achieve some great things, like setting up a new policy for the festival - its decentralization, as this event belongs not only to Bucharest but to Romania. This philosophy has been preserved and expanded. I particularly treasure that one time I performed Oedipus along with Monte Peterson, a great, great performer. He died tragically not long after.
I also remember the competition part of the festival that promotes talented violinists, vocalists and pianists. The festival has become a major world event- it was included in the European Festivals Association - and a very special event for Romania's musical life.
This year marks the 130th anniversary of George Enescu and Bela Bartok's birth. Nearly 20 years ago, you embarked on the adventure of making a great recording of Oedipus. What did this mean for your career?
How could I forget this moment? It was the first recording ever made in the language in which it was written, French, and it had an amazing cast: Jose van Dam, Barbara Hendricks, Nicolai Gedda, Brigitte Fassbaender. I am very proud of this recording; I think it is a reference work for Enescu. Moreover, doing this in Monte Carlo was a big challenge.
You have undertaken a challenge and not without success, as musicians and music lovers grew more and more interested in George Enescu and his work.
Enescu might not be as popular as Johann Strauss, but his compositions have won the appreciation of a great number of vocalists. I am happy I had a contribution to George Enescu`s universality. There are many conductors who not have Romanian origins but play his music, and just as many soloists who embrace his compositions.
Pianist Yefim Bronfman recently confessed his wish to play Violin Sonata No 3, with the condition of finding a good violinist. The interest for Enescu`s compositions is evergrowing. His Octet was performed by numerous orchestras and chamber ensembles. I must confess with no false modesty that the last recording I made of the Octet, performed by the Monte Carlo Philharmonic in my own orchestration, enjoys great public recognition. Whenever possible, I try to have Enescu`s compositions in the program of my concerts.
You entered the secret doors to Enescu`s creations and you also promoted him.
Yes. I get great support from the Monte Carlo Philharmonic. I needed a large sum of money for the recording of Oedipus and I couldn`t have done it without Prince Rainier`s help. Otherwise, it would have been impossible to complete this project.
Then there was Alain Lancerot from EMI, whom I hold in high esteem, and who showed great courage in this project. When I told him about Oedipus, he accepted joining the project without more ado. Although it was a major financial effort for EMI, Alain Lancerot never regretted having said yes in the first place. It got shortlisted and won many Charles Cross Academy awards, being considered the recording of the year. It was a very successful project.
Let`s get back to your current projects. You seem very attached to the Gulbenkian Symphony Orchestra.
We were in Bucharest to perform Pascal Bentoiu`s Symphony No. 6 ''Culori'', when Dan Grigore told me how impressed he was with this orchestra`s high standard. At that time it was a secret hit of the festival, as no one knew anything about this ensemble.
Calouste Sarkis Gulbenkian was a wealthy man who amassed a huge fortune from oil exploration. He also loved art, and music in particular, and set up a cultural Foundation with a beautiful concert hall, spaces for exhibitions and an impressive library. After World War 2, he also created a foundation for artists in Lisbon.
The ensemble made its debut having a small number of members but it grew over the years, thanks to the support received from the Foundation`s management. We are very proud of this orchestra and our choir, one of the best in Europe. The choir conducted by Riccardo Mutti and Lorin Maazel, was involved in different productions. We wish to increase its value, and that is why we started making more recordings (for Penthaton records), by introducing an interesting repertoire and remarkable soloists.
We recorded Chopin, Rachmaninoff, Grieg, with famous pianists; Antonio Salieri`s Requiem, a great composition, Hungarian-Romanian opuses: Gyorgy Ligeti, Bela Bartok, Zoltan Kodaly. I would mention Ligeti`s Romanian Concerto and Bartok`s Rhapsody for Violin. We have a very rich and diversified repertoire. We have recently recorded one of Gordon Getty`s compositions, Usher House. I believe it will be an interesting production on an international level.
The repertorial richness of the Gulbenkian Orchestra is relevant not only from the point of view of recordings.
We also have a baroque repertoire and performances are held by specialists in this musical area. Then there is Richard Wagner, Anton Bruckner. We perform opuses in concerts. In May we performed three of W. A. Mozart`s opuses on Da Ponte`s Libretto. We have fascinating opuses in every stage opening. Next year, Bertrand De Billy will be conducting Tannhäuser and Kirill Petrenko will perform Siegfried. The Spanish Hour by Ravel is also on the list along with Othello and Falstaff. With the occasion of Mahler`s anniversary year we performed Die Drei Pintos by Carl Maria Von Weber, completed by Gustav Mahler. It is a very beautiful and difficult composition. I think that the violin score is one of the most complex in the history of lyric theatre, a sort of endless Paganini. The performance of this opus had great success and was unique in Europe. As you can see, we have a diversified repertoire, particularly the one we have prepared for Bucharest.
You will be performing opuses by Charles Ives, Leonard Bernstein, George Enescu and Benjamin Britten.
Your program emphasizes different aspects of orchestral virtuosity in the twentieth century. As expected, George Enescu`s compositions have always been our favourite, especially Suite No 3 ''Villageoise'', one of my favourite pieces. I must point out that median movements underline the composer`s imagination and fantasy in creating beautiful scenes. I performed L. Bernstein`s Age of Anxiety along with Dana Ciocarlie, so we thought we should also bring it in the Festival.
The first part will include Charles Ives, one of the pioneers of North American music, Leonard Bernstein who loved Ives very much, and in the second part we will play George Enescu and Benjamin Britten. In his last years, Enescu had a very special relationship with Britten, and after Enescu`s Suite what could sound better than Britten`s Variations and Fugue on a Theme of Purcell. We only perform the orchestra version, without a narrator. It is undoubtedly a concerto for orchestra and it presents various similar points of view on a certain historic period.
Mr. Lawrence Foster, what follows after the George Enescu Festival?
This year I have conducted a lot of opus performances, I have been collaborating with the Hamburg State Opera where I will orchestrate The Queen of Spades, directed by Willy Decker. Then, I will accompany the Toscanini Orchestra to China for the European New Year and we will present an Italian opus. Next, I will be in Frankfurt with Hovashina, in Montpellier with Chartreuse de Parme by Henri Sauguet, an important twentieth century French composer. I have decided to orchestrate unknown French compositions.
In the final part of our interview, is there anything you want to say to the audience here in Romania?
Thank you for your fidelity and support. I must confess I am happy that I am invited each year to take part in the Festival I once directed. I`m looking forward to the concert in Bucharest.
Irina Hasna
Translated by Casleanu Gianina-Aniela
MTTLC Graduate, Bucharest University