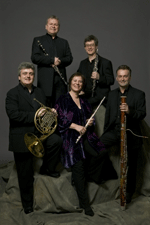 London Winds at Athenaeum
Wednesday, 19 October 2011 , ora 10.52

London Winds
held a concert on October18
th
, at the Romanian Athenaeum, opening the 2011 chamber music season of the Romanian Cultural Institute. The quintet is made up of Michael Collins, clarinet, Philippa Davies, flute, Gareth Hulse, oboe, Nicholas Korth, horn, and Robin O'Neill, bassoon. The programme included:
Romanian Dances
by Béla Bartók;
17 Variations for Wind Quintet
by Jean-Michel Damase;
Aurorae
by Dan Dediu;
Sonata in B flat major, K.V. 454
by Wolfgang Amadeus Mozart;
Summer Music
for Wind Quintet
by Samuel Barber and
Five Old Hungarian Dances
by Farkas Ferenc.
After the concert, we talked to clarinettist Michael Collins, the leader of the quintet, and flutist Philippa Davies.

How would you describe in a few words the event that has just taken place?
Michael Collins: First of all, singing in this concert hall is a joy. I have had the privilege of singing here before, with the Belcea Quartet, and it is indeed a very special place. The atmosphere on the stage is amazing, and the acoustics is perfect for wind instrument players, it eases our work because if the acoustics are poor, then we would have to work twice as hard.
Philippa Davies: It is a generous and, at the same time, clear sound and you feel that you are being helped by good acoustics, that you are making yourself understood through a rich sound and are conveying all the good things.

This is your first concert in Romania. Has this been the first time that you have come in touch with a Romanian work?
Michael Collins: With this particular work, yes. I performed a quintet by ªtefan Niculescu at a contemporary music festival in England Huddersfield, many years ago. The work written by Dan Dediu that we performed tonight is an extraordinary piece and this has been a great opportunity for us to learn something new, something difficult.
Philippa Davies: We met with the composer today and he seemed delighted, so we are all happy.

These days, besides this concert, you are going to hold master classes at the National University of Music of Bucharest. How are the students?
Michael Collins: What I like most about the clarinetists is their enthusiasm. They are very passionate and eager to try everything that you suggest them, which nowadays happens so rarely, because many times the students in other places tend to believe that they already hold all the answers. People here have a thirst for knowledge.
Philippa Davies: The flutists are very good, very enthusiastic young people. They understand everything that you want to explain to them. They are passionate about what they do, which gives you satisfaction because you sometimes wonder if nowadays young people nurture that feeling any more. They love music and hopefully we have given them a few new ideas.
Michael Collins: I would say that they are very flexible musicians. They are not obsessed with their own instrument and seem to know much about other instruments and their repertoire, and this is heartening.
Radu Mihalache
Translated by Raluca Mizdrea
MTTLC, Bucharest University