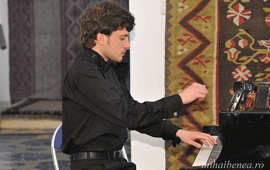 The 2011 PROMETHEUS Great Awards - a new success for pianist Mihai Ritivoiu
Monday, 24 October 2011 , ora 11.37

The tenth edition of the PROMETHEUS Great Awards, held annually by ANONIMUL Foundation, chose its winners on October 19
th
. The festivity which took place at the PROMETHEUS Club in the capital was opened by an introductory speech of the President of the jury, Andrei Pleșu, followed by the announcement of the finalists for the two sections,
Opera Omnia
- award for the entire career, and
Opera Prima
- award for debut.
The jury consisted of one representative from each artistic domain from which the nominees were selected: Dan Dediu - music, Ruxandra Demetrescu - visual arts, Eugen Negrici - literature and Ion Caramitru - show arts, each of these presenting the finalists for their domain they represent: conductor Cristian Mandeal, literary critic Paul Cornea, painter Sorin Ilfoveanu, actor Horațiu Mălăele for Opera Omnia, pianist Mihai Ritivoiu, writer Valentina Chiriță, painter Alexandru Niculescu and director Marian Crișan for Opera Prima.
The representative for the Music Section, pianist Mihai Ritivoiu was the winner of this year's edition for Opera Prima, while the award Opera Omnia was won by painter Sorin Ilfoveanu.

Here is an excerpt from the presentation that Dan Dediu, rector of the National University of Music Bucharest, made about pianist Mihai Ritivoiu at the Prometheus Awards ceremony:
'Mihai Ritivoiu is a balanced pianist, who presents himself from the first to the third, fourth stage at the same temperature, does not lose his balance, has an extremely sensitive, silky sound and at the same time a self-control that shocks the moment you see him play, from Bach to Liszt, from Chopin to Enescu.'

Mihai Ritivoiu is the winner of the First Prize of the Piano National Contest entered in 'The Lipatti Days' organized last year by Radio Romania Music, but also of the Third Prize and of the 'Award for the best interpretation of a Piano Sonata by George Enescu' at this year's edition of 'George Enescu' International Competition. In early October, the pianist recorded in the Radio Romania Music's studios Piano Concerto No. 2 by Sergei Rachmaninoff together with the National Radio Orchestra conducted by Gheorghe Costin, recording which will be broadcast for the first time on November 1st, on Radio Day.

Pianist Mihai Ritivoiu talked about the PROMETHEUS Award won Wednesday evening for Opera Prima, but also about his current activity in the following interview.

You won again a very important award, crowning an excellent year for your artistic activity. You are a young musician, at the beginning of a promising career. How do you rate these acknowledgements of your special performances? Do you feel they reward your efforts or do they make you more responsible and offer you more perspectives?
The Opera Prima Award was indeed a beautiful crowning of this year, which honours me but at the same time, of course, makes me more responsible, forces me to carry on in my future activity what I have done so far, add new performances and improve myself.

Referring strictly to these awards, you are now in a select environment, because you have won this award, while the great painter Sorin Ilfoveanu won the Opera Omnia Award. How does it feel to hear your name tied to such important personalities and how do you value the importance of this award, considering you competed against talented young people from different artistic domains?
I am very honoured indeed and if there is one regret I have is not being able to attend the festivity in person, meet the other nominees and congratulate them, but it is an extraordinary feeling to be among such a select crowd and I repeat, it is an achievement that motivates me and makes me more responsible in my future actions.

How did you receive the news, did you think you would win?
I cannot really say that I thought I was going to win, I saw the amazing biographies of the other nominees and I was happy and honoured for being nominated and that I was among the finalists, but the news that I had won, which I received after the award festivity, was truly a wonderful surprise.

Even though you have won a valuable award, you have not claimed it yet, because you are on a scholarship in Germany. Tell us about this experience. Who are you studying with and what are your activities there?
I have been on an Erasmus grant in Hanover for a short while; I am studying at Hochshule für Musik, Theater und Medien (Hanover University of Music, Drama and Media) with pianist and professor Einar Steen-Nøkleberg, with whom I have already started working. I can say that, although I have just arrived there, we have had an intense and productive collaboration so far, and that of course, I take part in other courses at the university.

Because it is obvious that you thrive on competitive activity, what are your plans in this field? In what other contests do you wish to participate in the future?
There are several contests that I consider entering, but I must make a plan according to the repertoires I want to approach and make up a kind of calendar of the competitions I will enter in the future.
Larisa Clempuș
Translated by Florina Sămulescu and Elena Daniela Radu
MTTLC, Bucharest University