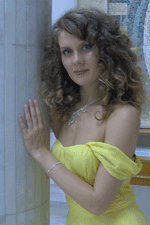 Romanian Singers Abroad - Soprano Iulia Dan
Thursday, 3 January 2013 , ora 14.43

'A talented singer, an enchanting presence with a beautiful soft and lyrical soprano voice that she uses skillfully and with great pianissimos' - this is what papers wrote in March 2011 after Iulia Dan's debut on the stage of the Romanian National Opera as Gilda in Giuseppe Verdi's 'Rigoletto'. She graduated from the National University of Music in Bucharest, the Faculty Canto - in soprano Maria Slătinaru Nistor's class, and she was awarded important prizes even as a student. Her talent was confirmed abroad, too - in 2011 she received a special award as the youngest finalist at the Vienna Belvedere Singing Competition. The same year, Iulia Dan became a member of the Opera Studio at the Bavarian State Opera in Munich, and the audience could see her, in the 2011-2012 season, in parts such as Giulietta in 'I Capuletti e i Montecchi' by Bellini, as Adina in Donizetti's 'Elixir of Love', or as Papagena in Mozart's 'Magic Flute'.

Thank you for being so kind as to answer this interview, in a beautiful period that has been full of career achievements, but also very busy. I would like to start with the last premiere you were part of in October 2012, the opera 'Babylon' by Jörg Widmann. What is it about?
'Babylon' is about the destruction and the creation of the world at the beginning of times and it is centered on the love story of a man torn between platonic and physical love. These two elements are represented by Inanna, the priestess of love and war, and Seele - the Soul, which, as the name suggest it, represents the superior, platonic love. At the same time, the opera presents a period that left a mark on the way the week was formed, with a lot of deities and a rather orgiastic behaviour here and there. It is a half-pagan world after a calamity or after the 'flood': it is a rather troubled opera.

It is a modern opera that will also be presented at the Munich Opera Festival in 2013.
Yes, it is. Of course, because it was very successful, the premiere and all the other shows were sold out. At the beginning the producers were a little skeptical, but Widmann is a very appreciated composer in Germany, so I don't think it could have been a failure anyway, especially since it was a long-awaited and desired premiere and people worked very hard. It was rather difficult, because the music was written while we were rehearsing, and we only had the final version at the end, during the last week. The orchestra first saw the music for the last scene four days before the premiere, so the Munich Opera Orchestra should first be congratulated, because they did an extraordinary job. The experience was fantastic; it was the first time I took part in something chaotic, in part, which had a very good ending.

You also gained the experience of working with an important conductor such as Nagano. What was this collaboration like?
It was interesting. Mr Kent Nagano is an extremely calm conductor and I can say he is a good conductor to gain experience on stage. He is not a conductor who helps the singers a lot, we know that, but somehow this is good, because each of us is on their own and we all have to manage. It was rather difficult for us, as this is a modern opera with a very intricate score, a lot of directions, it is very unpredictable and we can say that he eventually gave it that point of stability that we needed. It was a very good experience and a great opportunity to work with him.

Out of all the musicians you have worked with so far, who was the one that taught you the most, since you are still learning?
So far I have had the chance to work with Mr Ascher Fisch, a composer who also conducts in Munich rather often, but since there were no new productions, we did not end up working closely. We usually rehearse with an orchestra and after that we are already on stage and we do not have the opportunity to really collaborate with the conductor, we can merely follow his directions. I have learned the most from Mr Nagano's assistant - Mr Christopher Ward, who conducted our own production from last year - Janáèek's 'Beads on a string'. Mr Christopher Ward is a very talented British young conductor, who worked with us, who is very willing and has the time to teach us a lot. He opened our eyes - at least mine - pretty wide.

What are your projects in the near future?
I still have more shows and concerts in Munich in 'Hansel and Gretel' and 'Jenufa'. We have our own production at the Opera Studio - 'Elegy for Young Lovers' by Hans Werner Henze, we have a lied recital and a rather important concert at the Theater für Kinder - our theatre for concerts. Personally, like most of those who finish their second year here, I have to audition in order to see what the next step in my career will be.

What other roles are you preparing?
I have just received an offer, a question actually, and I have to think about it, whether I want to be Constanze in 'Cosi fan tutte', at the Gärtnerplatz Theatre in Munich. I have the chance to work with Mr Richard Trimbon for this role. He has worked his entirely life with the greatest conductors and now we can prepare for our roles with him. He is one of the greatest German specialists in Wagner, Mozart and Strauss. Last year I learned the role of Susanna in 'The Marriage of Figaro', and this year I would like to start learning Traviata with him, because he has Carlos Kleiber's directions and I find that absolutely extraordinary. I also have to keep learning my bel canto repertoire, with roles such as Lucia and Norina. Aside from that, it depends on the roles I know I will take next year, according to the 'house' where I will go to sing.

You mentioned some auditions that you will take. What stages are these auditions for?
They are for stages such as Dusseldorf, Hannover, Dresden. I have already auditioned in Bonn, where I was successful, and for the rest I have to talk to my agent, who tells me every day where I can audition and together we discuss what is best for me.

You have already taken part in a modern staging. Perhaps being in Munich you have seen many other productions, some of them modern, others classical. Which do you like best?
When I came here I did not expect to start liking modern productions and in fact, I think that the whole of last year, until we had our modern production of 'The Cunning Little Vixen', I was against them. It is somewhat normal, since I am influenced by where I come from, Romania, where we do not have a lot of contact with modern productions. I used to look at a modern production only from the point of view of changing shape, without anything consistent, where they neglect everything that's essential in the original score. But, after I came here and worked closer with young conductors and directors, who are very talented and have a lot of ideas, I saw how they try to bring the audience closer to problems that can still be current, and they do it through a new approach. For instance, this is what will happen with the new production of 'Rigoletto', viewed from a different angle: Rigoletto's dilemma does not lie in the physical handicap he has or his social position, but rather in his internal conflict, which triggers his relationship with Gilda and the problems he has with those who surround him. Modern productions often transform stories that may seem nothing more than completely unrealistic fairy tales nowadays into stories with social issues and genuine, multi-faceted characters, which I consider very interesting. Although sometimes the message does not reach beyond the stage, the ideas are essentially good. Perhaps it is just a matter of time until everything that's, say, excessive, and then the basic idea of modern productions will remain: revealing the essence, and not the unessential, scenery elements, like plastic food and so on, which the 'classical' productions have.

What do you appreciate most in a partner when you are on stage?
I really appreciate energy. From what I have seen here, working with my colleagues, energy and spontaneity are extremely important, because most of the times, things do not go completely the way you plan them. In fact, this is what makes the difference in time: the ability to handle an unforeseen situation, because very often anything can happen on stage, from a musical or a technical point of view, and at that moment things must go on.

Do you have any idols now, among the important artists?
I can't say I have any idols; I have certain singers who I appreciate certain things in. For instance, it was a revelation to see Renée Fleming live for the first time, singing in 'The Knight of the Rose' the part of the Marschallin, one of her basic roles and one that she is very much appreciated in. She was simply outstanding from every point of view. I appreciated her before, I had always admired her way of singing, of acting, but now, seeing her live made me appreciate her even more.

What hobbies does soprano Iulia Dan have? How do you spend your leisure time?
I spend it really quietly, actually. I like running very much, but this is a newer thing. It's something I took up when I moved to Munich, because it is a very clean and beautiful city and there are a lot of parks.

You also need to be in good physical condition, after all.
Certainly, and it is absolutely necessary. It is yet another thing I have learned since I moved here, that a good physical condition is essential, because the rehearsals take place very often. I also like reading, love it, in fact. The only problem is that I have no time for a more interesting hobby, a more active one, I mean, because unfortunately, I am rehearsing almost all day long, and I have very short breaks.

Share a thought with the listeners of Radio Romania Music.
Keep listening to beautiful music.
Jeanine Costache
Translated by Irina Borțoi and Elena Daniela Radu
MTTLC, Bucharest University