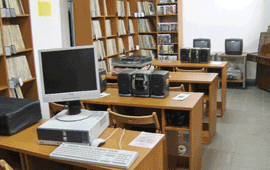 The 'George Enescu' Media Library Reopens
Tuesday, 15 January 2013 , ora 9.28

On 15
th
January, 2013, the Bucharest Metropolitan Library will reopen the 'George Enescu' Media Library, the only public library branch in Bucharest specialised in arts and multimedia. Those interested have access to the recordings of the media library, both classical music records and plays, as well as to art film and documentary screenings; they can also refer to encyclopaedias and art dictionaries, as well as use one of the available computers, with Internet access. The media library also owns a collection of Enescu's scores. The project coordinator,
Sergiu Găbureac
, describes below the facilities offered by the 'George Enescu' Media Library in its new premises in Mihai Bravu Boulevard.

'We are dealing with another specialist branch of the Bucharest Metropolitan Library. The "George Enescu" Media Library is one of the specialist branches of the Bucharest Metropolitan Library, which now has 35 branches throughout the capital city. It is mainly aimed at art lovers, and it holds a considerable number of items, such as books, albums, CDs, DVDs, as well as video and audio cassettes, with all the artistic productions made both in Romania and abroad throughout the years. The space of the library will also be used for small-group events, in order to provide an introduction to music, as well as to the other arts, such as drama. It will also be used as an unconventional space for pupils, as we will hold film screenings relating to school bibliography, especially for high school students. We own the necessary equipment for both screenings and record listening. The branch also owns a digital library, a section specialising in distance communication, as well as workstations which give online access to the databases of the Bucharest Metropolitan Library; it is called "Dacoromanica" Library.'

Where will your premises be located?
Our premises are located opposite the Bucharest Second District City Hall, in 4 Mihai Bravu Boulevard. The Bucharest Art Lending Library, another branch of the Metropolitan Library, will be located here, as well.

What are your opening hours?
We are open Monday, Tuesday and Wednesday from 11 a.m to 6 p.m, Thursday and Friday from 9 a.m to 4 p.m.

As far as the the music category is concerned, what can those interested listen to at the 'George Enescu' Media Library?
They can listen to absolutely all music genres. Of course, we lay emphasis on classical music, but we also have rock, pop, and jazz... all music genres, recorded on mediums of the highest quality. Access to the library is free of charge as all the services provided by the Bucharest Metropolitan Library. Many of our documents can be borrowed, as well. We are happy that we have managed to open this branch because it was not only necessary, but it was also the request of the art lovers in Bucharest. Due to the partnership signed with specialised institutions, music schools, and specialised high schools, we provide a solid training base not only for pupils, but also for all those who are eager for information and training in the field of art.
Ioana Marghita
Translated by Cristina Firoiu and Elena Daniela Radu
MTTLC graduates, Bucharest University