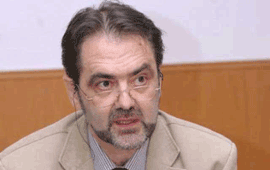 An Interview with Mihai Constantinescu, the Artexim Manager: the 2013 'George Enescu' Festival
Friday, 18 January 2013 , ora 8.13

The major musical event of this year will be without any doubt the "George Enescu" Festival that will take place between 1
st
and 28
th
September.

The preparations for this year's "George Enescu" International Festival are ongoing. Can you tell us what preparations are underway and what you are working on now?
Now, we are working on a rescheduling of the budget of the "George Enescu" Festival, according to what has been planned in accordance with the government budget. The issue of receiving large sums of money from sponsorships is under discussion. The second item on the agenda is the organization of the accomodation, international transport and the rehearsal schedule. So, the most difficult and detailed work for this Festival has already begun. For now, we are out of the ticket subscription packages that were on sale - I am referring to the ticket subscription packages for the areas A, B, C and D at the Palace Hall and those for the arrays of concerts that have been scheduled at the Romanian Athenaeum. The printed tickets were sold out from 10:00 to 12:00 on 15th January, during the first two hours after opening the box office; there were a few ticket subscription packages left for the performances at the Palace Hall because more of them had been available for sale; but those for the two concert series at the Romanian Athenaeum have already been sold out. We'll see if there are any more tickets left after the rest of the available tickets will be on sale after 15th April.

What is new regarding the programme and the concept of this edition?
The concept presents a new section, in which 21st century musical pieces will be included and a workshop during which meetings of young musicians with well-known musicians will be organized; the latest will come to Romania because their works will be performed at the Festival in Bucharest. I think this would be the most interesting part of the programme. Another new section is called "Canto - Wagnerian Voices", so in other words, we can say that the Canto section 'comes back into the competition'. The Wagnerian Tetralogy is presented at the Festival for the first time within the Wagner Year celebrations, the Requiem by Verdi, within the Verdi Year celebrations and we have also included a work by Britten, within the Benjamin Britten Centenary Year. So, we keep in step with the international calendar. Both the late-night concerts and the array of concerts performed by great international orchestras, will take place at the Palace Hall, as well. Radu Lupu comes back to Romania after a long absence, within the opening concert at the "George Enescu" Festival and an American Orchestra, the Pittsburgh Philharmonic orchestra also returns after a rather large interval of time. So, we bring you the latest festival news and some of the well-established events that have already been confirmed.
Andreea Chiselev
Translated by Andreea Mesescuand Elena Daniela Radu
MTTLC, Bucharest University