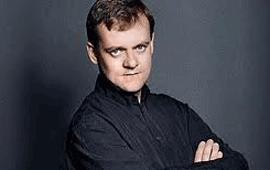 Interview with Violinist Frank Peter Zimmermann
Friday, 4 January 2013 , ora 9.46

In August 2011, I was invited to participate in the Chamber Music Festival in Moritzburg - Germany, one of the most interesting events of this type that I have ever attended. Moritzburg is located in the former German Democratic Republic, near Dresden. It is cellist Jan Vogler`s creation, who believed that by composing it in the early 90s he could help his country that had freshly got rid of communism the same as Romania. Thus, musicians selected by Jan Vogler gather every year in Moritzburg. They stay together at the hotel enjoying an idyllic setting; I mean the French gardens of the Moritzburg Castle, study chamber music works and play them in recitals.
It was a great opportunity for a journalist like me to meet the artists who had been invited there within an environment which was totally deprived of formal constraints. Among them, I met violinist Frank Peter Zimmermann, who already represents a contemporary legend of violin artistry for me. I actually had the chance to talk to him in his hotel room. I can hardly imagine having such a relaxed dialogue with one of the great contemporary violinists under different circumstances. Frank Peter Zimmermann is one of the leading violinists of our times and perhaps the most valuable one in Germany today. He began studying violin when he was 5 years old and when he was 10 years old he had his first concert. Since 1983, when he was 18, he has come up in the world - playing virtually along with all the famous orchestras and conductors of the past 30 years.
Of course, our dialogue started from the festival that brought us together.

Frank Peter Zimmermann, one of the guests at the Moritzburg Festival. Are you are here for the first time?
Yes, it`s my first time here. Of course, I have had a good grasp of the festival for many, many years; Jan Vogler is a friend of mine, we have known each other since the early 90s. I have not managed to come to the Moritzburg Festival so far, but now being here for three days, I can say that I really like everything; I really appreciate each and every minute here, especially all the musicians, and spending time with them means a lot for me. The surroundings are great - the castle and nature make you feel calm and strongly focused on music. We play beautiful music - Brahms, Beethoven and it is always a pleasant task to play such a music that almost reaches perfection. With valuable partners, there are divine moments when you feel you are in paradise.

Do you know other festivals of this kind in Germany?
I do not know what to say, you see, I'm known as a lonely musician, as most of the time I play with orchestras, and I have rarely play chamber music. I have my own trio and of course we have recitals together. Here, we would like to play the Brahms` sextet - because never have I played a sextet in my life. We have learned the score and we did not want to play it one single time, therefore, a year ago, I asked Jan Vogler to include us in the Moritzburg Festival programme. So far, I have never played in a chamber music festival. And this is probably because I am known as a musician who does not really socialize.

I read an old article from a French magazine that agreed on your being more of a soloist in concerts with orchestra rather than a partner in chamber music ensembles...
It is only a matter of time; I do not consider that chamber music comes second.

You have a trio...
Yes, this trio is really my passion. We meet at least twice a year so that we can play in tours. And I do it only if I like the people I must play with, if they are my friends, because otherwise I cannot accede to this kind of music which is so intimate. It is a very delicate matter to play Mozart or Beethoven with such a small band. Therefore, my name does not appear too often in the chamber music repertoire. This does not mean that I do not consider chamber music as a kind of culmination of all classical music, but I could never give up playing Beethoven`s and Brahms` concerts. I listen to string quartets a lot, but not as the one I played in, but the professional string quartets - these auditions really gratify your life.

Can you describe the other two partners in Trio Zimmermann?
It is a strange story. Both are the students of musicians that I would often play with a lot. Cellist Poltera Christian was Heinrich Schiff `s student, with whom I played many concerts and whose old friend I am. Violinist Antoine Tamestit is Tabea Zimmermann`s student. I have always had this dream of setting up a string trio.

Why a trio and not a quartet?
Because a quartet requires so much time, it is so exposed and there are so many incredible string quartets. I should have to cease everything, especially my solo career, which I wouldn`t. I wish I had more concerts a year, but mainly I do not want to compete with those quartets backed by 20-30 years' experience. Of course, taking advantage of my name, I could have got favourable contracts for my hypothetical quartet, but I am fully aware that I could not have equaled the high level of those traditional quartets which have been playing together for so long. Of course, to play in a quartet is the greatest thing you can do. But meanwhile playing in a string trio is as valuable. I remember that when I was little I played several string trios with my father and his colleagues - my father was a cellist - and therefore string trios have always remained an important part of my soul. I remember that in 2005 when I played my first concert with Antoine Tamestit, Mozart`s Sinfonia Concertantein Liege, Belgium, I spontaneously asked him afterwards if he wanted to play chamber music with me and he asked me - "in a quartet"? "No," I replied, "in a trio. Do you have any cellist you can recommend to me? "And he mentioned Christian Poltera. It was strange in a way, as they were both the students of musicians I had played with for so many times and maybe that`s why we fit perfectly.

Your resume is impressive; anyone can see your extraordinary career. Which are those important experiences that had a great impact on your career?
Well, this is very difficult. I was lucky to have met some great artists who have helped me a lot. I was fortunate that early in my career I met Lorin Maazel, for example. Although I have never played with him, Sergiu Celibidache had also a huge influence on me. I was too young to fully understand him, but I consider he saw in me those skills that I had not been aware of and he believed he could shape my career accordingly to his model. But then, as now, by the way, I was very stubborn and I did not do too well when communicating with such a great personality, a valuable and important personality. Celibidache was one of my great idols, and the older I become, the more I appreciate the experience of having been around him. I remember a four-hour study session for Brahms` Concerto and I finally did not know whether to play the violin with your left or right hand. Celibidache taught me a lot, especially the things I do today. I collaborated with other great conductors Daniel Barenboim, for example, who is also a great pianist. I was also lucky that my career started in the '80s, when things werenot happening so quickly and they were not commercial as they are nowadays. Today, sometimes the things that happen around music are more important than the music and the musicians themselves and that's a little sad. There are hard times when I see young people that I feel pity for, thinking about what they have to face. I, for example, do not have a recording contract now. I rejected a contract with a company that asked me to do crossover projects 15 years ago. Then I said 'No', but I was lucky because I had already recorded the most important part of the violin repertoire. Maybe now I would have approached it differently and I would have played it in a more convincing manner, but I would never fight for a recording. Recording is something that happens, and if it works, I do it, if not, I let it go. I think this is the most important thing for me now. But I allow myself to say all these things, because I have already done the right thing in 45 years, but when you are 20-25 years you have to face many problems like this, because unfortunately this business is focused only on selling as if it were all about biscuits.

I would like to talk to you about another Romanian personality you mentioned in a previous interview: Enescu. You said that never have such great teachers as himself existed or violinists such as Enescu and Heifetz - whom you could immediately recognize.
Enesco was one of the greatest personalities of music and a profound musician. There was a small piece of his soul in whatever he may have played. I often listened to him - of course, the discs were recorded when he was already old, but he represents a thrilling example of a tradition. I refer to his recordings: Bach`s Sonatas, Chausson`s Poemè, Beethoven's Kreutzer Sonata, and, of course, his own creation, The III rd Violin Sonata, in Romanian folk character. I myself have never played it, I would never dare - as well as Korngold`s Concerto, played by Heifetz. It is a pity that today we do not have personalities like Enescu, Heifetz or Kreisler, we can no longer talk to them so that they would share us their perspective on life and music - I think it would have been a memorable experience.

Everyone sees you and admires you on stage. But what is behind the stage, behind your success?
As time passes, everything becomes more difficult. I remember an interview with David Oistrakh for a television in Vienna, when he was 60. He was asked: "How many hours do you study a day?" And he answered: "When I was 20 years I studied 2 hours, when being 40, 4 hours, and now, when I am 60, I do not even count the number of hours I need to study to be competitive". "I think he's right. The more time passes, the more I feel the need to study more, to get back to my basic, primary essence. I am happy that I have a very stable and a deep family life - without my wife`s support I do not think I would not have got this far. The family is the foundation of my existence. I have two children, my eldest son, Sergei, who is 20 years old and plays the violin - actually he plays with me in Moritzburg.
Even though I work, and I work increasingly harder to remain the same. In general, my repertoire is the same - I learn few new works, but I study the old ones more, even those I played 100 times, such as Beethoven`s Concerto. I always go over the works I often played as if I had never known them, seeking for fresh perspectives. I think this is a must for a musician who grows older. If I look back at Enesco, Heifetz, Oistrakh and Milstein, those who began their career very early, but lasted up to 60, 70 years; this is what they did.
This is the hardest thing. To remain at the top, to have always a fresh vision, to wisely choose your repertoire - not play, for example, a musical work too often. I'm lucky as I can choose my concerts and people I want to play with - which is a luxury because I do not deal with unexpected things. The pressure to be on stage and to withstand a high level is much higher than for those who are just starting their career.

Let's talk about freedom and the power to choose - things that you love, as you said in an earlier interview.
Freedom and peace - these are two luxurious possessions which I am proud of. I have them here in Moritzburg - you can open the window and hear silence. And of course, there is freedom. The only constraint is planning concerts 2-3 years before and sometimes mentioning what you will play. I sometimes tell myself: "How can I know what I will play in two years from now on?" I prefer to decide a month before, which is more practical. But if I may say so, this is the only small coercion. But otherwise ... I can go anywhere; I can suggest things and work with orchestras and pianists I like. And being able to go anywhere and relax is priceless for your private life. Therefore, I think of artists who lived under the communist regime, especially those during Stalinist Russia, and of what they endured. We live in more fortunate times.
Cristina Comandașu
Translated by Alinda-Gabriela Ivanov and Elena Daniela Radu
MTTLC, Bucharest University