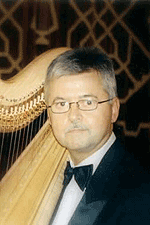 Ion Ivan Roncea - 'I'm a musician who loves to perform'
Thursday, 24 January 2013 , ora 8.34

On 24
th
January, we celebrated the birthday of the harpist Ion Ivan Roncea, an ideal occasion to have a dialogue with one of the most important musicians of Romania.

What is the most beautiful present that music has offered you?
It is not a certain event or concert, as you may expect, but rather the joy of creating music. I am a musician who has a true love and passion for performing and fortunately this happens often, when I play to a concert or recital audience, but the joy to make music is also present during the rehearsals. This pathway to learning, assimilating and perfecting a material, a concert or a recital that is about to be played on stage, is really interesting and sometimes, you live amazing adventurous and inspirational special moments , the one you wish for more often and especially in a public concert. As a matter of fact, the presence of the audience in the hall encourages me, as it does almost all artists.

As far as I know, you are celebrating your birthday with music. You are already at the Athenaeum. Can you tell us what your future projects are?
Indeed, now I am at the Athenaeum for the rehearsal of the concerts on 24th and 25th January within the Philharmonic's season. As for my career as a soloist, I can announce a few of the concerts that will be held in spring. Actually, quite soon , on 1st February, I will perform a Concert by Haendel with the Oltenia Philarmonic in Craiova, then in March I will have two performances, one of which seems more important to me, namely the concert on 12th March at the Athenaeum, when we celebrate 125 years since the was built. And on 16th March I will perform Light into the Future, a work by Ulpiu Vlad , with Ion Bogdan Ștefănescu. In April, I will have a busy schedule because I will perform a solo recital at the Șuțu Palace, then on 14th April, there will be a recital at the Athenaeum and on 16th April, a recital at the George Enescu Museum. I would rather call them rehearsals with an audience for the great concert that I will be performing on 21th April in the opening of the first Harp Festival in Croatia.
Petra Gherasim
Translated by Andreea Mesescu and Elena Daniela Radu
MTTLC, Bucharest University