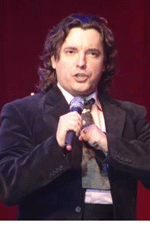 An Interview with Tenor Alfredo Pascu - the 'Canto Studio' Project
Friday, 8 February 2013 , ora 9.05

The "Ion Dacian" National Operetta Theatre organises a preselection session within the "Canto Studio" project - initiated by the well-known tenor Alfredo Pascu - for the young people (students and graduates) who wish "to highlight their vocal skills and accomplish their musical training".
The preselection audition will take place at the Auditorium of the National Library of Romania on Monday, 25th February, 2013. The selected six or eight students and graduates will attend the vocal training course run by Alfredo Pascu for three months, and they will give a special graduation concert at the end of the"Canto Studio"course.
The selected candidates will practise vocal techniques, during an intensive course session, three times a week, between 16:00-20:00 hours, under the guidance of Alfredo Pascu at the National Library between 4th March - 4th June.

How did you come up with the idea for the "Canto Studio" project and how will the project be managed?
I thought about this a long time ago, but I did not know how to bring it to life. I intended to run a very well organised course; and the Operetta managers agreed immediately and unconditionally to fulfill my dream of running a canto course. At first, I thought of the type of course, as the basic idea was that of a one-week masterclass course, but then I realised that it might be too short. Then, I thought of organising the preselection audition that would help us select six or eight students and graduates and run a three-month intensive course, in three sessions per week, with individual training sessions- for each participant, not group sessions with an audience as they usually do at the masterclass courses. I would like to run a course with no audience attending; the final concert of the participants to this course, will be given in front of an audience. The recital will take place in June and I will join their performance, as well.

Have you already made a plan for the training session of the young people who will be selected or will you organize it depending on their vocal abilities or needs?
No, I haven't. After the preselection audition organised at the National Library Auditorium on 25th February, I will choose the participants depending on their individual vocal abilities- with a different teaching method for each of them, because they are all unique.

What are the objectives you hope to achieve with the young performers at the end of the project?
I am not going to run a voice interpretation course as we usually do, but a vocal technique training course hoping to help the participants by sharing my ideas and my 17-year stage experience and we'll see what happens then.
And what are some of the tips that you usually giveto the young people who wish to become solosits?
Apart from studying, they need to be willing to explore themselves and choose their own path, because, in my opinion, each interpreter is unique and they do not have to imitate their predecessors. I hope they will find their own way.
Interview by Andreea Chiselev
Translated by Elena Daniela Radu
MTTLC, Bucharest University