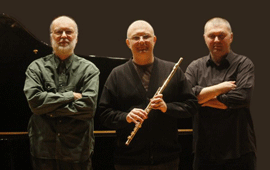 Interview with Pianist Sorin Petrescu - the Contraste Trio at its 30th Anniversary
Friday, 8 February 2013 , ora 9.31

The Capitol Hall in Timisoara will host an exceptional event on Friday, 8
th
February, 2013, starting 7.00 p.m. One of the most long-lasting Romanian music ensembles, the Contraste Trio, celebrates 30 years of activity in modern music, along with the Timisoara Philharmonic, under the baton of conductor Tiberiu Oprea.

What have you prepared for this music night and how important is this moment to you?
It is very important, because at one point, we remembered that it was in 1983 that we started to come close to new music, particularly Romanian music, and it was in a new trio, different from the one we use now, that is, a violin-clarinet-piano one. Our name comes from the first important work that we have approached, one of Bela Bartók's masterpieces which is called 'Contrasts'. It was at that moment that we decided to take that name.
Three years later, we replaced the violin with another percussionist than the one we have today, Dan Suciu. We used to have Dana Bozenovici at violin, Emil Sein at clarinet, and myself, Sorin Petrescu at piano. In 1990, Dan Suciu, our percussionist, left for Germany, and Doru Roman joined us in his place. In 2001, clarinet player and saxophonist Emil Sein left for Spain and Ion Bogdan Ștefănescu replaced him. Now our formula is flute-piano-percussion.
For the anniversary concert we tried to bring to the stage a varied programme, and I thought it was very important that we include the works of young composers, as well, and I am referring to Gabriel Mălăncioiu and Gabriel Almași, both of them born in Timisoara.
Gabriel Mălăncioiucomposed something inspired by Indian music, called 'Hasya', which means 'joy' in Sanskrit. Gabriel Almași composed one work that is called neither more nor less than 'Fragments from a Purple Vinyl'. It reminds of a theme by Deep Purple, so rock combines with symphonic music here. In this work, alongside us three as soloists, we will also have a DJ on stage. We propose attractive things for the young, as well as a first audition, Miklos Maros' concerto for flute, and then there is also some Chopin. The programme, I think, will please anyone, and we have symphonic jazz with Claude Bolling, two songs of his, and finally, a work by an American, Mike Mower, inspired from Latin American music. It is called Bossa Merengova and it is a combination of bossa nova, merengue and symphonic jazz. We invited a young conductor, Tiberiu Oprea, we have got along with him perfectly, he is a very talented, intelligent and flexible young man and we are happy with the choice we've made. It is the first time we collaborate with him and it is the first time that he conducts the Philharmonic Orchestra in Timisoara.

Translated by Irina Borțoi and Elena Daniela Radu
MTTLC, Bucharest University