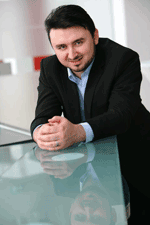 The Baritone Yuriy Tsiple On the Stage of the Zürich Opera House
Tuesday, 22 January 2013 , ora 8.59

Over the last few years, the baritone Yuriy Tsiple, a renowned name in our country, has also been noted on the international stages and he is now part of the Zürich Opera's team. The rehearsals for
Rigoletto
's premiere are taking place in the Swiss town these days whilst the baritone is preparing for his role in
La Bohème
. In the interview that he was too kind to give to us, the artist talked about the beginning of the collaboration with this prestigious musical theatre and the productions in which he can be seen at this time in Zürich.

When and how did this collaboration start?
This collaboration started right after an article issued by the French press regarding Don Pasquale, a performance that took place in Strasbourg, 2010, in which I interpreted the role of Malatesta. Since then, the new management team of the Zürich Opera House has followed my evolution researching on the show chronicles or the DVD about the show; in Strasbourg, 2011, they even came and saw me rendering the role of Schaunard in La Bohème, directed by Robert Carsen. In June - July, 2012, they were also aware of my part as Don Parmenione in Rossini's L'Occasione fa il Ladro; after all, this is their job. A theatre of greatest importance as that in Zürich has to choose its singers carefully according to their own perspectives and how willing they are to get ahead there. The management team has to grasp the inner emotion of each artist so to foresee their stage appearance, performing skills and the means to highlight them. It was a rather long journey to reach Zürich but thank God, it came true!
In October, 2011 I signed a contract with them and I start performing in August, 2012. My first part was in Die Schatzinsel, a world premiere, based on Franck Schwemmer's musical composition and Michael Frowin's libretto. It was a pretty interesting piece of work; it was indeed a challenge for me as I interpreted the role of a blind pirate which made me thought whilst coming across such people: "This is the attitude I must have on stage, I have to look natural". I was once discussing my part with the prime cellist from the Zürich Orchestra in the tram and right before us there was this visually impaired lady and his reply was: "Here is another example!" This was how we shaped the role. The premiere which took place in November was a huge success! It was a challenge as I considered myself an actor rather than a singer. And I keep my statement as such as, despite my position as an opera singer, as a lyric artist, I reckon to be an actor because nowadays this profession has reached the point in which the singer must become a good actor as well, so to stress importance on the character; this implies your status as singer-actor. I say this because the first meeting between singers - nowadays singers of the modern world - and directors is based on the discussions upon the librettist's and the composer's concepts followed by the director's view and your own; as a singer, you have to know how to stand up for what you believe if the director does not share your opinion; you have to explain yourself clearly by arguing your reasons regarding your will and view. Most of these arguments are, at bottom, sustained by lots of readings.
These days I am getting ready for La Bohème in which I also interpret the role of Schaunard, after the performance in Strasbourg. The cast is extraordinary here: the soprano Inva Mula will perform Mimi, the Italian tenor Stefano Secco will render Rodolfo, my dear friend, the Italian baritone Massimo Cavalletti is going to be Marcello, the German bass Christof Fischesser will interpret Colline and I will be Schaunard, the musician, whilst the soprano Sen Guo from China - whom I hope to listen to not only at important opera theatres but also on CDs as she has an outstanding voice and technique - will render Musetta. The conducting baton will be held by none other than maestro Fabio Luisi, the current artistic director of the Zürich Opera House and prime conductor of the Metropolitan Theatre in New York. Hence, I have to be fully prepared for this part. The pianist working for the maestro Luisi, Mrs Carmen Santoro from Parma was and she still is my trainer and she has a great share of help regarding the interpretative aspect of the role - which is not new for me - as well as the technical and vocal factors; of great importance concerning the Italian music is that each sound is plain, accurate so the audience should love music and its sounds, apart from a good acting and a staggering performance that I must accomplish. In March, I will perform the character called Morales in Carmen, which also entails pantomime, one of the scenes most theatres skip to. It is a pretty difficult scene as Morales renders an intricate aria. He has to interpret for twenty minutes, at the beginning of the composition, which can only be good for me as I will be given the opportunity to point to the refinement of the French music which I also like very much.
Many other roles are to come next year including another world premiere in Zürich: I will interpret a ghost based on the German composer Marius Felix Lange's work who found inspiration in Oscar Wilde's The Ghost of Canterville. I am the leading role and I will join stage with a Romanian singer whom I love very much, Mrs Liliana Nichiteanu.

These very days the rehearsals for Rigoletto's premiere are taking place.
The premiere is going to be on 3rd February; we have started rehearsing on 10th December and everything is going just fine. There are still two weeks to go and we are going to start to run over with the orchestra as well. We have been rehearsing with the piano so far, we did some staging run-through and the orchestra is to come these days; the conductor will be the maestro Luisi, of course. It will be a very modern production, perhaps the most modern in which I have performed so far.
Andreea Chiselev
Translated by Sorina Cimpoeru and Elena Daniela Radu
MTTLC, Bucharest University