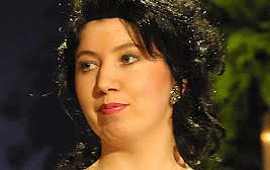 Mezzo-soprano Cornelia Oncioiu at the Paris Opera
Thursday, 28 February 2013 , ora 9.05

Mezzo-soprano
Cornelia Oncioiu
is currently playing the part of
Tisbe
in the opera
La Cenerentola
by Gioachino Rossini at the Paris Opera, with Antonio Siragusa -
Don Ramiro
, Riccardo Novaro -
Dandini
, Simone Alaimo -
Don Magnifico
and Jeanette Fischer -
Clorinda
.With regard to this event, Cornelia Oncioiu provided in an interview details about the production, the collaboration with the other artists who are part of the team, as well as her future projects.

How would you describe the production of Jean Pierre Ponnelle and your part?
This production requires an extremely thorough work which is, at the same time, comical, full of funny moments, so to speak. I enjoy participating in this production because it's been forty-four years since its premiere and it's an honour to be in the same production that has been performed on all the stages of the world during this whole period.

What about your collaboration with the other artists, with the conductor Bruno Campanella, a well-known conductor when it comes to Italian opera?
It's very good. Mr Campanella is really nice to us, he's like a father, very warm; everything he tells us is welcomed and I'm open to his suggestions. The relationship with the other partners is very good, we get along really well; most of my colleagues have Italian roots. Simone Alaimo, the veteran of the production, is someone who helps us, teaches us and corrects when needed, because he has been familiar with this production for a really long time. The director, Grischa Asagaroff, worked with us for only two days, as he wasn't available for more, but he corrected and guided us where necessary. From the musical point of view, I think that the other artists and I form a good match, the ensemble has balance and the voices complete each other very well.

What other projects are on your agenda during the next period?
After La Cenerentola ends, on 25th March, I'll come to Romania to perform in Dvoøák's Requiem at the Radio Hall. Then, at the Paris Opera, I'll be performing during the next season in Lucia di Lammermoor, Madama Butterfly,Traviata, The Rape of Lucretia by Britten and in Nantes I'll be in Pelléas et Mélisande.
Andreea Chiselev
Translated by Mihaela Olinescu and Elena Daniela Radu
MTTLC, Bucharest University