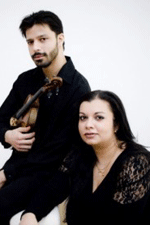 Interview with Violinist Răzvan Stoica Who Represented Romania at the New Talent Awards 2013
Tuesday, 26 February 2013 , ora 14.00

The violinist Răzvan Stoica (26 years old), who is currently living in Amsterdam and who boasts a nice career in Europe, is recording at the Radio Romania Studios on February 21
st
-26
th
, 2013.
Given the Radio Romania Music's proposal, Răzvan Stoica is the representative of Romania at the 2013 "New Talent" Awards which is the most important contest for young artists over 18 years old, under the patronage of the European Broadcasting Union. The first stage of this event is based on the artists' recordings and the semi-finalists are to compete in Bratislava, in October.
Răzvan Stoica is recording with his sister, the pianist Andreea Stoica, and, a pleasant surprise is that the Stradivarius violin - which he plays in concerts as a reward obtained at a contest in Salzburg- has arrived in Romania.

Right before his first recording session, in the interview given to Ioana Marghita, Răzvan Stoica stated:
I was 5 years old when I started playing the violin with my father and when I was seven years old I got in "George Enescu" Music High School. After graduation we received a scholarship at the Conservatorium van Amsterdam and it was an opportunity to work with renowned personalities of the classical music. Over this period we were known as a duo, Stoica Duo, and our debut was at the Concertgebouw, the well-known hall, in Amsterdam. It was then followed by a series of concerts. In Europe, we won the first prize at Strad Competition, in Salzburg and the reward consisted of the opportunity to hold and play an Antonio Stradivarius violin for seven years; it is an extraordinary violin which I play with great pleasure. Moreover, we struggle to perform in Romania, as well. There is a long time since we haven't performed here but we aim to change that by breaking into the Romanian music business this year.
Andreea Stoica: I started playing piano when I was six years old, at "George Enescu" Music High School; then, I got accepted at the National University of Music in Bucharest and I accomplished a master's degree at the Conservatorium van Amsterdam. I join stage with my brother by the name of Stoica Duo, but I also perform alone in recitals and concerts.

You are now on Radio Romania. How does it feel to be here?
Andreea Stoica: It is lovely. We are back after a long time, there are almost ten years, I guess, and it is a peculiar feeling given the circumstances of our return.
Răzvan Stoica: I am very happy to be here again after such a long time and I am also glad to work with pros.

Tell us a little about the repertoire that you have prepared for the competition in Bratislava. How is it designed and why did you choose to plan it like that?
Răzvan Stoica: We wanted to make a selection of a great styles' variety, from contemporary to classical and romantic music and, this is why we have especially chosen Sarasate, for instance, or Arvo Pärt's compositions; we have also decided on a modern pierce of work written by a currently modish composer and a Romanian composition, Ciprian Porumbescu's Ballad. Besides these already mentioned, we are thinking about one composition by Antonio Bazzini which is fireworks, as the Americans would say.

What are your expectations regarding this concert?
Andreea Stoica: We hope to make it all the way to the final, this would be the first step, and then we will see what happens in Bratislava as we don't know very well how things are there. However, we feel that we will get exactly where we should.

Translated by Sorina Cimpoeru and Elena Daniela Radu
MTTLC, Bucharest University