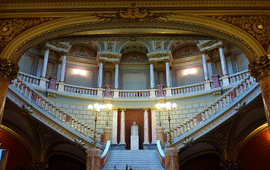 Interview with Cristina Vasiliu, Creator of 'The Confluence of Arts' Performance Series Hosted by the Romanian Athenaeum
Tuesday, 12 March 2013 , ora 7.51

In the 80s, PhD professor Cristina Vasiliu was the co-ordinator and host of a series of performances attracting art lovers at the Romanian Athenaeum. Her project was resumed and it is still ongoing, bringing very important artists of the Romanian cultural world to stage. As the title shows, the 'Confluence of Arts' presents feature music, fine arts, video projections and literature, and the interview we took Cristina Vasiliu started from a new subject, inspired by the performance held at the Athenaeum on 12th March: the 125th anniversary since the opening of the institution. The performance artists were, among others, pianist Viniciu Moroianu, cellist Marin Cazacu, violinist Anda Petrovici and the members of the 'George Enescu' Philharmonic Choir.

How did you choose the theme of its anniversary performance called, 125 years since the opening of the Romanian Athenaeum?
I have been looking forward to dedicating a performance to the Athenaeum for a long time, but it seems the celebration of its anniversary is the chance we have been waiting for; namely, 125 years since the opening of the institution.

How do literature, music, fine arts and architecture blend in this performance?
We have organized this performance starting from a few esthetic co-ordinates - this is the purpose of 'The Confluence of Arts'. At the same time, this is a performance that welcomes the Athenaeum lovers, those who constantly participate in the events at the Romanian Athenaeum. The Athenaeum has been a society meant to contribute to spreading national and international culture through a series of concerts, exhibitions and conferences. The performance that we have organized had a soundtrack from different musical works - among which Enescu's music was the most important. Actor Eusebiu Ștefănescu was my partner on stage, and he recited significant texts written about the Romanian Athenaeum. We projected images of the building, taken both outside and inside, as well as portraits of George Enescu, made by painter Corneliu Baba. Certainly, we wanted to evoke a series of personalities who performed on the stage of the Athenaeum, starting with the first concert of the Orchestra, conducted by Eduard Wachmann, until today: George Georgescu, Dinu Lipatti, Valentin and Ștefan Gheorghiu and Ion Voicu - as well as intellectuals and music lovers who participated in the Philharmonic's concerts and who wrote about them: Tudor Arghezi, Mihail Sebastian, Lucian Blaga, George Călinescu, Tudor Vianu, Anton Holban and Corneliu Baba.
Alexandra Cebuc
Translated by Irina Borțoi and Elena Daniela Radu
MTTLC, Bucharest University