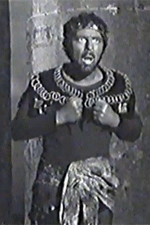 Nicolae Constantinescu's 75th Anniversary
Wednesday, 27 March 2013 , ora 11.16

We are celebrating baritone Nicolae Constantinescu, who was born in Bucharest on 27th March, 1938. The musician studied at the Canto Department of the 'Ciprian Porumbescu' University, in professor Petre Ștefănescu-Goangă's class. When he was a student he made his debut at the Bucharest National Opera, as Enrico in Gaetano Donizetti's Lucia di Lamermoor and in September 1969 he was employed there. The baritone performed alongside personalities of Romanian culture, such as Elena Cernei, Viorica Cortez, Ileana Cotrubaș, Eugenia Moldoveanu, Maria Slătinaru-Nistor, Cornel Stavru, Ludovic Spiess, Nicolae Herlea or Marina Krilovici. He is Associate Professor at the National University of Music Bucharest, and many of his students sing on important stages in the country and abroad.
On his anniversary, Nicolae Constantinescu agreed to answer a few of our questions:

Happy birthday, maestro Nicolae Constantinescu!
Thank you very much. The greeting pleases me much, especially as it comes from our dear radio station - Romania Music. For my part, I am happy to wish you Happy anniversary!, because not long ago you have celebrated 16 years of activity.

Thank you very much. What is your state of mind on this lovely birthday?
This is a question that is quite difficult to answer. I am greeting this day with mixed feelings, that is, I am thinking it is an honourable and honouring age, at the same time, but this doesn't mean I can hide a sort of nostalgia. And I am thinking that only five years ago, when the Bucharest Opera - to which I dedicated my modest energy for 25 years - organized an anniversary performance for me, Madame Butterfly, and I recall very touching words being spoken. At the same time, I realize five years have already passed since then, which is a reason for satisfaction, but at the same time, for a lyrical touch; I would not like to sound pathetic. Besides, I would like to say that these five years have brought essential changes to my life. I have had certain social functions, I have become a father-in-law and now I am a grandfather - which is a sensational investiture. I follow my boy's evolution closely, I also follow the professional evolution of my daughter-in-law, who I am equally proud of, and I also follow the professional evolution of most of my former students who work in various cultural institutions in Romania or abroad. It is, in a way, a form of acknowledging another activity of mine for the past twenty years, that of teaching canto lessons and - hoping that you are not going to consider my apparent lack of modesty - I have enough reasons to be glad of these young people's achievements. It is yet another reason for satisfaction.

In 2004 you were awarded the Order of Cultural Merit in the Rank of a Knight for your entire activity. How important was this acknowledgment of your contribution to Romanian culture?
It is, certainly, an official sign that, at least at that time, our activity - I mean all of us who have a certain cultural activity - was considered and even appreciated. I would like that things should go on the same way from now on, so that Romanian culture could find its place, so that people who serve culture could be valued, appreciated accordingly. I remember that evening, when the President of the time awarded these distinctions, an evening that myself and the others still hold dear.
Larisa Clempuș
Translated by Irina Borțoi and Elena Daniela Radu
MTTLC, Bucharest University