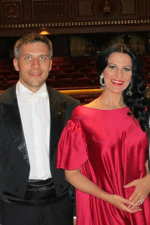 The Conductor Tiberiu Soare at the Stand of the London Royal Philharmonic Orchestra
Monday, 13 May 2013 , ora 11.18

Within the series of concerts given by Angela Gheorghiu together with Romanian artists on the great stages of the world, on Friday, 10
th
May 2013,
Tiberiu Soare
- chief conductor of the Radio Orchestras and Choirs - and the tenor
Teodor Ilincăi
- with an impressive international career - are the guests of the famous soprano at the Royal Festival Hall in the capital of Great Britain, beside the London Royal Philharmonic Orchestra. We found out more about this amazing concert from Tiberiu Soare himself, who granted us an interview on this topic.

Tiberiu Soare, this is your first time as conductor in the capital of Great Britain, conducting the London Royal Philharmonic Orchestra. How do you feel there and how is your collaboration with this prestigious British ensemble?
The atmosphere is amazing, characterized by co-operation and a high degree of professionalism. Obviously, this is true in the case of many other orchestras, including the Romanian ones, so what is really typical is not necessarily the atmosphere, but a certain feeling of comradeship. The members of the orchestra - and I was able to notice this at the London Philharmonic Orchestra when I had the chance to conduct this ensemble not in London, but somewhere else - have a certain manner of approaching the musical act, where they are all colleagues. There exists a kind of hierarchy, but everything works in a very friendly way. They are all there and they are trying to make good music, as good as possible, by working together.

What do you think about the hall that will host this concert, a place which, for that matter, is well-known in the international music life?
This is the Royal Festival Hall, at the heart of London, right next to the famous London Eye. The London Eye is that big, big wheel which, as some friends of mine were joking, is the copy made by the Londoners after the wheel they had seen in the Herăstrău Park, in Bucharest. It is an amazing hall, an old-established venue. What can I say? The Royal Festival Hall is the home of the London Royal Philharmonic Orchestra. A remarkable hall with, as you can imagine, exceptional acoustics.

Talk to us about the programme you have chosen for 10th May…
The concert today is part of a longer series, a series hosting great celebrities, stars of the opera. To the best of my knowledge, Bryn Terfel, Rolando Villazon and Anna Netrebko were also invited to this series of concerts at the Royal Festival Hall, alongside Angela Gheorghiu. There are a lot of great names participating in this series of concerts and, here, today it is Angela Gheorghiu's turn and Romania's turn in general, since Angela Gheorghiu chose to give this concert together with two Romanian musicians. It is a gala concert, not part of the usual repertoire of the season, an extraordinary concert of the London Royal Philharmonic Orchestra. The programme has a wide variety, with works ranging from bel canto, even classicism if I think of one of Mozart's arias from the opera The Marriage of Figaro, to our days and contemporary composers, one might say. It covers the whole stylistic range: except baroque, baroque is not on the list yet. But we are to cover the baroque in another concert.

Also at Angela Gheorghiu's invitation, the tenor Teodor Ilincăi will be on stage. What is the opinion about these two music personalities in London?
There's no need for me to tell you many things about Angela Gheorghiu. Anyone knows her; it's enough to pronounce her name. You can't imagine how well respected she is here, in the capital of Great Britain. Not only all the musicians in the orchestra knew her name, but they knew her, as they had collaborated before, on other concerts and performances, and she is held in high regard. However, I want to tell you more about Teodor Ilincăi. His name is more and more known in all the important theaters of Europe: Frankfurt, Berlin, the Deutsche Oper, the Opéra de Marseille and many, many other names, Covent Garden…there, he performed at Covent Garden! I was really surprised yesterday, when wandering the streets of London, to enter a music shop and there, one of the DVDs was a recording of a live performance at Covent Garden, given by none other than Teodor Ilincăi, singing the part of Rodolfo in Puccini's La bohème. So, Teodor Ilincăi is part of that slightly paradoxical category of artists who are better known abroad than in their own country. But let's hope that this will change very soon. He is a tenor with a very full and vigorous voice; at certain lyrical passages, it has a very warm sound. He is at the height of his expressive forces and abilities.

I understand that you will be in Moscow in June.
Yes, that is true.

Can you tell us more about this new project?
In Moscow, on 11th June to be more exact, there will be a concert at the Stanislavsky Theater, with the Moscow State Symphony Orchestra, with Angela Gheorghiu who invited Cezar Ouatu and me. I am, again, a guest of Angela Gheorghiu's and this is a reason of great joy and pride. There will be works belonging to the baroque, classical and bel canto repertoires. A special emphasis will be placed on this type of works because of the particular combinations of soprano and counter tenor. I hope I'm not mistaken, but as far as I know, this is the first concert with this combination of soprano and counter tenor.
Ioana Marghita
Translated by Mihaela Olinescu and Elena Daniela Radu
MTTLC, The University of Bucharest