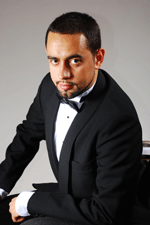 Romanian Artists Abroad - Bass Alin Anca
Thursday, 30 May 2013 , ora 9.26

He made his debut on the stage of the Romanian National Opera in Cluj-Napoca, the city where he graduated from the 'Gheorghe Dima' Music Academy. The people from Cluj could admire him in such roles as:
Don Giovanni
in Mozart's homonymous opera,
Fiorello
in
The Barber of Seville
by Rossini,
Tom
in
Un Ballo in Maschera, Monterone
in
Rigoletto
and
The Grand Inquisitor
in
Don Carlo
by Giuseppe Verdi,
Colline
in
La Bohème
and
The Imperial Commissioner
in
Madama Butterfly
by Puccini, as well as
Dulcamara
in
The Elixir of Love
by Donizetti; he interpreted this latter score at the National Opera in Bucharest, in April 2013. The future soloist of the Hamburg State Opera revealed to us a few of his projects.

From the Berlin State Opera to the Hamburg State Opera

Alin Anca, thank you for being so kind as to grant me this interview. The listeners of Radio Romania Music and the readers of our website will be glad to have news of the bass Alin Anca. I would ask you to begin by listing your main roles during the season 2011-2012.
Good afternoon. Thank you for the invitation. Starting with the season 2011-2012, I have been at the Berlin State Opera, in the opera studio. My main roles were in operas, such as Traviata, with the part of Il Dottore Grenvil, but also Il Marchese in the same opera, The Imperial Commissioner in Madama Butterfly and a modern opera, Der Kaiser von Atlantis by Viktor Ullman, where I sang the parts of Der Tod and Der Lautsprecher.

In autumn you' go to the Hamburg State Opera.
Yes,in autumn I'll be starting at the Hamburg State Opera, where I'll interpret roles such as Ascanio Petrucci in Lucrezia Borgia by Donizetti, beside Edita Gruberova, or Lodovico in Othello by Verdi, Bonzo in Madama Butterfly by Puccini and Leporello in Don Giovanni by Mozart.

The Elixir of Love at the National Opera

Opera lovers could recently admire you in The Elixir of Love, at the National Opera. What was your opinion about the direction and your stage partners?
My partners were all amazing: the guests - Ștefan Pop and Tatiana Lisnic, Șerban Vasile who is the 'in-house' soloist, the other interpreters and the chorus, they were all wonderful. As for the direction…it was modern and it managed to create funny and pleasant moments for the audience; that is what I think.

And since we are talking about directing, you are familiar with many directions and you acted under some of them. Do you like classical or modern productions?
I personally prefer the classical ones. I like modern productions as well, but with certain reserves, provided they don't contradict too much what the author meant to communicate by means of the libretto and the music at the same time.

Of all the conductors you collaborated with, who was the one you learned the most from?
I couldn't give you just one name. I learned a lot from all those I worked with, especially recently from the manager of the opera studio in Berlin, Boris Anifantakis. I also learned a lot from the maestro Davide Crescenzi with whom I sang in Bucharest and from the maestro Petre Sbârcea with whom I worked in Cluj and I'm sure there are others I can't remember right now.

Projects

You mentioned some of the parts you had. What other roles are you going to approach in the future?
In the near future, roles matching my age, of course, such as Leporello, which I mentioned before. My dream is to sing Don Giovanni, as I like it more than Leporello, although both parts are very beautiful. Other roles I aim to have are Philippe in Don Carlo by Verdi, Mephistopheles in Faust by Charles Gounod and Boris Godunov in Mussorgsky's homonymous opera.

When you approach a new score, do you listen to previous interpretations? What are your benchmarks?
I certainly do. Fortunately, there are currently many versions at our disposal and we can learn from them. Regarding my benchmarks, they are always the great classics of the roles I interpret; Boris Christoff, Cesare Siepi and others belonging to that period remain my favourites.

We have talked about your interpretation in The Elixir of Love, beside some excellent partners. What are the things you most appreciate in a stage partner?
I certainly appreciate the wish to collaborate and the ability to know when they should come first, as the protagonists of that moment, and when they should let their partner shine.

The beginnings of your career seem to predict a glorious future. Which are the stages you wish to sing on?
My dreams are not necessarily related to certain stages to perform on. What I wish for the future is just to enjoy singing, to have around me people with whom I would enjoy working and creating beautiful things together. Where this will happen, God only knows and these are things beyond my concern.

What are your hobbies? How do you spend your spare time?
I enjoy nature, but my main hobby, if I can call it that, is history, especially the history of the Romanian people.

Could you please send a message to the listeners of Radio Romania Music?
I know that in our country times are hard, but I believe we should trust the potential of the Romanians, which is appreciated everywhere abroad and we should hope that things would get better; in the meantime, I recommend them to listen to opera, classical music in general, as this has the capacity to ennoble a human being and to bring something beautiful to everyone's character and existence.
Jeanine Costache
Translated by Mihaela Olinescu and Elena Daniela Radu
MTTLC, The University of Bucharest