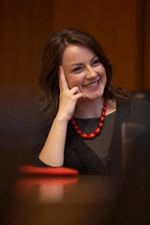 Romanian Artists abroad - Soprano Anita Hartig
Thursday, 6 June 2013 , ora 10.25

Well-known at the Vienna State Opera, Anita Hartig had already earned the appreciation of the reviewers and of the music lovers at the La Scala in Milan and Covent Garden Opera in London. 'She has a splendid voice…' is something often said of Anita Hartig, the soprano born in Bistrita. At the Vienna State Opera, whose soloist she has been starting with 2009, Anita Hartig could be admired in roles such as:
Zerlina
and
Donna
Elvira
in
Don Giovanni, Pamina
in
The Magic Flute
,
Despina
in
Così fan tutte,
Susanna
in
The Marriage of Figaro
by Mozart,
Gretel
in
Hansel and Gretel
by Humperdinck,
Marcellina
in
Fidelio
by Beethoven,
Frasquita
and
Micaela
in
Carmen
by Bizet. Although it is a beautiful and full of achievements, but also very busy period, Anita Hartig has taken a few moments to share some of her projects with us:

The listeners of Radio Romania Music and the readers of our website will be glad to have news of the soprano Anita Hartig's many roles during such a busy season .
It's nice to hear you again and I'm glad to hear you more and more often…thus, I feel at home a little. A lot of important things have happened to me, many feelings have come over me and will come again; among them, London, Covent Garden, Hamburg, Vienna - because it's my second home, Tokyo, La Scala, Milan, then there will come Munich, Paris, Berlin, New York and many, many others which I'm looking forward to.

La Bohème - from the Vienna State Opera to the Metropolitan in New York
Recently, you have performed in La Bohème many times . You have sung both Mimi and Musetta.
Yes, that's true. It seems to have followed me since the beginnings of my career.

It's the opera with which you made your debut at Cluj.
That's what I meant; it's the opera I finalized my studies with. What can I say? I'm glad about that, because it seems it's a part that suits me both vocally and from the point of view of the character, it's close to my soul and it grows with each performance. It's wonderful to be able to interpret this role everywhere in the world.

Mimi in La Bohème brought you the debuts at La Scala and Covent Garden, two important opera houses. How did you feel about these debuts?
Thrilled, nervous, happy…thrilled again. In London I sang with another Romanian, Teodor Ilincăi, and this helped a little to relieve the tension, because it's different when you can look at your partner and you speak the same language, you are on the same page and have the same temper. La Scala was pure madness, as because of the stress, I couldn't rest, I couldn't sleep. I had the support of the orchestra and the audience appreciated me, although they didn't know me; for now, my name is not as well-known as Netrebko or Gheorghiu, but they were quite enthusiastic and they welcomed me with love and warmth. Their applauses and acceptance moved me…they moved me, touched me.

Who was the interpreter of Rodolfo at La Scala?
Rodolfo was Piotr Beczala, a Polish tenor I also sang with in Vienna, both the roles of Mimi and Musetta; he is an excellent tenor, a very experienced partner, friendly and self-confident and this also gave me greater confidence. Piotr Beczala is a very warm man and stage partner and this makes the couple Mimi-Rodolfo all the more convincing.

You sang in La Bohème in several productions. Which one were you the most comfortable with? Which one did you like best?
I was lucky in this respect: the Vienna version was classical, just like the one staged by the maestro Zefirelli at La Scala and the London version was, I think, the oldest one, staged by his assistant, John Copley. He came and worked with us, with Teodor and me, as he practically loves singers. Every gesture, every movement has its logic and it faithfully follows the libretto and the music. It was an amazing experience to collaborate with a director who staged the opera 40 years ago and who worked with great sopranos, such as Ileana Cotrubaș, Mirella Freni and Angela Gheorghiu. He was really proud and happy to have us - Teodor and me - in the leading roles, saying: 'Yes, once again I can see how receptive and talented Romanians are and how much they love opera.' I think that London was something special.

And since we are talking about productions, please tell us: do you prefer the classical or the modern ones?
I like productions that keep to the text and the music. Productions, either classical or modern, as long as they don't 'fight', they don't go against the music and the text, are legitimate, have logic…but usually, many directors or assistant directors don't understand the text in the first place, not to talk about the music. In the case of Puccini, music overwhelms and inspires you, has a message, the text is a subtext for music; I don't understand how there are some people who can remain totally unimpressed with a music so profound and which expresses such intense feelings that no word or phrase could ever communicate. So, as long as the libretto and the music are observed, I'm there, I support the performance and I enjoy singing in both classical and modern productions.

You'll make your debut as Mimi at the Metropolitan Opera in New York in 2014, won't you?
That's right. This will happen in March 2014. March-April.

So, this same part will also mean your debut at the MET.
Yes, true. And, again, fortunately, it will be Zefirelli's classical production, so there won't be any issues: we won't have reasons to get upset or do illogical things. People will be able to watch it in all the important cinemas in the world, as one of the performances will be broadcast live.
Projects

Mimiis a role that brought you a lot of joy. What other roles are you going to approach?
Liu in Munich, in January-February, 2014, then Traviata and The Capulets and the Montagues in Zurich and Fiordiligi in Vienna. There are a lot of roles I want to interpret and I hope to be healthy and able to do them right. That's what I wish, to have my health and to give my soul, my mind and my all for these parts.

You sang on important stages, you collaborated with renowned conductors. Who was the one you learned the most from?
I learned the most from maestro Carlo Rizzi, with whom I had the pleasure to work on a La Bohème premiere in Cardiff. I also worked with him on a premiere in Brussels, at La Monnaie Theatre. I believe that he taught me most of the things. He is an amazing conductor for Puccini music, he is very sensitive; being Italian, he really understands the words and the music and he loves singers, which is really, really important. He breathes with us, sang with us during the performances. He was a constant support and I think that the best conductor-singer connection was with him.

When you are on stage, during a performance, what do you appreciate most in a partner?
Honesty. Honesty and selflessness. It's quite hard to forget yourself and get inside a part, create, be the character. It's incredibly difficult. Nobody can understand this and it's difficult to detach yourself from everyday problems, from technical or emotional problems and to be in the character's shoes, to be the character and believe in the story that takes place on the stage at that moment. It must take a lot of practice to be able to lose yourself and actually live the story on the stage.

What are your benchmarks when facing a new score?
First of all, I take the score and sol-fa it. The sol-fa first, that's, I think, the most correct and that's how you best learn. First you sol-fa, get to know the music, and then you add the words, sing the part, study it, practise it. After some time, after you've made your own discoveries and you've let music flow through you, through your mind and voice, only then, after having some idea of the character, can you watch some recording or other, get some inspiration from your colleagues for a gesture, a nuance or a certain detail.

When it comes to opera, do you have idols?
No, I don't have any idols. Unfortunately, nobody is perfect, but there were some who had many moments of perfection, such as Leontyne Price, who is one of my favourite singers, Ileana Cotrubaș, Luciano Pavarotti. There are a few who had many, many perfect moments…and I intend to have as many perfect moments as possible; that means I have to detach myself from my ego, to be as honest as possible and dedicated to art and to what I love best - singing.

What are Anita Hartig's hobbies when she's not on stage or at the rehearsals? How do you spend your spare time?
Spare time…I don't know if there's necessarily so much spare time, because even if you don't study or practise, certain phrases cross your mind, phrases that you want to sing differently in a future performance, or you think of technical problems. Our voice depends on our physical, mental and emotional state, and of course you can't always be at the same level. I can hardly bring myself to stop studying or thinking about a role or a text, a phrase, but when that happens, I enjoy meeting my friends, talking about life and normal things, taking a walk, going to the cinema, laughing, relaxing with my friends over lunch, reading…things that any other person does.

Could you please send a message to the listeners of Radio Romania Music?
My dears, don't forget to live. Don't forget to live and be yourselves. Life is, indeed, a permanent struggle and although forgetting yourself is tempting, don't forget yourselves.
Jeanine Costache
Translated by Mihaela Olinescu and Elena Daniela Radu
MTTLC, The University of Bucharest