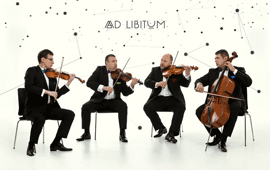 Anniversary Concert of the 'Ad Libitum' Quartet
Tuesday, 11 June 2013 , ora 13.01

On Monday, 10
th
June, 2013, an anniversary concert of the 'Ad Libitum' Quartet took place in the theatre of the Central University Library in Iasi. Cellist
Filip Papa
spoke about the 25 years they celebrated:
This is our anniversary concert, of the 'Ad Libitum' Quartet which celebrates 25 years of activity this year. Our first concert took place exactly 25 years ago, on 9th June. We were very glad to have our senior colleague from the 'Voces' Quartet, cellist Dan Prelipcean, as our guest, and he joined the 'Ad Libitum' Quartet during the second half of the concert, with his generosity and professionalism, to play Schubert's String Quintet, helping us make this event a much bigger one. I, as a cellist, have also been his student, and we have had concerts during all these years, both here and abroad. The 'Ad Libitum' Quartet and cellist Dan Prelipcean share a fantastic friendship.

How did you choose the programme of this musical evening?
Well, it was not chosen randomly. The two works that we played yesterday, Beethoven's 'Rasumovsky' String Quartet op. 59 no. 3 and Schubert's String Quintet, are both in C major. This is a sunny, bright key, which is part of our celebration. We wanted to celebrate ourselves in C major, with a tinge of joy, of cheerfulness, after we tragically lost our first violinist, Adrian Berescu. At the same time, this key generates all the other ones, just like we started this quartet and it has developed through time. Alexandru is a wonderful friend, a true musician, who has great quality and talent; moreover, his generosity is fantastic, because he chose to carry forward the work that Adrian left and he made it possible for the 'Ad Libitum' Quartet to move on - and I think he was the only one who could do it.

What was the feedback for last night's concert?
The audience was excited and extraordinary; a very large number of people filled the hall to the brim. And their applauses made me feel their gratitude for these 25 years which we have spent delighting them with concerts.
Alexandra Cebuc
Translated by Irina Borțoi and Elena Daniela Radu
MTTLC, The University of Bucharest