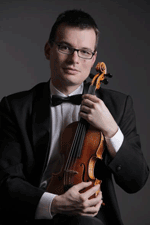 Alexandru Tomescu Joins the Romanians for a World Campaign
Monday, 10 June 2013 , ora 8.40

Alexandru Tomescu is the artist who revolutionized the way classical music is perceived in Romania, by means of some exceptional projects. He performed on the world's greatest stages, but also in Romanian towns where there are no permanent seasons of classical music. He used his talent to support several social causes, playing for the blind, for children with hearing deficiencies, the environment or heritage houses. Starting with 2012, Alexandru Tomescu has been a special supporter of the 'Hope and Homes for Children Romania' Foundation; the same year he was appointed Goodwill Ambassador by the Korean government. Thus, it is no surprise that the famous Romanian violinist also responded to the message of the
Romanians for a World
campaign.

Why did you decide to join the Romanians for a Worldcampaign, initiated by the 'Sergiu Celibidache' Foundation?
I was very interested in your initiative to prove to young people that going west wa not the solution to escape the problems in Romania. Of course, someone who wishes to study abroad has a lot to learn there, but the ideal is to return to Romania and apply here everything they acquired during their studies. It seems difficult at first sight, but reward is not far. That is how I felt. Besides, Romania has been through such moments before. The 1848 Revolution started because some enthusiastic youngsters who had returned from studying abroad wanted Romania to embrace Western values. I think that our country needs the enthusiasm of young people. Change is necessary; we have to start our journey aware of the obstacles, but there is nothing like the satisfaction of having overcome them.

Using your 'voice' for this campaign is a means of encouraging Romanians to follow their dreams, inspired by the example of your professional activity, irrespective of the cultural field where they activate. What is your advice for those who wish to follow in your footsteps?
Along my life there have been a few simple things that I have focused on and which have been a great help: enthusiasm, full confidence in what I want and doing my best to achieve my goals. Obstacles may appear in our way quite often, buy for me they are an even greater motivation, as I see them as a challenge I have to meet.

In recent years, especially in Romania, education seems to have a lesser and lesser role in an individual's development. Who do you consider is responsible for this?
I honestly haven't given this problem much thought. I think we waste too much time trying to find guilty parties instead of coming up with a viable solution to help us solve the issue. And anyway, for such a problem, it's difficult to find a scapegoat. I believe that education deficiencies are determined by several factors: the system's under-financing, the excessive promotion of non-values - all these distracted us a little from what is really important. And this is learning how to manage all information so that we can have an education that works. Besides, it would be unfair to only point out the problems: if education were completely non-functional, we wouldn't have so many young Olympic victors, winning medals at the most important competitions in the world. Of course, these children deserve so much more than what is done for them, but it's encouraging that they exist.

What are the solutions you can think of, in order to fight this situation? Unfortunately, society nowadays only offers small, insufficient doses of it…
I think it is essential to maintain a healthy dose of optimism and to trust that starting with small gestures we'll get to change society as a whole. When I say simple gestures, I mean those small things which, although imperceptible, make our day better: a smile when talking to someone, less irritation (or none at all!) in traffic, more tolerance, the attempt to get through the day without so much frowning. When I am in the street, I notice that people all around me are gloomy, in a hurry, upset…I realize that life is getting harder and harder for all of us, but I am certain that everything would become more tolerable if we tried to smile more often.
Romanians for a World was created for such Romanians as Alexandru Tomescu; it is a social responsibility campaign at national level, initiated by the 'Sergiu Celibidache' Foundation. It's your turn to put Romania on the map!

About the Campaign

Romanians for a World represents a tribute to the great Romanian personalities who have brought our country pride and glory throughout the world and it brings into focus our fellow countrymen who, through their achievements, remain immortal. The conclusion of this campaign is the organization of an online national competition (on www.romanipentruolume.ro and on the Facebook page http://www.facebook.com/RomaniPentruOLume), meant as a tribute to culture in general or to a certain cultural personality. People from different cultural fields will be able to enter the competition to present a painting, a piece of music, a sculpture, a poem etc. Following the vote of the specialists and of the sponsors, the selected competitors will enter the finale, where their creations will be judged by a jury made up of experts, as well as by the audience. The winners will win scholarships in Romania and abroad.
The campaign takes place online, at www.romanipentruolume.roand on the Facebook page http://www.facebook.com/RomaniPentruOLume, where you can find further details about this new cultural project of the 'Sergiu Celibidache' Foundation.

Alexandru Tomescu - Biography

One man. One violin. These two coordinates are enough to create a Universe. And when the man in question is Alexandru Tomescu, and the violin is a Stradivarius, the Universe born is inhabited by fascinating creatures that are made of sonorous colour and density, all meant to cast a spell upon the audience in the hall.
Alexandru Tomescu proved that he can 'tame' any form of music, especially after the project Paganini-Angel or Demon, which represented a turning point in his career. It was the moment when the violinist recreated his identity; it's a landmark on the path that Alexandru Tomescu embarked a few years ago, that of changing the existing Romanian perception on classical music. Indeed, since returning to the country after studies with Tibor Varga in Switzerland and with Eduard Schmieder in the United States of America, Alexandru has been trying to demonstrate that classical music is a window towards inner harmony and harmony between people, a world open to everyone, and that all deserve the chance to explore it.
After a more than fruitful career in Europe and in the world, full of successes in halls such as the Théâtre des Champs Elysées - Paris, Carnegie Hall - New York or the Metropolitan Arts Centre - Tokyo, under the baton of maestros such as Valery Gergiev, Kurt Masur or Christoph Eschenbach, Alexandru returned to Romania, where he got involved in organizing some national classical music tours, financed exclusively from private funds. He understood that the unconventional, combining professionalism and innovation, is the key to the hearts of the audiences and that is why he became the protagonist of some pioneering events for the Romanian music world: he played his Stradivarius in an underground station to prove that there is a high receptivity to quality music; he played in a forest to militate against irrational exploitation. He played in front of a house in ruins, to stop the destruction of the buildings belonging to the National Heritage. He performed to raise funds for the Romanian Association for the Blind or to help children with hearing deficiencies obtain hearing aids.
He is one of the first artists who has made it his clear mission to carry the message of classical music to Romanian towns where there are no philharmonics. It's enough for his name to be on a playbill and tickets are sold out days before the event.
Alexandru Tomescu does more than play in front of his audience: he maintains an intense dialogue with his listeners, either when he is on the stage and explains what he is playing or through the interviews he gives to specialized and general radio and TV stations. Whether his voice is heard on Radio Romania Music or Radio Guerrilla, or his words are quoted in the pages of Dilema Veche or Viva!, he explains what being an artist in the Romania of the 21st century means, what his sources of inspiration are and why classical music deserves a chance.
The commitment he made when he received the Stradivarius Elder-Voicu violin, in September 2007, was to make the sound of the splendid instrument known to as many Romanians as possible. The Stradivarius Elder violin, used for four decades by maestro Ion Voicu, is considered to be one of the best-preserved Stradivarius instruments. After an almost uninterrupted series of concerts in Romania and abroad, the names of the violinist and of his violin have become perfect synonyms.
Born within a family of musicians, on 15th September, 1976, Alexandru believes that music has been present in his life even before he came into the world. His studies began at the 'George Enescu' Music High School (1983-1995) in Bucharest, with Professor Mihaela Tomescu, continued then at the Bucharest Conservatory (1995-1999) with Professor Stefan Gheorghiu, followed by the Southern Methodist University, Dallas, with Professor Eduard Schmieder (2000) and École Supérieure de Musique, Sion, Switzerland, with Professor Tibor Varga (2001).
His interest in chamber music took the shape of co-operating with numerous Romanian and foreign artists: the pianists Horia Mihail and Toma Popovici, the cellist Rãzvan Suma etc. Moreover, starting with 2011, Alexandru Tomescu has been the first violin of the 'Ad Libitum' Quartet, after his predecessor, Adrian Berescu, died in an accident. 'Ad Libitum' is one of the most valuable and long-lasting Romanian ensembles, with important prizes in prestigious competitions and records which attracted the attention of Western specialized magazines.
Alexandru gave concerts and recitals in more than 29 countries (Albania, the United Kingdom, Austria, Bulgaria, Cyprus, North Korea, South Korea, Costa Rica, Switzerland, the Philippines, Finland, France, Germany, Israel, Italy, Japan, Macedonia, the Netherlands, the Czech Republic, the Republic of Moldova, Poland, Romania, Russia, Turkey, Ukraine, Hungary, the United States of America, New Zealand), in the most important halls and theatres in the world: the Sejong Theatre (Seoul, South Korea), the Concertgebouw (Amsterdam, the Netherlands), Théâtre des Champs Elysées (Paris, France), the Théâtre du Châtelet (Paris, France), the Berliner Philharmoniker (Berlin, Germany), the Great Hall of the Moscow Conservatory (Russia), the Metropolitan Art Center (Tokyo, Japan), the Cultural Center of the Philippines (Manila, the Philippines), Cerritos Arts Center (Los Angeles, the United States of America).
For his amazing artistic activity, Alexandru Tomescu was awarded numerous international prizes, among which we mention the following: 1st Prize at the 'George Enescu' International Competition, Bucharest; 2nd Prize 'Yehudi Menuhin' SACEM; the Special Prize for the Best Recital at the 'M. Long-J. Thibaud' Competition, Paris; 2nd Prize 'Tibor Varga', Sion-Switzerland; 4th Prize 'Pablo Sarasate' - Pamplona, Spain; 3rd Prize at the Vienna International Music Competition, Austria; 1st Prize, Phenian-North Korea; 1st Prize 'Jeunesses Musicales', Bucharest; 2nd Prize (1st Prizes are not granted) 'Niccolo Paganini', Genoa-Italy; 1st Prize 'Kloster Schöntal', Schöntal-Germany; the UNICEF medal, Parma-Italy; 1st Prize and the Great Prize-the title of laureate at the 'J. Kocian' Violin Competition, the Czech Republic; the 'Rudolf Neudorfer' Award, Berlin-Germany; Grand Prix 'Rovere d'oro', San Bartolomeo-Italy and Grand Prix 'Citta di Stresa', Stresa-Italy.
Alexandru Tomescu is currently a permanent concert soloist of the National Radio Orchestra (starting with 2002), his career encompassing a series of concerts beside renowned conductors, such as Horia Andreescu, Garry Bertini, Philippe Entremont, Christoph Eschenbach, Valery Gergiev, Kurt Masur, Jin Wang or Maxim Vengerov.
Everywhere he played, Alexandru Tomescu confirmed the greatness of his talent, and the world mass-media dedicated entire pages of praises to him. However, there is a relevant quote which, although referring to the concert given by Alexandru Tomescu in New Zealand, can be extended to his entire career: 'Alexandru Tomescu makes incredible music out of Paganini's Caprices, playing up contrasts, letting each phrase live and breathe. I expected an evening of champagne bubbles, but Alexandru Tomescu served up whiskey.' (David Larsen - Metro Magazine, New Zealand)

Translated by Mihaela Olinescu and Elena Daniela Radu
MTTLC, The University of Bucharest