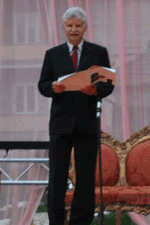 'Opera Nights' - The Largest Open Air Opera Festival in Romania
Thursday, 11 July 2013 , ora 9.18

The largest open air opera festival in Romania - 'Opera Nights' - is taking place in the inner courtyard of the Hunyad Castle in Hunedoara and on the Lapidarium Esplanade of the Magna Curia Palace in Deva until 15
th
July. The audience can watch some of the most famous operas composed by Giuseppe Verdi, Gaetano Donizetti, and Frederick Loewe. On its third edition, the 'Opera Nights' Festival opened on 10
th
July in Deva, with a special programme consisting of arias and duets composed by Verdi and Wagner, because the organisers wanted to highlight the fact that the year 2013 is dedicated to these two composers all around the world. Find out more details in this interview with
Alexandru Gruian
, the Festival's director.
What have you prepared for this edition of 'Opera Nights'?
It is a colossal edition, not only by virtue of the five spectacles being held on five consecutive evenings, but also because we have expanded the area dedicated to the event to two locations, the Magna Curia Palace in Deva and the Hunyad Castle in Hunedoara. As a consequence, we had to double our efforts in preparing the festival, and this year's edition will open tonight with the Wagner Gala in Deva. The Troubadour will follow, and then we will return with Don Pasquale, and then go back to the Hunyad Castle for The Elixir of Love, with the finale reserved for the musical My Fair Lad'.
You also have a few special invitees to this edition.
Indeed we do. The 'Opera Nights' Festival returns to international status. In 2013 we have foreign invitees once again: Zarui Vardanian from the Republic of Moldova, Hector Lopez from Mexico, Jose Conception from Spain, to mention a few.
What is the target audience of this festival?
Although we're hosting the event in two relatively small locations - Deva and Hunedoara - which have a total of 120.00 inhabitants combined, we have spared no effort in organising this festival at the highest artistic standards, so our target audience consists of the informed lovers of classical music. We have noticed that the continuity of the 'Opera Nights' Festival leads to a significant increase in our audience. Where we started in a fluster with an audience of 800 people, at the present time we believe this edition's audience will be in excess of 3000 people.
Andreea Chiselev
Translated by Șerban Dudău and Elena Daniela Radu
MTTLC, The University of Bucharest