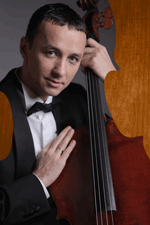 Răzvan Suma Talks about 'Playing at Altitude' - Master Classes in Poiana Ștampei
Friday, 19 July 2013 , ora 9.41

Starting 19
th
July and ending 26
th
July, the master classes under the collective title 'Playing at altitude' will be held by violinist Ștefan Horvath and cellist Răzvan Suma in Poiana Ștampei in the Suceava department. On their first edition, the master classes will offer the selected students the opportunity to study instrumental and interpretative techniques with two internationally acclaimed musicians over a period of 9 days. Within the same programme, the attending students will meet Ramona Pașca, a specialist in personal development programmes; she will help the young musicians identify their strengths and improve on their weak points, in order to achieve better results in their performances. At the end of the educational programme, the teachers will award the best student with an opportunity to play in concert with the Notes&Ties orchestra at the College Auditorium in Cluj-Napoca.
Andreea Chiselev had a talk with Răzvan Suma about the project.
What is the first thing you would like to tell me about this master class?
I was very excited and touched by the invitation, besides the fact that I am good friends with the organiser, Cristina Istrate from Bistrița; we practically set up this master class together.
Where did the idea come from?
It's very easy to get the idea to hold a master class, what's hard is making it a reality.
How are the participants? Have you already met them?
I knew most of them from before. The students are hand-picked from the best in the country. I also had a student from the Czech Republic, and they are all very good. Teaching the violin master class is Ștefan Horvath, professor and concertmeister of the Symphonic Orchestra in Basel, and also an exceptional musician with whom I have had the pleasure to collaborate before leaving the country.
What is the schedule of the master class?
There will be a lot of work for the main scheduled classes, and we will also have several adjacent activities, such as screenings of documentaries about musicians. We also have a psychologist who will hold two personal development and on-stage emotion control seminars, and we will also hold two concerts at the end of the programme, one in the synagogue in Bistrița, on 25th July, and another back in Poiana Ștampei on 26th July, in an exceptional Culture House.
Andreea Chiselev
Translated by Șerban Dudău and Elena Daniela Radu
MTTLC, The University of Bucharest