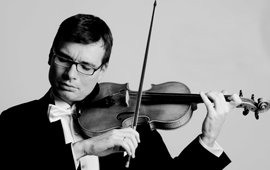 Violinist Alexandru Tomescu at the iPalpiti Festival in The USA
Friday, 26 July 2013 , ora 13.42

Alexandru Tomescu is a special invitee to the iPalpiti Festival of International Laureates, run by maestro Eduard Schmieder, who was professor to the Romanian artist during his time studying at the Southern Methodist University in Dallas, Texas. On its 16
th
edition, the festival closes on 28
th
July with a concert hosted by the Walt Disney Hall, the home of the Los Angeles Philarmonic Orchestra, whose stage the Romanian soloist will take to. Find out more about this series of events, but also about the violinist's future plans from this interview with
Alexandru Tomescu
.
Fifteen years ago, in 1998, I performed during the first edition of this chamber music festival, an event which reunites a wide range of extremely talented violinists from across the globe on a yearly basis. Since then, the festival has gotten a lot bigger, and now it has an orchestra composed of musicians from all over the world. This year, after a very long time since my first collaboration with iPalpiti, I have been invited to the festival as an alumnus, a former participant who has reached a certain stage in his career. I have performed several recitals during the festival, mostly solo violin works. I wanted to test the market here in the USA with the programmes I prepared for the recent Stradivarius tours, more specifically the Paganini, Ysaÿe, and Bach programmes, and I was pleasantly surprised by the warm reception they were met with. I am certain there will follow important collaborations in this direction in the future. There is a great opening for this type of unconventional, multimedia concerts in the musical show world here in America, and I have come to the realisation that what I managed to create in Romania together with Oana Drăgulinescu is a perfectly viable product that can be successful anywhere in the world. For the final concert, the one with the orchestra at the Walt Disney Hall, I chose to perform a piece that I will premiere here in the USA, a fantasy on themes from Verdi's 'Traviata', by French composer Marc Olivier Dupin. Let us not forget that this year is the bicentenary of the composer's birth.
What's next for you after this series of events in the USA?
I will return to Romania for a very important event that I have been looking forward to for a long time, the release of the recording of Bach's Complete Sonatas and Partitas. The record will be released during the George Enescu Festival, on 18th September. I will also release the DVD version of the Ysaÿe - Obsessions performance created by Oana Drăgulinescu, which I performed together with Paul Cimpoeru and Ana Pepine. It will be a very hectic autumn, I will be travelling a lot. I will soon return to the USA in New York, for a charity concert organised by princess Maria Sturza. Afterwards, I will join my colleagues from the Ad Libitum Quartet in the Netherlands for a series of concerts, which will culminate with a performance in the De Doolen Hall in Rotterdam. However, even if I will be travelling for a long period of time, I promise not to neglect the public in Bucharest and Romania.
Andreea Chiselev
Translated by Șerban Dudău and Elena Daniela Radu
MTTLC, The University of Bucharest