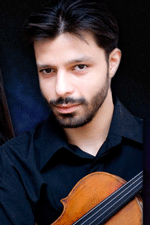 The Violinist Răzvan Stoica: 'I Expect the Audience to Respond to the Music I Interpret and to Enjoy Tchaikovsky's Music with Me!'
Monday, 7 October 2013 , ora 8.22

The musician talked to us on Monday morning, 7
th
October, 2013, during the break in the rehearsal for the finale of the 'New Talent' Competition in Bratislava. Răzvan Stoica will perform the
Violin Concerto in D Major, Op. 35
by Peter Ilyich Tchaikovsky, accompanied by the Slovak Radio Symphony Orchestra, with Pawel Przytocki as conductor. We fully support him!

First of all, congratulations on reaching this stage of the competition. How was the semifinal on Friday, together with your sister?
Thank you so much for the congratulations. I am very happy to have reached this point and to be able to represent Romania in this festival. Indeed, the atmosphere on Friday was amazing, fit for a concert. It was an exceptional moment! Every artist's wish and ambition is to have as many such moments as possible.

But, more concretely, how was the atmosphere, what was the reaction of the audience when you interpreted the two romantic works: Tchaikovsky's Meditation and the very complex Carmen Fantasy by Waxman?
The audience welcomed us with open arms. I think they wanted to listen to more virtuoso music in this semifinal. It was extraordinary that we were able to offer them something they were practically expecting: a virtuoso moment and also a moment of interpretation, as was Tchaikovsky's Meditation.

What did you think of the other semifinalists' performance?
Honestly, I didn't get the chance to listen to them. We have been very busy with the sound checks, and then we had a lot of rehearsals, trying to find the best place on stage. Given that the performances were also broadcast on radio, we wanted the sound to be very good; that is why I wasn't able to listen to the other participants, but I am certain that the level was very high.

This evening, Tchaikovsky's Concerto - a work that gives you an advantage, considering what has been said until now, that you prefer romantic virtuoso works. Have you already rehearsed Tchaikovsky's Concerto?
Of course, I have been rehearsing Tchaikovsky's Concerto for two days; the Slovak Radio Symphony Orchestra is very good. Frankly speaking, my expectations for the concert tonight are that the audience should respond to the music I interpret and that we should enjoy Tchaikovsky's music together. I like to think that the moment you are on stage, you forget about everything else and the act of interpreting, of playing on stage becomes something special and sacred that connects us to the audience.
Ștefan Costache
Translated by Mihaela Olinescu, Georgiana Ecaterina Cotolan and Elena Daniela Radu
MTTLC, The University of Bucharest