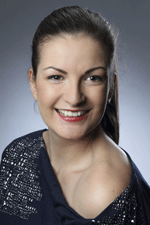 Romanian Singers abroad - Soprano Luiza Fatyol
Friday, 18 October 2013 , ora 10.43

The soprano that showed extraordinary vocal qualities and determined the members of the jury in Hariclea Darclée International Voice Competition to award her the 3rd prize; her name - Luiza Fatyol, today soloist at the Düsseldorf Opera. She studied canto together with Ana Rusu at the Music Academy in Cluj and she made her debut at the Hungarian Opera, playing Carolina from Il Matrimonio Segreto by Domenico Cimarosa. She acquired great artistic experience while taking classes of artistry with Viorica Cortez and Christina Park, in Paris and Rome, but also on the stage of Düseldorf Opera - as a member of the Opera Studio where she performed in roles from operas written by Mozart, such as: Susanna from Le Nozze di Figaro, Papagena from the Magic Flute, but also in modern productions, plays written by Erin Stoch and Alexander Zemlinsky. At the end of the season 2012-2013, Luiza Fatyol revealed some of her projects:

Thank you very much for the interview, Luiza Fatyol. The listeners and readers of the site Radio Romania Musicwill be glad to hear from Luiza Fatyol, one of the most valuable sopranos of the younger generation. Could you pleasedescribe your work during the last season and also what you are planning for the next one?
Firstly, I want to thank you for having me here and for the beautiful words you've said. It's been a beautiful season, a good year, marked by beautiful roles, in Carmen, Le Nozze di Figaro, a modern opera by Erin Stoch, where I performed the role of the princess, who was the protagonist. The opus was called The Princess and the Pea, a youth opera, performed on the big stage, accompanied by an orchestra. It's a beautiful production, it's colourful, it's simply a pleasure to perform it.

What are your projects for the upcoming season?
Next season will start in September, with a tour in China, as part of the Opera, with the production Le Nozze di Figaro. After this tour we'll start the rehearsals for Don Giovanni, in which I'll be performing Zerlina, then Carmen again and Hänsel and Gretel, a production for children, which is always performed in December.

You are performing on the German stage of the Deutschen Oper am Rhein where the predilection for modern productions is well known, as in all German theatres. I would like to ask you what kind of enactments do you prefer, the traditional or the modern ones?
I am a modern, young artist, I am all for modern enactments, but also for the traditional ones; I like everything that's modern, but within bounds and in good taste. I had, thanks God, the chance to work with great stage directors, momentarily I'm even working, if I may, with Immo Karaman. He's an extremely well-known and much loved stage director in our institution. We're rehearsing the production Der Zwerg by Alexander Zemlinsky, a modern direction, but with great meaning and in great taste and it's going to be a great spectacle, I just know it.

Out of your repertoire, which is the role that suits you best? What role do you enjoy performing the most?
I've played Mozart a lot here - that is how you begin and it's fine as it is. When I got here, almost two years ago, I couldn't speak a word of German and I started to like the Magic Flute- Pamina, although I don't know why, since it's so difficult to perform in German and they're kind of strict here regarding the language, they want our pronunciation to be perfect, which is actually a good thing. I also like Susanna from Le Nozze di Figaro and Frasquita from Carmen even if that's totally different…there's fire and temper, which suits me very well. I like the production the Princess and the Pea by Erin Stoch, which is so nice and the children are ecstatic about. It's a colourful performance, it lasts 50 minutes, but it comprises everything and it is wonderful.

What roles do you intend to approach next?
Difficult question; Mozart again;I've received an offer to interpret Fiordiligi, from Cosi Fan Tutte. It's a part that I've set my heart on for a long time now it's quite difficult, but it's a challenge. After that, I want to make my debut with Gilda from Rigoletto, part that I've been preparing and which is very dear to me. However, that is the plan for next year. Regarding the following years, as any singer and any soprano who desires to evolve, I want to approach the belcanto repertoire, because I am really, really fond of it; also, Lucia di Lammermoor by Donizetti and finally and LaTraviata would represent the climax of my career, hopefully, but we shall wait and see.

When you find yourself in front of a new score, do you also listen to other interpretations? What reference points do you have?
In the beginning I used to listen to other interpretations a lot, but now, I usually study the score first, make an idea, and after that I listen to anything I like and pleases my soul. Of course that I cannot forget to mention Angela Gheorghiu here, whom I've always liked and she knows it. I also listen to Maria Callas pretty rarely, but I admire her very much; I am not necessarily listening to popular singers, I listen to everything that I like and I appreciate anything that is beautiful and qualitative.

You have had roles in a few productions so far. What do you appreciate the most in a stage partner?
He is very important. I've been lucky enough so far to get extraordinary partners here, young partners, partners eager to create something beautiful, to display good energy and create a beautiful connection on stage, a connection that is believable and sincere; it's an extraordinary thing to be able to communicate with your partner, you can tell them what you would like and what you wouldn't like. It's a very good thing for your partner to sense your emotions and help you in difficult moments, when you might need his help. I'll say it again, in this situation, on stage, I only had young colleagues. Our ensemble is young and that counts a lot, it makes everything seem original, we are all full of eagerness, of energy, a beautiful energy which persists in our assembly room and in the auditorium, as well.

Out of all the conductors you've worked with so far, which is the one who taught you the most?
Each of them taught me something. That is because every one of them is a specialist in a particular area or at a particular repertoire. I was very lucky with the Magic Flute and with the Austrian conductor Wolfram Koloseus, a very minute man, who would stop us at every bar and create a special world for us. It was beautiful, really beautiful. Of course, that Axel Kober, our musical boss, if I may call him so, is also a very good conductor, an engaging conductor; he maintains a very benefic strain in a pleasant environment. For now we're working with Jonathan Darlington, for the Zwerg opera; he's an extraordinary conductor, especially due to what he inspires you to create and for the way in which he teaches you to live the music.

You are just starting up, it's a period of intense study. How do you spend your free time when you manage to find some? What are your hobbies?
For almost two years now, we've been four Romanians here, which means we didn't get bored much. During my free time I sleep a lot. I am a big fan of sleeping and it's my best medicine. Whenever I can and I have no rehearsals to attend, I sleep. When it's sunny and a generally good weather outside I go out and take a walk along the Rhine, or my colleagues and I go for a picnic, we grill some steak, normal stuff, common stuff; I like to enjoy my life, my colleagues here and my sleep.

A few words for the listeners of Radio Romania Music…?
I wish you the best, good health and happiness and may you always enjoy good music, quality music!
Jeanine Costache
Translated by Zbarcea Bianca-Lidia and Elena Daniela Radu
MTTLC, The University of Bucharest