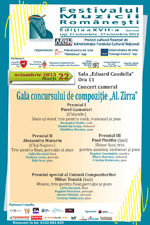 The Romanian Music Festival in Iasi
Monday, 21 October 2013 , ora 8.05

The 17
th
edition of the
Romanian Music Festival
, organized by the
Moldova
State Philharmonic and the
George Enescu
University of Arts in Iasi, will be held during
21st- 27th October, 2013
and it will include symphonic and chamber concerts, absolute premieres - auditions or famous works, lectures and book releases. The project is run in partnership with the Romanian National Opera and the Romanian Union of Composers and Musicologists, with the financial support of the Administration of the National Cultural Fund, the County Council and the City Hall of Iasi. You will learn more details about the previous editions and also about this edition's scheduled events from an interview with
Anca Butnaru
, musical town clerk of the Philharmonic of Iasi.

What was this Festival's evolution throughout the years?
The Romanian Music Festival took place for the first time in 1973. 40 years have passed since its first edition. The festival underwent several changes, so that the first three editions were named The Romanian Music Week, then, from 1976 to 1984 it was called The Romanian Music Festival, after 1990 it became The Romanian Music Days and since its 11th edition, more precisely from 1993, due to its aspirations of becoming an international festival, it was called Festum Musicae.

This year's edition includes numerous events - chamber and symphonic concerts, lectures, but also book and records releases. Which are the activities that we should not miss?
First of all, the festival follows the profile of the series renewed in 2007, by delineating a universe of stylistic events, musical works from different eras and of different styles, in association with theoretical debates. The Profile Ensemble of the National University of Music in Bucharest will open this festival, on 21st October, at 19:00. The Alexandru Zirra Composition Contest will take place on Tuesday, 22nd October, at 11:00 and it will be followed by the D'ale Carnavalului ballet performance, directed and choreographed by Ioan Tugearu, Gaudeamus Quartet's chamber concert, with Brandusa Tudor as pianist, Mihaela Grajdeanu and Doina Grigore as sopranos. Pianist Raluca Stirbat's recital, on 23rd October, will be the perfect occasion for an album release. On Thursday, the 24th October, are scheduled lectures, meetings with Diaspora composers Violeta Dinescu and Corneliu Dan Georgescu, jazz concerts at the Students' Culture House, the University Symphony Orchestra's performance and on Friday, 25th October, the Philharmonic's concert, with the participation of The Symphonic Orchestra and The Academic Choir trained by maestro Doru Morariu, the premiere of Martian Negrea's Requiem, as well as George Enescu's Poema Româna. On Saturday, 26th October, we have Nova Musica Viva, the Philharmonic ensemble from Iasi, The Ad Libitum Quartet and the Bessarabian composers' concert. The festival will be closed on Sunday, 27th October, by The Archaeus Ensemble, managed by Liviu Danceanu.
Andreea Chiselev
Translated by Petronela Morosanu and Elena Daniela Radu
MTTLC, The University of Bucharest