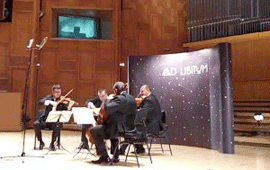 The Ad Libitum Quartet Finishes a Tour Held In Holland
Tuesday, 22 October 2013 , ora 8.14

Ad Libitum Quartet, i.e. the violonists Alexandru Tomescu and Șerban Mereuță, the violonist Bogdan Bișoc and the cellist Filip Papa are performing a recital in De Doelen complex in Rotterdam, Tuesday, on 22
nd
October, 2013. This event crowned the tour developed by the ensemble during this period in Holland.

Does this tour have something to do with the ensemble's 25th anniversary?
Of course it does. We will celebrate the ensemble's 25th anniversary with a series of five concerts, here, in Holland. We have already performed four of them in various concert halls and we are preparing for the fifth one, which is the most important and will take place in the biggest concert hall in Rotterdam, De Doelen, and we will open the series of chamber music concerts, a privileged position wanted by many other quartets. The Ad Libitum Quartet is known all over Holland. All I can say is that everytime we have a concert here, people come and say that they know us and they have been listening to the quartet here for 20 years. This level of knowledge and appreciation of classical music, especially the one played by a quartet, is merely impressive.

What are you going to sing in Rotterdam?
Being a so important concert, we wouldn't like to leave Romanian music aside, so we will open the concert in Rotterdam with Quartet No. 2 Op. 22 by George Enescu - one of his masterpieces. We have already performed it a few times here in Holland and I can say that the audience's reaction was absolutely amazing. In fact, the entire audience rose to its feet every time. Beside the quartet by Enescu, our programme also includes the "Serioso" Quartet op. 95 and we will conclude the evening with the "Voce Intimae" Quartet by Sibelius, which is available on the CD released by Ad Libitum, named Primus.

Do you think that the appetite for chamber music is larger in Holland, or other countries in Europe, than it is in Romania?
Yes, it is. In Romania, the public for quartet is only in an incipient stage in many places and it should be trained and grown-up. For this reason, we wanted to organize a Romanian tour to celebrate this Quartet jubilee together with those from Quartz Media who are concerned with the future of quartet music in Romania, as well, and we are going to play not only in Bucharest, at Romanian Athenaeum, but also in some other countries, precisely to enjoy and celebrate this beautiful moment together.
Andreea Chiselev
Translated by Eugenia-Daniela Lupașcu and Elena Daniela Radu
MTTLC, The University of Bucharest