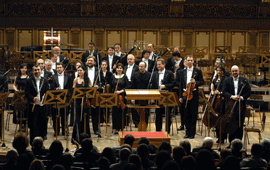 The Bucharest Symphony Orchestra Tour in South America
Tuesday, 5 November 2013 , ora 9.30

Between 29
th
October and 12
th
November, 2013, the Bucharest Symphony Orchestra will be touring South America. The tour, created at the invitation of the 'Mozarteum Brasileiro' Cultural Association, will be the first of this amplitude ever to be developed by a Romanian orchestra. The symphonic ensemble, led by its artistic director and main conductor Benoit Fromanger, will be taking place in Argentina, Brazil and in the capital of the Republic of Peru, Lima. Montevideo is the last South American city in which the Romanian symphonic ensemble can be listened. The last concert is set out to take place at the Solis Theatre on 11
th
November.
Irina Hasnaș requested an interview with flutist Cătălin Oprițoiu prior to his departure on tour.

Cătălin Oprițoiu, you're minutes away from leaving, together with your colleagues, on one of the most fascinating and interesting tours. Could you please share some details regarding this journey?
It's a tremendous challenge for us. We received the invitation from the Mozarteum Brasileiro Cultural Association - which is one of the largest, if not the largest, talent agencies in South America, more or less the homologue of Artexim in Romania, if I may say so in order to illustrate its importance. We will be joining a festival similar to the 'George Enescu' International Festival in Romania. We have the honour and privilege to be the last orchestra performing within the festival, thus practically being the closing act. It is the first time when a similar institution is performing in the biggest concert halls of South America. I'm referring to Teatro Colón, which is considered one of the top five concert halls in the world. The soprano Maria Callas and the great cellist Yo Yo Ma have performed there. It is an equally great honour for us to be on the same page with the greatest orchestras in the world, such as the Hamburg Philharmonic State Orchestra and the Royal Concertgebouw Orchestra, which went on a similar tour in June. We try to reinvent ourselves every time and, for this reason, we performed this concert at the airport as well, because the Romanian audience hasn't had the opportunity to hear it, while­ the South American audience will be able to listen to us in the concert halls I have mentioned before. Therefore we hoped that a small part of the people leaving Romania today will take with them the message we are trying to convey, that we want to progress through culture.

Which is the repertoire you will be proposing to the South America audience?
We will be going there with two programmes. During our first concert we will be performing Dvorak's Carnival Overture, Tchaikovsky's Violin Concerto interpreted by Erik Schumann - an exceptional German violinist born from a Japanese mother and a Romanian father - and with Dvorak's New World Symphony. The second programme will consist in Dvorak's Carnival Overture again, but this time followed by Dvorak's Violin Concerto, also interpreted by Erik Schumann, and Tchaikovsky's Symphony no. 6, Pathétique, which we have just performed here, at the airport.

This will be a remarkable programme. What do you wish to accomplish through this tour?
We are going on this tour because we would like to be Romania's ambassadors; we want to promote the image of Romania through culture and beautiful endeavours. We are a bit atypical compared to what a classical music orchestra, a symphonic orchestra, usually means, since we promote the image of Romania not only through music and the quality of what we do, but also through clothing. The ladies of the Bucharest Symphonic Orchestra will be wearing traditional Romanian blouses. We wish for the entire world to receive our message that Romania is not necessarily what it seems to be as a result of certain regrettable reasons, that Romania is a country in which culture is the cornerstone of the development of society.

Mr. Cătălin Oprițoiu, thank you and good luck in bringing this project to fruition.
Thank you very much, I must confess I feel exactly like a child waiting for Santa Claus. I have been having this feeling because behind this tour there has been a great deal of struggle and a lot of hard work. Right now the work part is over and everything is materialized in this tour. It's like a child waiting for Santa and then he finds his presents underneath the Christmas tree and all of his wishes have been fulfilled. This tour represents an accomplishment resulted from a long period of hard work, together with our desire to promote Romania all around the world.

Translated by Diana-Crezante Raicev and Elena Daniela Radu
MTTLC, The University of Bucharest