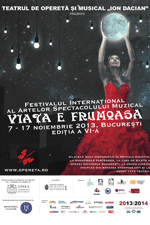 The Sixth Edition of the 'Life Is Beautiful' International Performing Arts Festival
Thursday, 7 November 2013 , ora 9.41

Starting today, 7
th
November, 2013, until 17
th
November, Bucharest will host the 6
th
edition of the 'Life is Beautiful' International Performing Arts Festival, organised by the 'Ion Dacian' Operetta and Musical Theatre, a company of the Bucharest National Opera. During the ten days, the festival's posters will announce Concha Buika, Sonia Theodoridou, the Tbilisi Music and Drama State Theatre (Georgia), the Russian State Theatre of Musical Comedy and the Klaipeda Music State Theatre (Lithuania).
Ofelia Stanciu
, logistic manager of the festival, talks about this edition.

Mrs Ofelia Stanciu, it is a great pleasure to have you with us and reveal to music lovers a few of the important points of this sixth edition of the 'Life is Beautiful' International Performing Arts Festival.
Thank you for the invitation. It is an honour to be partners, as we are every year, with the Radio Romania stations, which broadcast all over the country. This is already a traditional partnership and we are very honoured by it. 'Life is beautiful' at the sixth edition. We have fifty-six events – concerts and other performances – with guests from Russia, Georgia, Lithuania, Spain, Greece, Sweden, Slovakia, Bulgaria, Hungary, Italy and Romania, of course. This year we have a lot of performances created especially for our Romanian partners, and some of them are dedicated to the Romanian creation.

What about a few of the guests that will grace this dear stage…
It is an honour to open the festival with two very interesting performances. I am talking about Buika, the Spanish artist, whom everyone is waiting for – she will be in Romania for the first time. She will give a flamenco concert at the Bucharest National Opera on 7th November. And at the same time, we'll have our traditional guests from the Workcenter of Jerzy Grotowski and Thomas Richards with an event at the 'Odeon' Theatre. Starting Friday there will also be a series of events dedicated to our artists, a performance with tenor Florin Butnaru and baritone Cătălin Petrescu, with artists of the National Operetta Theatre and their guests. We'll also have a play, 'Unfinished for Piano, Ideas and Muse' at the Metropolis Theatre, 'Six', based on an idea by Ștefan Doniga… There are very many new events and performances, modern, contemporary or classical ones. We have invited our colleagues in Russia, who are already traditional guests, from the Sankt Petersburg State Theatre of Musical Comedy, with a very successful performance in Russia – 'The Count of Luxembourg' – which has almost sold out already; it will take place at the National Opera in Bucharest. Every show is interesting in its own way; it's very hard for me to talk about each of them.

And aside from traditional operetta and ballet performances, what other…
We have book releases, about soloists of the National Operetta Theatre – this year, Mioara Manea Arvunescu, who will also give a concert at the National Opera, and it is called 'Mioara Manea Arvunescu – a career of 25 years' – with special guests, as well as another one, 'Letters to a Young Dancer' by Maurice Bejart, translated into Romanian by Ștefan Doniga. We have four vernissages, film projections – Absolut Wilson and films dedicated to Thomas Grotowski's workshops; we also have a series of conferences and eleven shows at the On Air Section, broadcast every night by Radio Romania Culture.

What do you wish for at the beginning of this fascinating journey?
We wish for life to be beautiful together with the artists of the National Operetta Theatre, with our guests and our traditional partners. Every year we wish for the edition to be as beautiful as the one before and for the tradition to go on for many years.
Irina Hasnaș
Translated by Translated by: Irina Borțoi and Elena Daniela Radu
MTTLC, The University of Bucharest