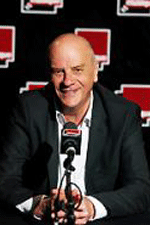 Interview with Marcel Quillévéré, France Musique Producer
Tuesday, 19 November 2013 , ora 8.29

Marcel Quillévéré
was born in Brittany. A philologist by profession, he studied Spanish and music from a young age. In 1977 he was accepted at the Studio Opera in Paris, he then refined his knowledge at The Juilliard School in New York. There he made the acquaintance of composers Samuel Barber and Virgil Thomson. In 1996 he started collaborating with Radio Suisse Romande and France Culture, producing broadcasts centered on culture and music. Between 2001 and 2006 he filled the position of Deputy General Manager of the Opéra Municipal de Marseille. Nowadays Marcel Quillévéré produces for France Musique, the daily broadcast titled
Les Traverses du Temps
. Amongst his guests, belonging to all cultural areas, there have also been Romanians. Mr. Quillévéré is a passionate researcher of music and civilisation across the globe. One of his future endeavours will be a series of live broadcasts transmitted from Bucharest.

Mr. Quillévéré, you are involved in an interesting project created by France Musique. Could you give us a few details about it?
For a while, France Musique has left Paris in order to meet its listeners across all the regions of France. We went to L'Opéra de Lille for a day and we also travelled abroad to Madrid and Vienna. Next week we will be heading to Marseille, a city which is the European Capital of Culture this year. I think Marseille needs culture now more than ever, especially because of the social issues with which it is confronted. We would like to change the image of the city of Marseille through this endeavour. We will not be going to the opera, but to the Criée National Theatre, the drama theatre which will be open for music, dance and, of course, theatre.

What are the goals of this impressive project spanning across France and the rest of Europe, as well ?
Ever since our visit to Madrid, we have realized that we have an audience which listens to us outside of France. Thanks to the Internet, radio broadcasts can now be listened to all around the world. While we were in Madrid, we realized that we had our listeners there, as well. We performed for the Spanish audience at the Teatro Real, introducing them to Tchaikovsky's work. I accomplished this in both French and Spanish with the help of a Spanish moderator. The French audience enjoyed being introduced to a live performance in another country.

Do you think a live broadcast from Bucharest could become one of your projects ?
I would love to achieve that. I know that a producer from France Musique attended the last edition of the George Enescu International Festival. He presented a beautiful one-hour broadcast in which he included a feature report about the festival and the city of Bucharest. As for my broadcast Les traverses du Temps, I had many Romanian guests there. The most recent one was the mezzo-soprano Viorica Cortez, who was one of the greatest soloists of the Paris Opera. I believe that one day we will come to Bucharest.
Irina Hasnaº
Translated by Diana-Crezante Raicev and Elena Daniela Radu
MTTLC, The University of Bucharest