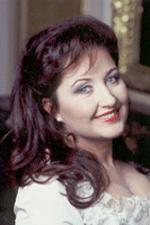 'Rigoletto' at Seoul with the Soprano Elena Moșuc
Friday, 22 November 2013 , ora 8.56

One after another, she conquered the greatest stages of the world: from La Scala in Milan to the Metropolitan in New York, from the Vienna State Opera to the Capitole in Toulouse, from the German Opera of Berlin to the Gran Teatre del Liceu in Barcelona. Elena Moșuc is said to be one of the most versatile and expressive sopranos in the world, admired in roles such as: Violetta in
La Traviata
, Norma and Lucia di Lammermoor in the operas with the same titles, Gilda in
Rigoletto
, Elvira in
The Puritans.
The year when the lyrical world celebrated by numerous events two hundred years since Giuseppe Verdi's birth, Elena Moșuc opened the season at the Gran Teatre del Liceu in Barcelona with a series of Galas dedicated to the great composer; then, she shone in Bilbao with the much-applauded part of Gilda. This is the role she will interpret on 22
nd
and 24
th
November in Korea, at the Opera in Seoul; she was so kind as to talk to us about these performances:

Elena Moșuc, thank you for taking the time to answer a few questions, before such an important performance, in the distant Korea, in Seoul, with a role that you have interpreted so many times before - Gilda in Rigoletto. What can you tell us?
As you said, it is an important debut. When it comes to Asia, I have had more performances in Japan and in China, in Shanghai. And here I am, making my debut in Seoul tomorrow. Gilda is a part I have been singing for almost 22 years, but I love it very much and I have never let it become routine. Every time I interpret it, I discover it again. It may be something very small in a phrase, in a duet or in an aria. I always bring something new. I enjoy bringing something new in everything I sing. I have already rehearsed at the Opera in Seoul. It is an excellent hall with amazing acoustics. In general, the audience in Asia is really enthusiastic about opera music. There are a lot of Korean soloists studying in Europe. I have already sung with some of them; they are very, very good and I have also noticed this at the rehearsals with the choir. Most of them are students and they have incredible voices. I have lots of fans, they look forward to listening to me and I hope I'll be able to meet their expectations tomorrow evening with this role which, as I said before, I love very much and fits my voice perfectly. I have absolutely no problem; even if last week I sang Norma, now I'll sing Gilda. No bother, I'm really happy each time I interpret it.

There will be two performances, on 22nd and 24th November. The baritone George Gagnidze will also make his debut - he is the interpreter of Rigoletto.
He is also in Korea for the first time. We already sang together at La Scala last year, and this year, together with La Scala ensemble and alternating with the great Leo Nucci, in Tokyo. We get along very well. He has also interpreted this role lots of times, so there are no problems.

Another Romanian soloist is part of the cast - Ștefan Pop.
Yes, Ștefan Pop. I sing with him for the first time here. He is in amazing shape, as proved by the rehearsals, and I'm glad. I hope we'll sing together again. He is young, talented, with a splendid voice. He'll have a wonderful career.

What can you tell us about the production, signed by the director Mario de Carlo?
I have met Mario de Carlo in Iași this year, in June. The Awards Gala of the National Operas took place in Iași, on 11th June. He was granted an award. From what I understood, he put on a lot of productions in Timișoara, being a friend of Mr. Corneliu Murgu. The Rigoletto production is very classical, very beautiful, to everyone's taste. It even has some very interesting ideas in the aria Caro nome, Gilda's aria, where I have some roses brought by Rigoletto, but I'm thinking of the duke. I'm sure that tomorrow evening will be a great success.

What is your opinion on the collaboration with the conductor Bruno Aprea?
I have never sung with him before. It's the first time we meet. He has been the artistic director of the Palm Beach Opera for many years and he lives in Rome. He is a conductor with lots of experience when it comes to the music of his country. Everything is ok and I could see that he has a very good relation with the orchestra. Most of the orchestra members are young. A lot of young people and they all respond to his requests very well.

I wish you the best of luck and, please, tell us something more about your projects. After the performances in Korea, you'll also come to Romania, in December.
Yes, that's true. After Korea, I'll go home to Zurich for a few days and in December I'll come to Iași; I haven't sung there for seven years, I believe, since before the National Theatre was renovated. I'll really enjoy singing on the stage home. I'll interpret Traviata. I have also invited the conductor Igor Ipanovici, with whom I recorded last year and also in 2013 for a CD called 'Donizetti Heroines' which has recently been launched by Sony Classical. So, we'll also be able to launch it in Iași. Then I'll come to Bucharest. On 20th December I have a concert at the Radio Hall and I'm glad to sing in Bucharest again, as I know that I have many fans who love me and look forward to my performance.
Jeanine Costache
Translated by Mihaela Olinescu and Elena Daniela Radu
MTTLC, The University of Bucharest