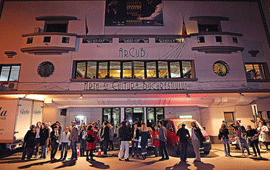 Interview with Liviu Iorgulescu, Olafur Arnalds's Concert Organizer in Romania
Thursday, 21 November 2013 , ora 10.06

On 21
st
November 2013, one of the most interesting international composers and multi-instrumentalists, the Icelandic Olafur Arnalds, will perform his first concert in Romania at the Arcub Hall.

It is a great pleasure for us to receive your gift: How would you describe this gift, this personality?
Olafur Arnalds is a very special artist. From the moment I listened to his music, I planned and promised to myself to do everything possible to bring him in front of Romania's audience. Certainly, it is part of a group of artists who promote a unique kind of music. This combination, this mix of classical, electronic and ambiental music is totally different. It's a kind of music that more and more people prefer, especially the Western musical listeners, but, why not, it could also become popular in Romania.

Did he easily accept your invitation?
Yes. He is delighted to perform in a place, a city he has not visited yet. We were also impressed by his reaction; from the dialogues we had with him during this period it emerged that he was eager to come on the stage of the Arcub Hall in Bucharest.

Will it be possible for the audience in the Arcub Hall to receive a disc with the recordings, as well?
A stand with promotional products of the artist will be set up in the hall, more precisely in the foyer. More than likely, his latest album - For Now I Am Winter, launched in March this year, will be available, so, the artist's fans will certainly enjoy his music on CDs, as well.

Thank you for this gift we received from you right now near St. Nicholas.
You're welcome! I will be waiting for you at the concert.
Irina Hasnaș
Translated by Eugenia Daniela Lupascu and Elena Daniela Radu
MTTLC, The University of Bucharest