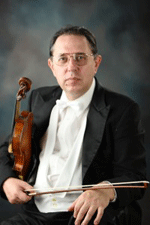 An Interview with the Violinist Șerban Lupu
Monday, 25 November 2013 , ora 8.28

The violinist, professor and president of the 'George Enescu Society of the US' gave at the Romanian Cultural Institute in New York on 22nd November, 2013 a lecture including music examples of a few of George Enescu's unknown opuses.

Dear maestro Șerban Lupu, here you are again in New York, this time promoting some things with which the North-American audience is less familiar.
I'm really glad that I'll be again in New York, in the hall of the Romanian Cultural Institute, where I'll give the New-York audience a lecture containing music examples of George Enescu's unknown works, works that I have discovered along my years of in-depth research on Enescu's creation. As a matter of fact, they appeared in the volumes issued together with the Romanian Cultural Institute a few years ago and, more than that, they were also recorded by 'Casa Radio' Publishing House and by Toccata Classics. These works are true gems of Enescu's creation covering different phases of his life, since the age of ten until towards the end, miniatures that are a reflection of Enescu's soul and help us get to know him and his work much better.

You are also involved in a different project, related to Anatol Vieru.
I am really glad to be able to participate together with Lena Conta and Mihaela Mingheraș in a recital dedicated to the composer Anatol Vieru. He is a composer I have met; I have had the pleasure of talking to him about his works that we are going to perform. I'll interpret two very interesting works and I'll talk about his violin compositions.

Do you think this is necessary, maestro Șerban Lupu?
Absolutely. First of all, the Romanian school of contemporary composition is incredibly valuable and still relatively little known in America. With regard to Enescu: let's not forget that Enescu was not only loved in New York, but at a certain point he was taken into consideration for the position of artistic director of the New York Philharmonic, his performances at the Mannes Institute, where he had master classes and his presence as conductor or in a concert were always praised by the chroniclers of that time. So, he is still a very well-known name here and I think both he and the Romanian culture will stand to gain if we continue to keep his memory alive in the American culture.

Many years ago, dear maestro Șerban Lupu, together with Lory Walfish and the composer Dinu Ghețu, you founded the 'George Enescu Society of the US'.
That's true, and these days I'll be meeting several personalities of the American and New-York music world in order to somewhat revitalize the activities of the society. So, this is also a very welcome purpose of my New York visit next week.
Irina Hasnaș
Translated by Mihaela Olinescu and Elena Daniela Radu
MTTLC, The University of Bucharest