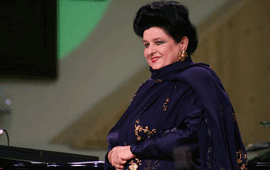 An Interview with Mariana Nicolesco
Thursday, 28 November 2013 , ora 9.01

On 28
th
November, 2013 the well-known soprano Mariana Nicolesco turned 65.
Every anniversary is a celebration for each of us. Every show or concert, every stage performance is also a cause of celebration for the artist, one when he/she has to give full measure of the talent and artistry, stealing the hearts of the audience.
The maestro of canto plays an essential part in the creation of such an artist. I had the chance of encountering a great maestro – Jolanda Magnoni at the Conservatorio di Santa Cecilia in Rome, and of remaining in touch with her till the end of her life, at 90. Before the performances or after historical triumphs on legendary stages such as La Scala in Milan, her words always supported me in my dedication to the idea of perfection; art in general and especially the art of singing, which was my vocation, entail perfection by means of what I've always considered to be their sacred character. On the other hand, I must say that I've always believed that the triumph today doesn't guarantee the success tomorrow; we have to live each stage performance as if it were the first and last opportunity to express the passion that our being can turn into art.
2013 meant a double celebration: 18 years of events dedicated to the memory of the great soprano Hariclea Darclée and 10 years of splendid revival of the Romanian lied, a forgotten treasure that, during this period, we have rediscovered and returned to the status it deserves, that of great art.
2013 also meant for me the chance of taking the floor at an important UNESCO reunion in Paris, as laureate of the UNESCO Medal for Artistic Accomplishments and as UNESCO Artist for Peace. I expressed my conviction that there is nothing which can bring people closer together than singing, the vehicle of the relation with our Creator and of our communion. I'm proud of the title of UNESCO Goodwill Ambassador, granted to me for my commitment in the name of this credo.

Translated by Mihaela Olinescu and Elena Daniela Radu
MTTLC, The University of Bucharest