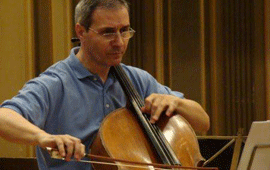 Interview with the Cellist Marin Cazacu
Monday, 2 December 2013 , ora 16.17

The Romanian Cultural Institute from Lisbon, in partnership with the Cultural Centre in Belém and Casa da Música in Porto, are announcing two gala concerts performed by the Cellissimo Quartet on Romania's National Day. The concerts will take place at CCB (Pequeno Auditorio) on 2
nd
December at 21:00 and at Casa da Música in Porto (Hall No. 2), on 5
th
December at 21:00.

Mister Marin Cazacu, these days you will be at the Romanian Cultural Institute in Portugal having two very beautiful concerts. Could you share your thoughts on these events?
Thank you for the invitation to talk about the experience we will have in Portugal; we were invited by the Romanian Cultural Institute to perform two special concerts in the country's capital - Lisbon, in one of the most prestigious concert halls in this city and in Porto - culturally and economically the second most important city in Portugal. The joy is great for us because this isn't the first time we are in Portugal. A few years ago we were invited to a prestigious festival to perform five special concerts in the civil parish of Mateus, municipality of Vila Real, in Portugal, as well. We can remember with extreme pleasure the Portuguese public and the way they received our music. This time we also suggested a very attractive programme because we perform with the Cellissimo Ensemble from which we can mention Alexandra Guþu, Marin Cazacu, Rãzvan Suma and Octavian Lupu with a repertoire of Romanian music by Constantin Dimitrescu (a cellist of a great posture) which also includes composers from the contemporary, romantic and classical repertoires. I am thinking of Handel, Albinoni, Piazzolla, Besler and even Dvorak - romantic music, and many other composers one of which is Portuguese.

Therefore, there will be two concerts dedicated to Romania's National Day.
That is right. We celebrate Romania's National Day on 1st December. The concerts will be performed on 2nd December and 5th December, 2013, and our presence in this country is a dearly return to a country that we like very much, a country which receives music in a very special way.

Mister Marin Cazacu, everyone knows that you are not only the initiator of the project called Violoncellissimo, but also the founder of the Youth Orchestra. What are this ensemble's perspectives in 2014?
You are asking me about a thing that is very close to my heart. I hope that the Romanian Youth Orchestra will have several special moments in 'its life's experience' because it has been invited to the most prestigious festival of the youth orchestras and to the most impressive hall of concerts in the world. We are talking about Philharmonic Hall in Berlin. The concert will perform an entirely special programme on 24th June, 2014. The Romanian Youth Orchestra will hold, along with Maestro Cristian Mandeal, a programme in which there will be interpreted works by Theodor Rogalski, Maurice Ravel, Richard Strauss - the year 2014 being dedicated to Richard Strauss - and Pyotr Ilyich Tchaikovsky; besides this extremely special orchestra concert, there will take place several remarkable concerts at the Romanian Athenaeum. We are talking about the concerts on 5th March and 20th March, concerts within the 'Sergiu Celibidache' Festival in October, 2014 and in the spring of 2015, the Orchestra will take part in important festivals in Vienna, and in the summer of 2015, the Orchestra will participate in significant festivals in Aix en Provence, Marseille and Paris in France.

Here we have an impressive trajectory of an extremely young ensemble. How old is it?
The Romanian Youth Orchestra was established in 2008. We are in the 6th year of its existence, but you must know that this orchestra has already risen. There are many youths between 20 and 30 years old and we will also include in the orchestra those who are younger, youths who are actually members of orchestras for a smaller age - we are talking about the Romanian Sinfonietta Orchestra and Junior Orchestra in which the age speaks for itself. Everyone will grow and will develop artistic qualities in order to rise and to be included within this prestigious ensemble of Romanian music.

Mister Marin Cazacu, thank you for your time and we wish you good luck both with Violoncellissimo and The Romanian Youth Orchestra, and good luck for yourself. Are you preparing any surprises for the ongoing season?
I certainly am. Besides the fact that I like to be challenged to play works for the first time and musical pieces from the repertoire I performed so many times on the stages of the concert halls. Next year I will have the pleasure to present the premiere of a work - a cello and orchestra concert - by Doina Rotaru at the Romanian Athenaeum - and many others. I will let you enjoy these challenges at the right moment.
Irina Hasnaº
Translated by Corina Gidea and Elena Daniela Radu
MTTLC, The University of Bucharest