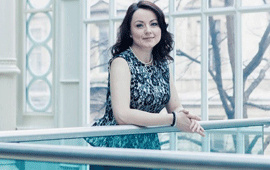 An Interview with the Soprano Anita Hartig
Thursday, 5 December 2013 , ora 9.15

On 5
th
December, 2013, the Romanian Cultural Institute in London organizes an evening of lieds and arias interpreted by the Romanian soprano Anita Hartig and the pianist Mats Knutsson. The soprano Anita Hartig is currently one of the most successful Romanian voices, with performances at the Covent Garden in London and at the Metropolitan in New York.

Anita Hartig, on 5th December you'll be at the Romanian Cultural Institute in London; a lied evening. What will you interpret and who will accompany you?
I am glad to talk to you again; I am delighted that our interviews have become something of a tradition. A month and a half ago, the Institute invited me to give a recital in London and I was happy to accept the invitation. Mats Knutsson will accompany me; he is an accompanist at the Opera in Vienna and a great musician. We have a beautiful chemistry, so I was happy to ask him to give a recital together, on 5th December …

The programme is very interesting: George Enescu, Richard Strauss, Mozart, Catalani, Puccini and Gounod.
Yes, because I also wanted to sing a few lieds by Richard Strauss and George Enescu. I believe that everything I have chosen will be interesting for both the audience and me, especially since there are some works I have never performed in front of an audience.

What will come next, after your London performance at the Romanian Cultural Institute?
I'll go to the Deutscheoper Berlin, where I'll have a debut with La Bohème, with Teodor Ilincăi; then, I'll return to Vienna with The Marriage of Figaro – around January. Then, I'll leave for Munich with Liu in Turandot, another debut. There are so many debuts and emotions …

Do you think that an evening of lieds is beneficial to the career of an opera soloist?
Absolutely. It's just you there and you are the sole responsible for everything. In an opera performance, you have the costumes that help you, you have the make-up, the settings, a partner, the lights, all these supporting elements. But in a recital of lieds, you are responsible for creating the atmosphere, using your voice, the colour and the intensity of your voice, to create a whole performance with a single lied. This is a huge challenge. The work is more complex, like in a tapestry; such a recital is very detailed. I have always avoided this kind of thing, but you have to start some time, haven't you?

Actually, you have to accept this challenge.
Exactly.

Anita Hartig, we wish you the best of luck and thank you for revealing to us, every now and then, a few of your projects.
Irina Hasnaș
Translated by Mihaela Olinescu and Elena Daniela Radu
MTTLC, The University of Bucharest