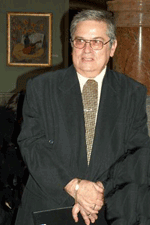 'Free time is the time that you can spend working, because occupied time does not exist...'
Thursday, 5 December 2013 , ora 9.46

Musicologist Grigore Constantinescu is 75 years old today on 5
th
December, 2013. Born in Bucharest in 1938, President of the Romanian Musical Critics' Union (since 1990), Grigore Constantinescu has a Doctorate in Musicology awarded by the 'Gheorghe Dima' Music Academy in Cluj-Napoca (1976), and he is a PhD lecturer at the Bucharest National University of Music, where he teaches the history of music, musicology and the history of the musical performance. He is also a renowned music critic, author of studies, articles, interviews (since 1962) and books on musicology and a radio and TV host. We made the following interview to celebrate his birthday:

Grigore Constantinescu, happy birthday from Radio Romania Music. We wanted to join you on this important day and to wish you all the best on behalf of our listeners and our team. How are you feeling today?
I'm feeling wonderful, because I'm surrounded by hope, love and friendship and because you're calling me up from Radio Romania Music, where I have spent part of my life.

Do you have any plans for today? Are you staying at home, enjoying the day together with your loved ones or are you working, perhaps?
Yes. I am enjoying it with my entire family – from the youngest to myself. I am enjoying everything I can from the point of view of sentimental accomplishments and with the family I have now.

Speaking of the professional side… I know you are a very active person, always busy with a professional or musicological project. What are you working on now?
I should tell you all I have done this year. Editura Didactica published a monograph I wrote on Gaetano Donizetti. I published 10 years' worth of music reviews with Editura Muzicala – Nocturn și diurn în muzică. I am waiting for the Bucharest National Opera Publishing House to print 4 secole de operă, and I am working on a monograph on the queen of Romanian vocal art, namely Emilia Petrescu. These are the tangible realities, among 10 doctorates in the past three months – the most recent one will be next week with Alina Botez, an already famous name in the world of music – and conferences, scientific communication, lectures, of course, because I still teach at the National University of Music. So I have a schedule that keeps me busy, and I can add the weekly concerts of the Radio Music Ensembles – the National Radio Orchestra and the Radio Chamber Orchestra.

Do you still have free time?
Free time is time that you can spend working, because there is no occupied time!

Have you thought about any project that you would like to work more on?
I have several. If I start listing them, you won't have the time to write all of them down, but anyway, I'm certainly working on more monographs on composers in the Musica Viva collection, which I have started at the Didactic and Pedagogical Publishing House, and, of course, as many other things as I can do.

Thank you very much. Once again, happy birthday, and have the wonderful day that you deserve.
Thank you very much, to everyone at the Radio. Some of them I truly love because they have been, as you have, my students or rather my dear children during my teaching years.
Ioana Marghita
Translated by Irina Borțoi and Elena Daniela Radu
MTTLC, The University of Bucharest