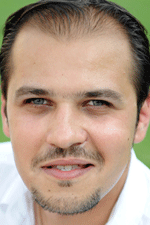 Interview - the Bass Adrian Sâmpetrean
Monday, 9 December 2013 , ora 8.09

In 2007, just one year after graduating from the 'Gheorghe Dima' Music Academy in Cluj Napoca (vocal studies), the bass Adrian Sâmpetrean became a member of the Chamber Studio at the Bavarian State Opera in Munich. During the previous season, the young bass could be admired on the stages of the Operas in Düsseldorf and Duisburg and of the State Opera in Hamburg, in the operas:
Don Giovanni
and
Così fan tutte
by Wolfgang Amadeus Mozart,
Cinderella
and
The Barber of Seville
by Gioachino Rossini,
La Bohème
and
Tosca
by Giacomo Puccini,
Macbeth, Un Ballo in Maschera
and
Rigoletto
by Giuseppe Verdi. These days, a new event takes place in his career, at the State Opera in Berlin - a new production of the opera
Il Trovatore
by Giuseppe Verdi; he talked to us about this:

Adrian Sâmpetrean, thank you for accepting to talk to us about a series of performances with the opera Il Trovatore, produced now at the State Opera in Berlin. What can you tell us about these performances, in very good company: Anna Netrebko, Placido Domingo and Daniel Barenboim conducting?
It is a great pleasure and honour to be on stage in such a company. I must admit I have been waiting for this production for a long time, because I see it as something special. To begin with, it's the first time I have the pleasure of singing next to Placido Domingo and Anna Netrebko. I have collaborated with maestro Barenboim before: last year, at the Bolshoi, and this season, at the Staatsoper with Leporello, in Don Giovanni. This opera is a debut for both of us and actually, I could say it's a debut for all three great names, as maestro Barenboim included made his debut on Friday, 29th November, in Il Trovatore. I remember that we had a rather funny conversation backstage, after the general rehearsal, when he asked me: 'But, Adrian, how many times did you perform in this opera?' And I answered: 'Maestro, only once, in 2009, in Cluj, but it was a performance, not a production.' And he said: 'Well, it still beats my track record by one…' It is a nice atmosphere. Besides their being great artists, the atmosphere on stage is nice and I think this also shows in the interpretation.

How is this production? I saw a few photos of Anna Netrebko wearing a blond wig.
It is an interesting production. Philipp Stölzl is a director known for his films. He also made many music videos for Rammstein, Madonna, Evanescence; he received the Golden Bear here, in Berlin, so his name is famous in the cinema world and his direction attached importance to the comical element, as a counterweight for the rather dark atmosphere of Il Trovatore. He explained to us, from the beginning, that in a film, whether a drama or a thriller, there are every now and then some punch lines, some key moments, whose role is to relax the atmosphere. That is what he attempted to do with Il trovatore. He tried to bring some comical elements which, even if atypical, are somewhat necessary to get the audience from under that extreme tension that Il Trovatore creates with its story and music. The production was extremely interesting. I must admit that I really enjoyed working with Philipp, because as director, he has a flexible style; it's very important to allow the artist to express his personality and build the role on his own character and that is exactly what he did. Therefore, I was able to make a contribution, to say what was good, what we could do differently… it was, really, a collaboration. There was a mix of colorful costumes, interesting projections and, thus, the wigs, including the blond one, worn by Anna.

I understand that two performances have already taken place. What was the reaction of the audience?
There were two performances indeed, on 29th November and 4th December. The production was enthusiastically received by the audience. It was an event that Berlin, and not only Berlin, because I'm certain that people from all over the world were in the hall, has long been expecting. First of all, due to these three great debuts and, of course, the reaction of the audience was equal to its importance. It was a success, everybody was delighted and, of course, this made us feel satisfaction for our hard work.

Could you, please, tell us a few words about the other two interpreters, of the roles Manrico and Azucena?
The two interpreters are Gaston Rivero and Marina Prudenskaya and they are truly amazing artists. Honestly, it was a very solid distribution and this, as maestro Barenboim said, was the strength of the production. Marina Prudenskaya is a mezzo-soprano that makes a very, very strong Azucena as character and interpretation; from the vocal point of view, such a difficult role as Azucena fits her perfectly and she had a huge success. Gaston is a young tenor of 35 who practically got the opportunity to sing in this series of performances because Aleksandrs Antonenko - who was supposed to interpret the part of Manrico - cancelled for medical reasons two weeks before the premiere. Gaston was here for the rehearsals, it was decided that he would perform and it was a very good decision, because he is a very confident artist, a tenor who has sung this role before and who is really very good in this part, even taking into account the difficulty of the role Manrico. He has managed things wonderfully, doing an amazing job and we were all really glad to have him alongside, I really think he was a very good addition to the distribution.

What's next, after this series of performances with Il Trovatore?
A debut with Dulcamara, in Monte Carlo; for me, this role is a challenge, because it's a role of creation, a very interesting part which can bring great satisfactions and I'm looking forward to it. Then, another debut, with Don Alfonso in Lucrezia Borgia, a concert in Hamburg next to Edita Gruberova and, again, Dulcamara, in The Elixir of Love, in Rome. The season will end with a little more than two months in Aix en Provence, for the premiere of Il Turco in Italia, where I'll interpret Selim.

And we 'stole' some info from your father who told us that you would be in Bucharest, in January.
Exactly, but I didn't want to make anything public. I prefer not to make things public until the contract is signed, but now it is confirmed and it's only a matter of days. I'm quite delighted because this means (if, God willing, nothing unexpected happens) my debut on the stage of the National Opera in Bucharest.

Adrian Sâmpetrean, thank you and I wish you the best of luck…we are proud to have such artists on the stages of the world.
Thank you so much…it is my pleasure to be able to do such things. Thank God for helping me and giving me the strength to do it all. I wish you and your listeners good health and…till we meet again.
Jeanine Costache
Translated by Mihaela Olinescu and Elena Daniela Radu
MTTLC, The University of Bucharest