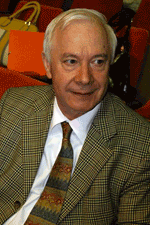 Interview with the Professor and Composer Ulpiu Vlad
Thursday, 12 December 2013 , ora 9.07

Between 2
nd
and 8
th
December, there took place the 9
th
edition of the 'Meridian International Festival- SNR- SIMC' days, manifestation which was organized by the
Union
of Romanian Composers and Musicologists. It gathered concerts, recitals, and master-classes in Bucharest, Arad and Iași. The artistic director of this edition was professor and composer Ulpiu Vlad, who agreed to give us the following interview:

Mr. Ulpiu Vlad, in this beginning of the December, a fantastical journey took place, a journey under the sign of contemporary music, also named "Cardinal Points", an international festival that reached its 9thedition.
I would firstly like to greet the listeners of your radio, to tell them that the "Meridian"Festival is one of the most important projects of the Unionof Romanian Composers and Musicologists, and that we are waiting for them to come into the concert halls each time we offer our time to the public. I consider that the 9thedition of the"Meridian"Festival was a real success. Firstly, because, in my opinion, the objectives were accomplished in very good conditions: we wanted to include performances and compositions in a wide stylistic variety, and a large number of Romanian and foreign composers, who performed their latest creations. This way, we had composers from different generations, who belonged especially to the Romanian Composition School, but also to some prestigious European cultural centres, such as Austria, Germany, France, Poland, Slovenia, as well as composers from Australia, USA, Japan, Israel, and many other countries. We also hosted a symphonic musical concert, performed by the State Philharmonic Orchestra of Arad, and a vocal-symphonic music concert performed by the Moldova Philharmonic Orchestra of Iasi and Gavriil Musicescu Academic Choir. We also had a series of workshops, launches of scores, musicology books and CDs, which, of course, have amplified the public's interest in the festival. Another important issue of the festival was attracting some of the most valuable young performers towards the values of the contemporary composition. In this regard, we set up an assembly called Ravivendo, this time in the form of a quartet, hence the basic formula of the ensemble, which may take many forms, depending on the necessities. I will also mention its members: Olga Berar - first violin, Ciprian Oroveț - second violin, Adrian Vasile - viola, and Mircea Marian - cello. Another group that had its debut in this festival was Trio Sternin, consisting of Daria Tudor-piano, Gerogeta Iordache-violin, and Ella Bokor- cello. All the performers are very young and laureates of many contests. Of course, in the present edition of the festival, many important young artists , specialized in modern music, but equally valuable in performing classical music of all periods, also attended the event; I am not able to nominate them, as they are too many. Lecturing the programme can give you an idea over the importance of this festival and of its success. I would also like to say a few words about Thomas Wecker, a very young and very talented cello player from Austria, who, at the same time, is a very good composer. He was a performing model, an extraordinary moment such as many others during the festival, in which we felt the energy of each note, and this thing is amazing. Even if I haven't named all of them, I would like to mention that the performers did many efforts, they put their best, and performed very difficult creations, in very good conditions, and I believe this is a very laudable thing, which gives us many hopes. During the concerts of the young composers, I also observed a very special concert, with many good works and with young, exceptional performers.

Do you also have projects for the 10th edition of the "Meridian"festival, a jubilee edition?
It is difficult to say it now. The present edition has just finished. Surely, the 10th edition will also take place; of course we will try to make it even better, to organize it earlier. Unfortunately, we are encountering some difficulties regarding the financial incertitude, and this may limitate our activities, because real projects are planned years in advance, with very important performers and of course, they are quite expensive. We organize all with minimal budgets, but the public doesn't notice that. The festival was organized with the involvement of the composers, performers, and the entire team that collaborated to this project.
Irina Hasnaș
Translated by Aida Birghila and Elena Daniela Radu
MTTLC, The University of Bucharest