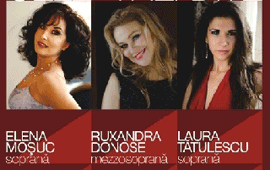 A Christmas Gift
Friday, 20 December 2013 , ora 11.05

A Christmas gift that Radio Romania offers you on the evening of 20
th
December. Three interpreters of Romanian origin, the soprano Laura Tătulescu, the mezzo-soprano Ruxandra Donose and the soprano Elena Moșuc will be on the stage of the 'Mihail Jora' Studio, accompanied by the Academic Radio Choir and the Radio National Orchestra, under the baton of David Crescenzi. They will interpret musical gems, signed by great creators of all times.

*
Mrs. Elena Moșuc, welcome to Romania. You'll meet the Bucharest audience again, in the 'Mihail Jora' Studio of the Romanian Radio Broadcasting Company. You'll share the stage with two of your friends, Ruxandra Donose and Laura Tătulescu. What are your thoughts on this event?
I'm really happy to return to Bucharest after a few years' absence and I'm glad to have the chance to sing again with Ruxandra Donose, with whom I performed in 2007 Anna Bolena in Vienna; I know Laura, but we have never sung together. I think it will be a beautiful and interesting concert and, as I said before, I enjoy returning to my listeners in Bucharest, as I know they appreciate me.

Only a few days ago, you launched an album which is very dear to you, entitled Donizetti Heroines. This is a dream come true; what will come next in the same line?
I have sung Donizetti since the beginnings of my career, starting with Lucia de Lammermoor. I have also interpreted other roles, such as Maria Stuarda, Anna Bolena, Lucrezia Borgia, and I thought that it would be the right moment to gather in an album the arias which are most dear to me and in which I feel really comfortable; Bel Canto is, I believe, perfect for my voice and it would be a pity not to make these recordings I have long dreamt about. I had the chance to work with maestro Ivo Lipanovic in Verona, at the Teatro Filarmonico, in 2002, and we got along really well on that production. A few years ago, I gave a few concerts in Zagreb and we worked together again; I thought it would be great if we could record. He helped me with this project, he talked to the director of the music department in the Croatian Radiotelevision and this is how this project became reality. It was finalized through this album which was launched by Sony and I'm proud of having managed to achieve this with such an important recording company.

Do you have any other recording projects, other dreams you would like to see on an album?
There are plenty, but Sony gave us the idea to record arias of Meyerbeer, because 2014 will be the Meyerbeer year, Giacomo Meyerbeer. These are really difficult arias, and I'm interested, because I have always been tempted by something very difficult. We'll see, we'll work on this project with Ivo Lipanovic in Zagreb again and we hope we'll finalize it successfully next year.

What are your projects for the beginning of January, Mrs. Elena Moșuc?
On 7th January we'll launch the album in Zurich, at a classical music soiree, where I'll sing a few of the arias recorded on the album. Then, on 18th January, exactly on my birthday, I'll come to Bucharest and perform in Traviata. At the end of the month, I'll be in Moscow for a concert of arias, at the Tchaikovsky Hall. This is a place where I have longed to sing for a long time and here is the chance. During the year there are many projects with Turandot, La Bohème, La Traviata, Carmen. Two weeks ago I received an interesting offer for a new Donizetti opera, Caterina Cornaro; it's less well-known, hardly ever performed, and the invitation is quite tempting. Then, Traviata in Barcelona and I'll finish the year in Zurich, in December, with Luisa Miller by Verdi.
Dear Mrs. Elena Moșuc, welcome to Bucharest and we are looking forward to your delighting us.

*
Ruxandra Donose, in a few days only you'll be in Bucharest, joining friends. So, three beautiful women and, at the same time, three great artists. This is the most important. You'll be together with Elena Moșuc and Laura Tătulescu, but this week you have also been invited to Berlin, for a concert dedicated to Romania's National Day. How was it?
It was a wonderful evening, because the Philharmonic Hall in Berlin, a big hall with 2,300-2,400 seats, was filled with people attending this celebration of music, and three Romanian artists were on stage. We sang works belonging to the international repertoire, but the orchestra also interpreted a Rhapsody by Enescu. It was something quite beautiful: so many Romanians, but also international citizens, people from Berlin, getting together to celebrate Romania.

It was a moving concert. And now, you'll be in Bucharest, in a musical 'conversation', as I was saying, with other two artists from Romania, also performing on great stages. But, Ruxandra Donose, what will come next after this event in Bucharest which, I believe, you are happy about?
I'm all the more glad since this is the third year for this concert which has practically become a tradition, before Christmas: an evening with great arias and opera duets, with Romanian singers enjoying great success in the world; it will certainly be a very nice evening. After that, I'll return to Bucharest, in January, with another project which has reached its third year, an opera in concert at the Radio Hall. This time it's Ariadne auf Naxos (Ariadne on Naxos) by Richard Strauss, an opera not very often performed on Romanian stages. Last year I performed in Werther by Massenet; two years ago there were The Child and the Spells and The Spanish Hour by Ravel. It's a project I enjoy very much, because besides being an extraordinary opera, the role I sing is one of my favourite parts among all of the composer's works. This is also the opera I'll return to later during this season, at the Royal Opera House in London. After the concert with this opera on the Radio, a very busy year will start for me, with lots of concerts, tours in Berlin, Geneva, Brussels, Vienna and London, concerts with The Death of Cleopatra by Berlioz, Les nuits d'été by the same composer, The Damnation of Faust by Berlioz again. When it comes to opera, I'll perform in Ariadne in Naxos at the Royal Opera House, La Grande-Duchesse by Gérolstein, in Geneva and Semiramide by Rossini in Lyon and Paris. So, a very full year, just as usual, I might say, but with very beautiful projects.

Any spare moments for recitals?
I have a few spare moments and I'm already planning some recitals.

What about recordings?
These days a recording of the opera Tamerlane by Handel will come out; I have made this recording in 2013, with the Decca recording company. Besides that, I plan to record indeed more than I have managed so far, although even up to now there have been many recordings. This year, recently, there has been launched a recording of the opera La Cenerentola by Rossini, from Glyndebourne. This already existed on DVD, but I must say that the album version is different from the one on the DVD. It was made in another year, it's a live recording and the rest of the cast is different from the DVD. It's a very good album and being recorded after a live performance, it has a very special atmosphere.

Ruxandra Donose, thank you for the Christmas gifts you're bringing.
I'm really glad to be able to offer them. They are gifts for me, as well.

*
Laura Tătulescu, welcome to Romania. After a period full of countless interesting operas and debuts, you had an extremely busy summer and we are really glad that these days you are in Bucharest, together with your friends, the soprano Elena Moșuc and the mezzo-soprano Ruxandra Donose. What does this concert mean to you, this trio that you'll make on the stage of the Romanian Radio Broadcasting Company?
First of all, for me it's a debut. I have never sung on this stage before. And I'm really glad of the company. I met Ruxandra and Lili not in Romania, but abroad, in Vienna and Los Angeles. We met a few times; it was very nice and interesting, they are both splendid artists. I'm happy to share the stage with them. Moreover, I'll enjoy the collaboration with David Crescenzi, with whom I sang in Bucharest and Timisoara, and I'm glad to be home.

Laura Tătulescu, you have lots of interesting things to say to us. Could you, please, tell us a few of your accomplishments during the summer and autumn?
I would like to start with the beginning of the previous season - a debut at Carnegie Hall, consisting of a recital together with two other Romanian artists, Vlad Iftinca and Matei Varga, incredible pianists. Then, I was in Edinburgh, with Così fan tutte, under the baton of maestro Robin Ticciati, followed by performances in Munich and Budapest with The Marriage of Figaro, conducted by maestro Ivan Fisher. After that, back to Munich and then off for three months at Glyndebourne, where we had 17 performances with The Marriage of Figaro, under the baton of maestro Jeremy Rohrer, then New York, with the same opera, at Lincoln Center, under the baton of maestro Ivan Fisher, then Berlin, with the same opera and the same conductor, maestro Ivan Fisher. After that, we immediately opened the season here, with Don Giovanni, then the title part in L'enfant et les sortileges, followed by Così fan tutte, Despina, The Magic Flute and the premiere of Die Frau ohne Schatten, under the baton of our music director, Kirill Petrenko.

After recharging your batteries here, in Bucharest, with the Romanian audience, but also with your family, what are some of the most important moments in the second part of the 2013-2014 season?
I am preparing two recitals in Munich, with a trio made up of violin, piano and cello; we'll perform lieds by Beethoven, Haydn, Wolf and Blacher, a very interesting work for solo violin and soprano. In Leipzig, in April, I'll sing two voice-symphony works by Debussy, Le Martyre de Saint Sébastien and La demoiselle élue, under the baton of maestro James Gaffigan, at Gewandhaus, Leipzig. Then I'll be here, in Munich, for the performances with La Bohème; after that, in America, for my debut and the premiere of Don Pasquale, in Santa Fe.

Laura, thank you so much for all the information and especially for being in Romania these days; your presence here is what we might call a Christmas gift.
I'm glad to be here. It's a gift for me as well and every time I return home I'm happy, even if it doesn't happen very often.
Irina Hasnaș
Translated by Mihaela Olinescu and Elena Daniela Radu
MTTLC, The University of Bucharest