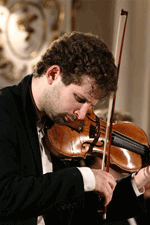 An Interview with Violinist Ilya Gringolts
Tuesday, 7 January 2014 , ora 9.43

Violinist and composer, Ilya Gringolts, was born in 1982 at Sankt Petersburg. At present he lives in Basel, Switzerland, where he also teaches at the city's Music Academy. He has received many international awards during his career. He is performing in concerts and recitals in Europe, Asia and North America. A few years ago he set up a quartet that carries his name and with which he performs concerts and recordings.

We are very grateful that you have accepted this interview, Mr. Ilya Gringolts. You had a very early career start. Do you have any precious memory, a special encounter that you would like to share with us?
It is hard to choose a memory from my youth, because I grew up in a musical environment. My parents started taking me to concerts since I was five years old. At home I used to listen to a lot of music; we had lp records. I received my first violin at the age of five. At six years old I started to take lessons regularly. All of these things had a strong impact. The wonderful things came later. My first years of study as a violinist were very difficult, not very encouraging, as the violin is an instrument hard to master, with a tough road to obtain beautiful sounds. My artistic fans came along a lot later.

Mr. Iliya Gringolts, you have expressed yourself through two parallel languages: your native tongue's verbal communication and the musical language. Do you have a favourite phrase for the latter?
The musical language is in itself something that cannot be translated into words. That is why it is so wonderful. A sound can account for thousands of words. I feel more at ease when I perform than when I talk. I think I am better in the musical area.

I have to underline the fact that during your career you have had the opportunity to meet countless celebrities at some concerts and recitals. What does a concert mean for you? Is it like a celebration, something unique?
First of all, it is an experience, a journey, a performance, a translation. It is about turning score notes into an audio experience. It also represents the achievement of an expressive connection with the notes on the page. You hope that the audience will hear your feelings or maybe it will have its own emotional experience. I believe this is part of my own experience.

On stage you tell wonderful tales, but do you have a story that is special to you?
I think that every composition has its own separate story. It is possible that the same piece of music can have different echoes according to the interpretation. Music can be endowed with various contents and so there are many interpretative versions of the same opus. I think every story is special and at different times it can have various forms.

Mr. Ilya Gringolts, on stage you have many types of dialogue – a soloist accompanied by the orchestra ensemble or by a pianist or a quartet. What is the main dialogue type?
The atmosphere is always that of a team. Even if there are hundreds of artists they must form a team, otherwise it will not work out. I believe that everything should be done with an ideal sense of chamber music. You must listen to the others! You cannot create music for yourself without hearing the others. It is generally about communication, listening to your partner, expressing your own feelings. It is about dialogue. In this sense there must be respect even if it is a quartet or an orchestra. The differences are of course in the level of the scores, in the way of dealing with things, in the way it is rehearsed. It is a totally different experience when it is a quartet or a symphony by Beethoven. Your attitude must truly be the same in the dialogue with these different worlds.

In what kind of dialogue do you feel more comfortable?
I don't have a definite answer to that. It depends on how the communication between people works out. If it is going well, I feel great. Even if the scores are not the best, and the connection among people is very good, then you can have a one of a kind experience.

Do you think it is important for an artist to rotate different artistic eras, such as baroque, classical, romantic and contemporary, in his repertoire? Or should he be focused on a particular domain?
I do not think I specialized in any field. This is not science. Fundamentally, each one of us is free to choose what he wants to perform. If you decide to be tied to one style your whole life, the world will consider you a reference point. In my opinion, that would just restrict you.

When you are involved in a project all of your creative energy is focused in finishing it. What is your latest complete project?
Not long ago, last month actually, the disc with Niccolo Paganini's 24 Caprices has been released. I have worked all year on that recording. It was an important project. Another accomplishment, that took four years, was the one dedicated to Robert Schuman, where I have also included sonatas, trios and quartets. After Paganini, there will be a project with my quartet that will include Brahms complete works – quartets and quintets with the piano – and it will be released next year. And after that there will be a singles disc with John Adams and Gyory Ligetti's concerts; it will be finished in 2015.

When you don't perform or examine scores, what do you enjoy doing?
I have many things to do. I teach. I have a family with three children that fill my life. I read, watch movies, but I don't really have that much free time. There are many things to achieve.

After Warsaw, what will be next in your agenda?
Next week I will be in Moscow and Sankt Petersburg with two concerts - in one I will perform with a trio and then with the Moscow soloists and conductor, Yuri Bashmet.

As a violinist, what do you think about George Enescu, Mr. Ilya Gringolts?
He is one of my favourite composers. In the 20th century, I think he was the most talented in a difficult contest against Stravinski and Sostakovici. But he kept it even and his language is recognisable from the very first phrases. I like his works and I have performed Impressions d'Enfance, Sonata No. 3 and Sonata No. 2 for piano and violin, the latter being my favourite. The Octette and Trio – fantastic opuses and I can't wait to play all of them again.

At the end of our interview, would you like to say a few words for the Romanian public, Mr. Ilya Gringolts?
I have performed in Bucharest twice, and at the George Enescu Festival I've had wonderful encounters every time and I hope to come again. In November 2013 I should have been in Bucharest at the SoNoRo Festival, but unfortunately I had to cancel. I would like to meet and perform once more for the Romanian audience.
Iirina Hasnaș
Translated by Roxana Țicămucă and Elena Daniela Radu
MTTLC, The University of Bucharest