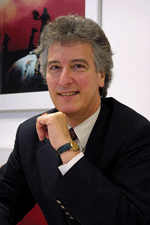 Interview with Peter Mario Katona - Director of Casting at the Royal Opera
Wednesday, 8 January 2014 , ora 9.19

Peter Mario Katona was born in Berlin in a musical family. His mother, Marianne Warneyer was a leading soprano with the Stuttgart Opera, and his father, Hungarian-born Julius Katona, sang in opera houses across Germany. Peter Katona studied Music and German Literature at the University of West Berlin. He began his career as a classical music critic before becoming assistant to the conductor Christoph von Dohnányi. He joined the Company in 1983 as Artistic Administrator. Over the past 30 years in his work for The Royal Opera Katona has given important early career opportunities to a number of the world's leading opera singers. He has built a reputation as one of the most experienced and respected casting directors working today.

Mr. Peter Katona, you have been The Royal Opera's stage director in London for more than twenty years. You collaborated with many Romanian musicologists throughout all this time. We would like you to bring to light some of the secrets of this important theatre.
I don't think I will start with any secret. I am going to tell you some of my knowledge regarding the organising of a season. I am going to tell you about astonishing Romanian musicologists, who have come from your country along the time. They didn't take advantage of a special treatment, but lived in the same conditions as their colleagues. We are talking about the current season, which is ongoing. We have started out in strength. The latest production is "I Vespri Siciliani", dedicated to the Giuseppe Verdi's bicentenary. It is a production signed by Stephen Herheim and our artistic director, Antonio Pappano, was its conductor. We have repeated some performances , as well, of "Turandot", in Andrei Șerban's direction and Henrik Nanasi conductor and "Le Nozze di Figaro", with Sir Eliot Gardiner as conductor, with a selected cast, whereat participated many voices from Great Britain. A beautiful "Electra" performance, with the conductor Andris Nelsons in his first appearance and Christine Goerke, a charming Electra, who was in great shape and reminded us the great dramatic sopranos of the XXth century, as Birgitt Nielson or Tatiana Troyanos. Then, "Wozzeck", which is one of the best performances, and I could say with a cast full of stars, and we are only a couple of days ahead before a new production of "Parsifal". And thus the season runs its course.

Mr. Katona, you have described for us some of the 2013-2014 season's marks. How can a young voice succeed in taking part in a cast at the Royal Opera House in London?
It's all about talent. As it is known, The Royal Opera House is one of the most important theatres worldwide, and everyone expects that on the stage to be the greatest talents. Everyone is free to construe the phrase the greatest talents as he wishes, but my point here is the balance. An equilibrium between the stars of the day, the contemporary individuals, not only the ones from Great Britain, but also from the worldwide, and the new voices. Young musicians, young people who are prepared for an important career, as far as we find them far and wide. My goal is to be as good informed as possible on what happens in the opera's field internationally, in as many stages so that I could find young talents and offer them the chance to perform on our theatre's stage. An example of starting-up is that of Angela Gheorghiu, who came to us in 1990, a soprano completely unknown at that time, who took part in an audition. She hadn't been invited by many by that time. We immediately discovered her talent and potential for a great career. And thus, she started in this theatre, sooner perhaps, then in other theatres. Not everybody who knocks at our door represents a future Angela Gheorghiu, but we attempt to find young voices which are genuinely special and very good. Other stage directors from other theatres do the same thing. But we aren't always lucky. We are talking here about an absolutely opened market. You don't have to come with a recommendation or a certificate. All you have to do is to prove that you own an artistic potential, that you have had a musical activity, where you have played, what you have played. This is one of the most important operas and it is demanded to have a biography with a few reference points in order to be observable as a potential candidate. I go to international contests three times a year, as well. We have auditions regularly here, too. I follow the productions in various theatres in order to listen to interesting voices. I collaborate with my colleagues. This is an entire work of searching, and if you have a good sense of intuition, you can find very good singers, important or even attractive ones.

The directions and productions at the Royal Opera House belong to some important figures as Stephan Herheim, Stephan Langridge, Andrei Șerban and David McVicar. Mr. Katona, does the collaboration with the producers represent one of your responsibilities?
The producers and the production teams don't represent my foreground responsibility. The production office is coordinated by Kaspar Holten, the opera's director. He is the one who makes the choices. He makes the suggestions, supervises the entire action, he forms the team and keeps his eyes on it all the time, till the end of the process. My mission is to choose the singers, to negotiate the casting with the conductors and also, to assess every event's logistics three-four years earlier. From time to time, we are having a meeting, the opera's director and the artistic director, and we see what we have to do. We organize the seasons, their content. Currently we are talking about the season from 2017-2018. We are rounding some scripts of the new productions and of re-staging some performances off. Some operas must be replaced from objective points of view, either the conductor or a singer aren't available anymore. The logistics of a season is a very complicated business. The detailed playbill of each season and of each particular event must be realized many years before. My mission is to take care of the singers and conductors. But each member from the managerial team can come with a good idea, which we analize. We work together in a very relaxed atmosphere, not in a stressed one. We often consult with each other and come to a benefic conclusion. The productions and the execution teams of the productions are not my business.

Mr. Katona, do you have a dream or a project you would like to accomplish in the future?
There is not much to be done, because our next seasons have been already planned. Now we are dreaming at the seasons from 2017-2018, 2019 and 2020. We have dreams, but in other words, concrete plans, with some contemporary composers, whom I have ordered new opuses for the 2020 season. And this process is very dynamic. We all, together with Kaspar Holten, want to have it accomplished. It's not about dreams, but attractive plans, in a continuous process of innovation. Do I dream of any opera? I have some favourite ones, but they represent something very personal, and I am not going to reveal any title as I find others to be very unpleasant, and their titles will also remain unknown to the audience. All of them are treated with the same respect and attention, because everything we do we do for the audience and not for ourselves. We strive to enchant our audience with our production's refinement. In a theatre of international size as the Royal Opera House, we are not allowed to have a personal style, as here come visitors from worldwide, and they have different expectations. We can't please everyone every time. We have to give a great diversity of styles so that everyone could run into it. There is a different audience as well. There isn't the same audience for "Traviata" and George Benjamin's works, whose last opus brightened of a big success. The stylistic and repertory diversity, generated by the cosmopolitanism gives back London's cultural appeal.

Thank you, Mr. Peter Katona. We hope for collaboration between the lyric Romanian theatres and the Royal Opera House in London.
I can only encourage you and people that are responsible for this to contact us. I know that Mr. Kaspar Holten takes care of some international projects. He collaborates together with his colleagues from different countries. We collaborate with some theatres from Europe and abroad. For the moment, a project is being developed in collaboration with Greek National Opera. There is enough space for collaborations. We can learn one from each other. We can work together in order to make better things, more beautiful and more fruitful ones, and our doors are always opened for new projects.
Irina Hasnaș
Translated by Anca-Elena Băluț and Elena Daniela Radu
MTTLC, The University of Bucharest