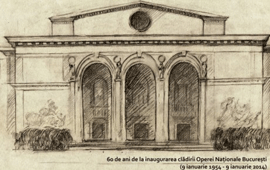 The 60th Anniversary of the Bucharest National Opera An Interview with Mihai Cosma, Managing Director and Advisor
Friday, 10 January 2014 , ora 9.23

Mr. Mihai Cosma, this is an extremely important day for the Bucharest National Opera. There have been six decades of intense activity, promoting Romanian creations and others. We have been invited this evening to its anniversary. Could you share a few thoughts about the opera, of course, and about this celebration?
It is a special anniversary, as you have underlined, a celebration which we have prepared carefully. It is not the foundation's anniversary, because as it is well known, the Romanian Opera has been performing ever since the end of the 19th century. Sixty years have passed since the groundbreaking opening ceremony of one of the representative monuments of Bucharest – The National Opera House, building that has been put to use starting with January 9th, 1954. On January 9th, 2014, there will be an extraordinary recital performed by artists from other countries and some foreign artists from Romanian cultural centres and the National Opera artists, of course. Everyone will try to recreate the musical perfume like atmosphere of the 1954 inauguration by repeating the most representative pieces from The Queen of Spades, Eugene Onegin, Rigoletto, Gianni Schiacci and La Traviata – headlines of the first season that took place in this very building.

Could you say that the Bucharest National Opera is still a reference point for the young generation?
It still is. There are two reasons for that. First of all, it is a reference point for the young audience, because students and high school students have been coming more often enthusiastic to see the performances and attend to various stage manager's and compositions suggestions. I've seen them at ballet and opera performances, at Mozart and Wagner. They are very open-minded, just wanting to see something worthwhile, so we are trying to offer them interesting things on stage. Second of all, it is a reference point for the young generation, meaning the young performers. One of most important things in Răzvan Dincă's management policy is to attract the young Romanian performers that play worldwide and won't return home to do so for various reasons. We are trying to make them come back to Bucharest, to our Opera, by offering them more or less similar artistic and financial conditions, in order to share their talent, art, kindness and self-sacrifice with the Romanian public as well. All in all, my answer would be an absolutely enthusiastic yes.

Do you have an important project that you would like to complete this season and not only, Mr. Mihai Cosma?
This is a question similar to that about your favourite performance. It is hard to classify them. There are many, very different projects. We are thinking about opera premieres like the second edition of "Le Grand Prix de l'Opera" competition, but we want to make it even better than the first edition. We are looking forward to the completion of the repairs and modernization of the theatre which will offer entirely new stage performance conditions. The directors will now be able to set up opera performances by using stage props that every theatre around the world has. Because of the building's old age they couldn't have been used before. Also, the public will be able to enjoy fresh air and an appropriate temperature because of the new air conditioning system. We are trying to renew the Opera Museum and open a shop with books, music scores and souvenirs. All of these, one by one, are part of the management team's long term and medium term's plans.

Thank you very much, Mr. Cosma Mihai! And Happy Anniversary, Bucharest National Opera!
Irina Hasnaș
Translated by Roxana Țicămucă and Elena Daniela Radu
MTTLC, The University of Bucharest