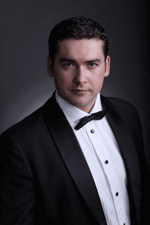 An Interview with Tenor Teodor Ilincăi
Tuesday, 14 January 2014 , ora 8.23

A tenor with a warm and brilliantly acute tone colour, a sensible artist that fills the limelight with charisma. This is the impression that I was left with, a few years ago, from the Bucharest National Opera's stage, where he performed a role that fitted him like a glove -
Rodolfo
, in Puccini's opera,
La Bohème.
This was also his first appearance role at the London Convent Garden Opera, in 2009, in a John Copley setting. That was the year that the international press and audience discovered Teodor Ilincăi by admiring him at the Hamburg Opera and the Vienna State Opera. Since then he has performed, as a guest, on the Bucharest Opera stage and continued his international career at the Athens Opera, Toulouse Opera, Monte Carlo, Marseille and Lausanne, Santiago Theatre and Sferisterio Opera Festival, in Macerata. As he will stay in Romania for a short while in order to publish a poetry volume and to perform on the Romanian Athenaeum's stage on January 15
th
2014, the artist agreed to give us a short interview:

Mr. Teodor Ilincăi, we are grateful for the kind answer of talking about your projects. First of all, could you tell us about the poems volume called Chromatism? You said that it was 'a tribute to everyone that influenced your existence in different ways'.
I can only say that I hope I have stirred the curiosity of the whole public, and maybe that of the opera audience, and of the poetry readers that unfortunately are fewer and fewer; and my book arrived at such a difficult time, also because the opera artists, writers and poets are fighting with the excessive technicity of life, as we are wasting too much time by doing less interesting things. I sincerely hope that my poems will get to as many bookstores and libraries as possible, and in many different environments.

How did you discover this proneness to poetry? Is it like a hobby for you?
It was a hobby in the beginning. I enjoy poetry. I have always liked it because I studied to be a man of letters, as well, but only half-way through. Only my high-school major was philology. I have been writing for two years now, the third year is almost due, and even though it all started like a game, … actually, everything is written in the introduction of the book. That is where I have written my poetic history.

Before the release of your book you will be performing in a concert conducted by Horia Andreescu. Could you tell us what it is about?
There will be a concert at the Romanian Academy, where I and other esteemed quests, like the soprano Elena Moșuc, baritone Șerban Vasile or mezzo-soprano Roxana Constantinescu, will perform famous opera arias.

It will be a very pleasant surprise for the Bucharest music lovers who will certainly attend in great numbers at the Romanian Athenaeum. I would also like to ask you about your performances in February, at the Bastille Opera, Paris, in Madam Butterfly by Giacomo Puccini, where you will perform alongside another Romanian mezzo-soprano, Cornelia Onciociu. What could you tell us about this series of performances?
It is not a première, as far as I know. It is a repeated performance. This production is well known and it has had great success. It will be directed by Robert Wilson. I cannot tell you much about Cornelia Onciociu because I will meet her there for the first time, and the other soloists are very talented. I have worked with the baritone, Gabriele Viviani, two times before at Convent Garden, in La Bohème, and the soprano is our neighbour from Bulgaria, Svetla Vassileva.

Could you tell us a few words about the stage production?
It will be something new. That is why it was successful in the first place. It is something between contemporary and classical, and the director has its own personal ideas.

After Madam Butterfly, what do you have planned?
I will take on the project La Bohème, at the Genova Opera, in April.
Mr. Teodor Ilincăi, thank you and good luck with your next stage performances!
Thank you!
Jeanine Costache
Translated by Roxana Țicămucă and Elena Daniela Radu
MTTLC, The University of Bucharest