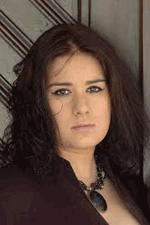 Interview with Laura Buruiana
Tuesday, 14 January 2014 , ora 8.14

Thank you, Laura Buruiana, for accepting our invitation of giving us more details about a dear thing to you, an editorial appearance!
It is true, it has been a pleasure to record it and I am very glad that I have the opportunity to work with such wonderful people and extraordinary instrumental performers and musicians such as Cristian Florea, cellist and conductor, with whom, together with The National Chamber Orchestra of Moldova, I recorded a CD that contains George Enescu's Sinfonia Concertante for Cello and Orchestra and Bartok's Divertimento for String Orchestra.

How was your collaboration with Cristian Florea and the members of the Chisinau National Philharmonic Orchestra?
It was very beautiful; the orchestra is amazing and reliable, with a good sound. This is why I took pleasure in accomplishing this project. On top of it all, Enescu's Sinfonia Concertante is a musical piece dear to my heart. I wanted badly to record it at one time and I am happy that this project, accomplished with the help of the Romanian Cultural Institute was carried out.

When will this CD be released?
The release has already taken place on 25th December and the CD will appear in Romania in January. The album was released by my own record label, Ollecello Classics. This is my first CD with me as a musician and a producer. So, I begin a new life with me as album producer and I assure you that it is very hard. I believe it is harder than a cellist's life.

Do you plan to record some other CDs?
Yes, of course, I have many albums to record this year at my record label: Lipatti and Materi Varga's CD, a CD with Geo Brancusi's live concert, Creation composers, Catalin Cretu and Sabina Ulubeanu's CDs, and other CDs recorded with my performance of Bach's Cello Suites and Bach's Sonatas which will be released by Coviello Class next year.

We hope that you will have time for other projects, as well. I believe that you will also have concerts and recitals.
Yes, I do. Due to my Brancusi album , we will definitely have many concerts next year. I also have many concerts with Alexandra Silocea on the occasion of the release of another CD. I have a concert tour in England with Shostakovich and Prokofiev. So, yes, I will also have concerts.

We thank you very much, Laura Buruiana and we wish you to be successful both as a soloist and as a producer!
Thank you very much!
Irina Hasnas
Translated by Petronela Moroșanu and Elena Daniela Radu
MTTLC, The University of Bucharest