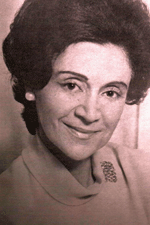 The Music Empire's Diva - Yolanda Mărculescu and her Era - A Monograph by Ileana Ursu
Thursday, 16 January 2014 , ora 9.53

The announcement of the
Yolanda Mărculescu Scholarship
has become a mid January tradition sponsored by soprano Georgeta Stoleriu in 1995 as a tribute to her maestro's memory. Thursday, January 16
th
, 2014, the National
University
of
Music
Bucharest will host a vocal concert at 19:00 and after announcing the name of the one who will benefit from the "Yolanda Mărculescu" scholarship, the release of the monograph dedicated to our great soprano who left this world in 1992, will take place. The book written by Ileana Ursu has a symbolic title, inspired by an Erik Satie composition that Yolanda Mărculescu used to perform often. About the volume
The Music Empire's Diva – Yolanda Mărculescu and her Era,
the author will say a few words in this next interview.

Where does this title, The Music Empire's Diva – Yolanda Mărculescu and her era, come from?
The title of my book is a paraphrase of French composer Erik Satie's melody entitled La Diva de l'Empire, with lyrics by Dominique Bonnaud and Numa Bles. The title has two meanings. Firstly, it shows the fact that Yolanda Mărculescu tackled nonchalantly with every cultured and entertainment vocal art genre, respectively opera, operetta, concert repertoire, vocal-symponic, lied, contemporary and folk music – all of these during the Romanian period, and during the United States period, she took up the concert repertoire, particularly the lied and music hall genre. Secondly, there is also the fact that Mrs. Yolanda Mărculescu had great success with this composition, La Diva de l'Empire, in the United States. She used to often put this French melody in her repertoire and she had always been rewarded with much applause. The title, however, does not intend to compare Mrs. Yolanda Mărculescu with the famous Paris singer of sentimental waltz at the end of 19th century and the start of the 20th century, Paulette Darty, who was recalled in Erik Satie's composition.

What are the main themes of this volume?
The complex personality of the heroine in my book provided me with many powerful ideas. First of all, Yolanda Mărculescu was an enthusiastic vocal art promoter by singing, interpreting and many other artistic and educational performances – by taking up opera roles, vocal-symphonic scores, lied scores and very popular compositions; by recording many music genres; by creating a very important festival, first of its kind, a lied festival in the American Midwest, The Milwaukee International Lied Festival. She founded it and ran it for six editions in a row, twice a year, from 1981 to 1991. And she also contributed as an opera director and as a teacher with particular interests in vocal art research.
Second of all, Mrs. Yolanda Mărculescu's professional activity helped promote the popular Romanian music. She did so while performing in Romania as well as with the opportunity of some tours in Austria, the German Democratic Republic, the Czechoslovak Socialist Republic, the People's Republic of Hungary, USSR, Ukraine, and the People's Republic of Poland, Finland, the Socialist Federal Republic of Yugoslavia, as well as the Far East, China and Vietnam. In the US, she continued her intense promoting activity of Romanian music by making two albums, an Orion album with Enescu and Roussel whose recording was undertaken by the British Saga Studio, both albums being released in 1975. Of course, she also promoted Romanian music in a large number of lied recitals in Romania as well as in the US. Her favourite composer was George Enescu, but in her repertoire there were also compositions by Mihail Jora, Achim Stoia, Constantin Brăiloiu, Marțian Negrea, Filip Lazăr andConstantin Lungu.
Third of all, I tried to reveal the fact that she was a supporter of making a musical theatre out of opera performances. As a first soloist for the Romanian Opera between 1949 and 1968, Yolanda Mărculescu joined the young directors of that era, George Teodorescu, Hero Lupescu, the conductor Mihai Brediceanu, scenographer Ioan Ipser, other brand soloists such as soprano Magda Ianculescu and Marina Crilovici, tenors Valentin Teodorian and Garbis Zobian, baritones Nicolae Herlea and Dan Iordăchescu, in the effort to connect the aestetics and dynamics of opera performances to that of the occidental music theatre.

Mrs. Ileana Ursu, from your personal point of view, why did you choose Yolanda Mărculescu for a monographic volume?
There are many reasons. For me, this book and its starting point, the exploration of the interpretive destiny of a singer and an exceptional Romanian woman of culture was a cathartic experience. At a certain point in my life I wished for and worked towards the opera performer career. There were many reasons that prevented me from accomplishing this dream, mainly an acute emotional personality, but by researching Yolandei Mărculescu's career, personality and achievements, as well as the historical and cultural background that she evolved in, it gave me much satisfaction and I can actually say that it cured my sadness of not having been a professional singer. It also revealed an educational tree with impressive musical and spiritual ramifications such as Constantin Stroescu, Yolanda Mărculescu and Georgeta Stoleriu. It supported my connection through an exceptional singing school, the quality of the role models and artistic careers and the meaning of the special, spiritual relationships between those that built that school. By observing the relationships between Constantin Stroescu and Yolanda Mărculescu, maestro and disciple, Yolanda Mărculescu and Georgeta Stoleriu, the latter and her own disciples, I was impressed by the lessons of gratitude, the noble reactions and the interpersonal relationships between them; by the way these exceptional teachers educated complex artists and particularly complex people with truly beautiful personalities shown not only in their performances but in their everyday life as well. Before I received the offer to write this monograph from the Wisconsin University in Milwaukee, Yolanda Mărculescu had been a very important reference point for me. She was the first celebrity that I learned about at the canto lessons with Mrs. Georgeta Stoleriu, classes that I took at the 'Dinu Lipatti' Music High School in Bucharest. The first lesson was about Mrs. Yolanda Mărculescu's personality and about the impact she had on my teacher's evolution, Georgeta Stoleriu, and on other professional singers, quality artists and on other teachers that she helped develop when she was a professor at the Bucharest Conservatory of Music.

I would like to ask you to tell us a few words about the context of this release, addressing an invitation for our listeners at the same time.
I am honoured to be able to publish this book, The Music Empire's Diva – Yolanda Mărculescu and her era, at the Yolanda Mărculescu Scholarship jubilee edition, scholarships funded and organised every year for the last two decades by the well-known professor and singer Georgeta Stoleriu from the National University of Music Bucharest. I went through a special journey returning from Canada for this event. I feel extremely honoured and delighted to publish my book in such a wonderful context, at a musical evening event that will start at 19:00 in the George Enescu Hall of the National University of Music Bucharest. The evening will start with various performance moments and short dialogues between Georget Stoleriu, music critic and musicologist, Anca Florea, and me. I will continue with the scholarship awarding, the book release announcement and end with a personal meeting with the audience.
I can barely wait for that moment but at the same time I do not wish to end my interview during your programme without mentioning the contribution of the people within the Romanian Radio Broadcasting Corporation and Radio Romania Music, as well as the Romanian Television for promoting the Romanian Diaspora. It did not happen immediately after the revolution as it had always existed and I contributed as well. There was also a quiet resistance after 1989, in remembrance of which creations of those who had left us were carefully and dearly kept in special archives as well as in music archives, libraries and were later on broadcasted and offered once more to the public in absolutely beautiful contexts.
Thank you for giving me the chance to address the Romanian music lovers and I will wait for them ardently!
Lucian Haralambie
Translated by Roxana Țicămucă and Elena Daniela Radu
MTTLC, The University of Bucharest