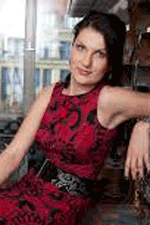 An Interview with the Soprano Adela Zaharia
Thursday, 23 January 2014 , ora 10.21

In 2012, winning the Great Prize of the 'Hariclea Darclée' International Voice Competition represented for the soprano Adela Zaharia the chance to become a member of the Opera Studio at the Komische Oper Berlin. She will remain in Berlin until the end of the 2014 season, a period of intense study, but also an opportunity to participate in the productions of the operas:
Hansel and Gretel
by Humperdinck,
Les Enfants Terribles
by Philip Glass,
the Love for Three Oranges
by Prokofiev,
the Marriage of Figaro
and
the Magic Flute
by Mozart. Adela Zaharia talked to us about her stay in Berlin:
2013 was the first year in the Opera Studio of the Komische Oper Berlin and I was lucky to have the opportunity of making my debut in roles such as Musetta in La Bohème, Micaela and Frasquita in Carmen, Papageno in The Magic Flute.

You sang the role of Micaela in the opera Carmen in Haifa.
Yes, that's true.

How was that production?
That was, actually, my debut with Micaela and it was a semi-stage opera, as we call it, because it was practically a project together with the Symphony Orchestra in Haifa, where there is no opera house. It was a very interesting, a very nice experience, with an international cast, a really relaxed atmosphere, very friendly people and a high level of professionalism. It was then that I had the honour to work for the first time with maestro Noam Sheriff – a role model for the Israeli conductors.

You mentioned a few of the roles you sing. Are these operas modern or classical productions?
Those I have interpreted this year are all modern.

And because they are modern, I'm asking you: do you like the classical productions or the modern ones?
This is a double-edged question, because on the one hand, I can say that yes, I like classical productions very much, but they can sometimes become boring, ordinary and so on…thus, when done well, a classical production can be a delight, but on the other hand, you can also see modern productions two ways: we can have some which are very alive and full of energy, funny and which can reach an audience faster than the classical creations, but there are also modern versions that are pointless for both the artists and the audience.

What are your projects for the 2013-2014 season?
I am here on contract and besides the roles already mentioned, there will be Helena in Britten's A Midsummer Night's Dream which will open the season; it's a premiere. Then, at about mid-season, I'll make my debut with Pamina in The Magic Flute, which is currently a kind of benchmark- production of our opera house.

You are at the beginning of your career, during a period when the focus is on studying. What are you learning now in Berlin? What do you think is best for you, for your future?
Indeed, there is a lot of studying to be done in all areas, and the things I have learned the most these past two years are related to being on stage, acting and carrying yourself on the stage. At the same time, learning about how the system works here is useful, because as everyone singing abroad could see, it's a little different. It's all about productivity.

In these productions in which you sing, what is your relation with the stage partners? What do you most appreciate in a stage partner?
Of course, there are all kinds of partners, but I believe that everyone is well aware that in order to have a good and successful production, the first thing needed is a very good energy between the stage partners. Certainly, it is preferable for all parties to put their pride and selfishness aside and to keep in mind the greater good, the success of the production and of the performance.

Among the roles you have interpreted so far, the roles you have mentioned earlier, which are the ones you have felt most comfortable with, from the point of view of the voice and stage presence?
Vocally, among the parts I have sung practically before coming here, Gilda remains my favourite. When it comes to the stage presence: as I said, all productions are very stimulating and funny and that's why I can't really choose only one. I felt really well interpreting Musetta, because it's a role with more weight attached to it. The production I most appreciate was that of The Magic Flute, where I interpreted the part of Papageno.

Have you got any idols?
I wouldn't exactly call them idols. I have role models, from whom I can always learn something. In the case of idols, there is the risk we become subjective, as it is often the case. One of my models is Diana Damrau, because I really like what she does – her voice, her technique and acting. Of course, there are many other incredible stars of the international stage, such as Renée Fleming, Jessye Norman, and others who have amazing careers and still know how to maintain their kindness and modesty.

How does Adela Zaharia spend her spare time, when she's not on stage or in an opera studio?
Now, at the beginning of the road, I think that spare time has been very little for everyone and still is, but in my few free moments I really enjoy discovering Berlin. It is an amazing city and, big as it is, it's equally interesting and always has new things to offer. I have been here for more than nine months and I'm convinced that I have only seen or discovered less than 10% of its attractions.

Can you, please, transmit a message to the listeners of Radio Romania Music?
The most important thing I would like to tell them is to continue to follow the values and the music your station promotes, because nowadays, when the society faces so many problems and crises, I think that classical music is and will always be the oxygen we need to go on.
Jeanine Costache
Translated by Mihaela Olinescu and Elena Daniela Radu
MTTLC, The University of Bucharest