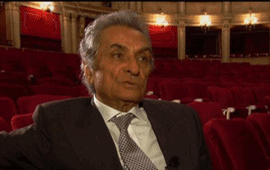 Interview with the Tenor Vasile Moldoveanu
Thursday, 23 January 2014 , ora 10.26

Between 16
th
and 31
st
January, 2014, the tenor Vasile Moldoveanu, who has been invited throughout his career to lyrical theatres in Europe and the USA - the Metropolitan Opera - is the guest of the National Opera in Iași to give singing classes to young performers.

Vasile Moldoveanu, welcome to Romania! This time you are invited at the Opera in Iași, where a lot of young people are waiting for you. You started the masterclasses a few days ago. How many participants have enrolled so far?
First, when I was home, I received a phone call from Mr Andrei Alpreotesei, who works with Mrs Rancea, and he told me there were about five enrolled, but I had the pleasant surprise to see 12 or 13. It is a pleasure for me, to have been welcome so warmly! They know how to appreciate, they know how to cherish, they know how to behave, and the surprise is greater because some of them only have a short career experience on stage. They have sung main roles, but everyone wants to work. It is a wonderful atmosphere and that delights me. And that is why I have started a few projects here, in Iași, for them. There are a few voices I have discovered...

Could you tell me the repertoire you have chosen for these young people and the questions you get most often?
For these young people, usually as far as performance is concerned, I want to prepare roles they might find useful for themselves and for the scheduling of new opera performances. This way we can cater for the needs of the young and the needs of the opera theatre, in a certain way. Mrs Rancea let me know that we would probably have another premiere in June. She is preparing a new staging of La Bohème. I have sung in so many stagings of that in my life and I would like to train the new soloists for La Bohème. I have discovered some wonderful voices and I am charmed, I'm on cloud nine!

On cloud nine because if you give, you will receive. And you have received the warmth of these young people who were waiting for you with great affection. What kind of voices are they?
I have a great tenor, with a voice reminiscent of young Pavarotti. There's an extraordinary baritone, another tenor with a lovely voice, two more tenors… There's a bass with a very, very good voice; he was making progress from one day to the next, an intelligent one; he is in Bucharest now, though - employed at the Bucharest Opera and, to my surprise, I thought he had an important role, but he sings only three lines, although he can definitely sing leading roles. So, I have four or five voices; the others aren't used to working, those who I'm trying to train. We're working hard, from 11:00 to 18:00, sometimes without a break. I work with each of them in turn and do my best. One who was singing bass-baritone, Tibi, my dear friends, has been told somewhere that he was a bass, but a bass whose voice went up to C sharp, and I have never seen such a thing… he is actually a tenor! So there are some anomalies, but we can fix them. Time is short, it would be stupid to believe everything will be solved in these three weeks, but thanks to the fact that they listen to me and they are interested, we're making progress and one can see that. I think we'll have a few surprises in the end.

Your journey to this universe of young voices started on 16th January. When will it end?
On 1st February.

Mr Moldoveanu, we thank you and wish you success in this great mission of yours, of sharing some of your experience to young people.
Thank you very much.
Interview by Irina Hasnaș
Translated by Irina Borțoiand Elena Daniela Radu
MTTLC, The University of Bucharest