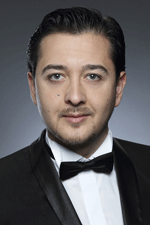 Interview with Bogdan Baciu, Baritone
Thursday, 23 January 2014 , ora 13.33

A graduate of two colleges that are poles apart: the "Aurel Vlaicu" Faculty of Engineering in Arad and the "Gheorghe Dima" Music Academy in Cluj-Napoca, Bogdan Baciu, baritone, went on to pursue a career in music. In 2010 he was an award winner in the Haricleea Darclée International Voice Competition. Since 2011 he has been a soloist with the Deutsch Oper am Rhein, where he was highly appraised for his performance in lyric dramas, such as,
Carmen
,
The Barber of Seville
,
Madama Butterfly
or
Billy Budd
. Below, he discloses a few of his future projects.

Mr. Bogdan Baciu, thank you for the honour and privilege of this interview. It comes at the end of a long season, during which you have had quite a few on-stage performances worth mentioning.
I was on the stage of the Dusseldorf Theatre for the first time, staring in Ruggiero Leoncavallo's Pagliacci, as Silvio. I had sung this part before, in Romania, at the Cluj-Napoca Romanian National Opera. The experience here in Dusseldorf, in a larger theatre, was nevertheless unique. Another part which I am looking forward to singing here is Figaro, the main character of the The Barber of Seville. You may or may not know this, but Duisburg and Dusseldorf, the two theatres here, function as one, under the title of Deutsch Oper am Rhein. They are two theatres working together, under the same name and we, the ensemble's vocalists, perform both in Dusseldorf and Duisburg.

Tell us more about Figaro, this main character of The Barber of Seville. The setting and the cast, what can you tell us about them?
It is a remarkable part. It is one of the foremost parts that a baritone can sing. It comprises youth, lyrism and beauty. It has much to offer, it is a great opportunity for one to showcase both acting and singing traits. The staging is very puckish, light and entertaining. Surely, it may not agree with everyone's taste. It is very a modern staging. Claus Guth is the director and he is widely known, here in Germany, at least. Everything takes place in the kingdom of flowers and beetles and every character is represented by an insect counterpart. Figaro, for instance, is a sort of dragonfly. Rosina is a butterfly that bursts out of her chrysalis, her cocoon, when she starts singing her initial aria. Bartolo is the spider that was kind of keeping Rosina imprisoned. It is beautifully directed. I, for one, am not the greatest of modern staging fans, except when they actually make sense for the person watching. So that even the first time opera goer may see a title, say The Barber of Seville and readily understand what is going on, without having to read a playbill or start asking around why this and why that. To me, any staging is good as long as it makes sense and stays true to the original idea, to the bonds between characters and to the message that the audience is supposed to receive.

What are your plans for the 2013-2014 season?
I have two important projects in development that I would like to emphasise: the first one is my debut in Don Giovanni ; the is the main character of this opera and i a great challenge for me as it is an extremely complex part. It is regarded as a part for a cavalier-baritone, as the German voice taxonomy classifies it; and so is the Barber, but they are of a different nature because the intensity points are different and the entire character is constructed differently. I still regard the Barber as a great challenge for me, as well. It is the kind of part that any aspiring baritone would want to add to his resume. The second great challenge I have for 2014 is the opening night of La Boheme, at the Stuttgart Opera House. I will interpret Marcello, which again, can be regarded as a first for me, on the German stages, though I have already sung this part at the Romanian National Opera in Cluj-Napoca. I look forward to seeing how it goes; the Stuttgart theatrical world is regarded as inclining towards quite modern stagings.

…as are most, in Germany, for that matter.
Precisely. Most German theatres, indeed. Now, for the Italians, this would be a novelty item. I truly can't wait to perform in La Boheme again. Marcello, too, is a very beautiful part and one close to my heart.

So here are three major parts. What other parts would you like to approach in the future?
The idea that I live by is that every part should be sang at the right age, and that you should do things in your own rhythm, the way you feel comfortable, both vocally and emotionally. Everyone says that if you want your first part to be one from Verdi, then Germont is the part for you. I always say that Verdi's Germont is, indeed, probably lyrical from a vocal point of view, but regarding the maturity required on stage, both in your gestures and in your demeanour towards your son, Alfredo, Germont is a very difficult part. It's not uncommon that we see Alfredo and Germont on stage, with the son looking particularly older than his father, Germont. If you use a good technique your voice will grow more mature, with time, by itself, naturally guiding you towards more mature parts. This is why, as far as the near future goes, I would really enjoy being able to sing parts such asValentin from Faust and the Marquis of Posa from Don Carlo and to make my debut with Belcore from The Elixir of Love. Alas, they are not part of the current repertoire of the Dusseldorf and Duisburg Opera, though I would really like to star in them.

When you take your first look at a score, do you listen to other vocal variants? What are the particular standards you look for?
I have to tell you that I start off by learning as much as I can about the work as a whole. I want to find out when it was written and, of course, the libretto. You need to read the libretto and, if possible, listen to a drama play that is connected with that particular lyric drama, if one is available. Then you have to look at the character scheme, and, last but not least, study your own character. I study my character thoroughly; I look for the relationships that he develops with other characters, for what kind of man he is. Take, for example, the Barber of Seville. Figaro is the main insect; just like in the original libretto and any classic staging, he skilfully weaves his schemes, solving everyone's issues, befriending everyone and making everyone like him. He is both a friend of Rosina's, and of Almaviva's, so every peculiarity of his needs to be studied in detail. After that, surely, all your conclusions about the character go on to be adapted to the director's needs and what the staging and scenography bring to the production.

What is the trait you look for the most, in a stage partner, while on stage?
When your stage partner tries to highlight himself, to make himself look good, to sing and act irrespective of anyone else, as if he were all by himself, separate from the others, then, I have to say, he doesn't make himself look good, nor does he make the entire artistic event, unfolding on stage at that time, look good at all. If your stage partner isn't selfish, if, furthermore, he strives to act as to highlight the traits of his partners, then the artistic event itself can only turn out impeccable, every time. There is, also, nothing I treasure more in a stage partner than honesty on stage. So I, myself, try my best to, as they say, stay true, and to stay honest on stage. It is the only way you can relate to the audience. There is no other way.

Of all the conductors you have worked with so far, which is the one that you have learned the most from?
I would mention two of the conductors here. Maestro Axel Kober is also the lead conductor and the musical director here, in Dusseldorf. He conducts with very precise motion. It brings a certain inner comfort, when on stage, the fact that he always knows exactly where you are. You get your every queue from him. Most of the time a singer doesn't need it, but there are quite a few times when you need support. You can watch the conductor and learn your whereabouts. Another conductor here in Dusseldorf is Wen – Pin Chien, a very good and highly talented conductor. He specialises in modern music, and, as we all know, modern music can pose some difficulties, queues, different tones and different rhythms. I would also like to mention maestro David Crescenzi, under the baton of whom, mind you, I regret to say, I have only had the chance to sing once, in the staging of La Boheme, in Cluj. It was a unique experience.

You are collaborating with two major German theatres. Which other stages in the world would you like to sing on?
I couldn't say I've set a particular goal for myself. I haven't got a list of names of stages I would prefer. What I can tell you is that I would like to constantly improve my singing. That is what I desire the most. I aim to give a good account of myself wherever I happen to find myself, and wherever my life, contracts and future shall take me I shall always give my best to carry out my task.

Are there any thoughts you would share with the listeners of Radio Romania Music?
There is one, and I speak for myself, though probably also for many others abroad, singing on international stages. We would very much like to sing back at home. There's no greater joy for us than singing at home, in front of our Romanian folk. Personally, I tell you, I would really like singing at home, every once in a while. Time is our archenemy, but, as it will allow it, I would love to sing in front of a Romanian audience. I wish all the best to everyone back home, I bid the audience enjoy all the best performances and shows, I also bid that very same wonderful audience back home have the chance to rejoice at a cultural blooming in Romania. We fervently hope that many things will change for the better, back home.
Jeanine Costache
Translated by George Mihăiță and Elena Daniela Radu
MTTLC, The University of Bucharest